Finding a convenient but most comfortable, and highly efficient toilet is not an easy thing. But with the Toto Vespin ii toilet, you can be assured to have an easy time as you visit or leave the bathroom. It doesn't matter if you install it in your office bathroom, in the employee restroom, hotel, or even at home, this Toto toilet will still deliver. If you want to save a lot of water, a powerful flushing system, an easy to clean, SanaGloss ceramic coated surface two-piece toilet, then this Toto Vespin 2 is the best. In this Toto Vespin ii review, I will explain why you should consider buying this High-Efficiency toilet.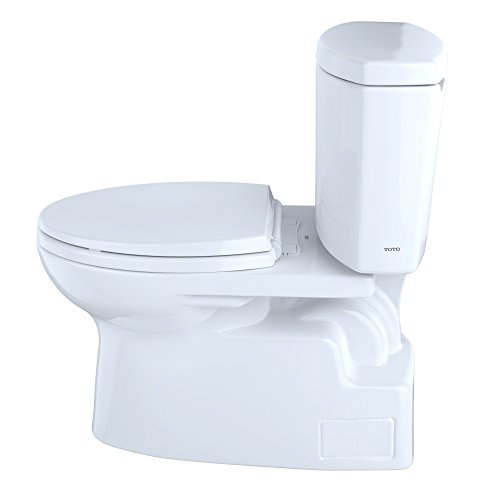 Check Price
The Toto Vespin ii toilet is a two-piece toilet with a Sanagloss finish. This finish enables the toilet to remain clean for longer and reduces the times you need to clean the toilet manually. In addition, it has a powerful flushing system known as a double cyclone flushing system, which clears the contents in just one flush using only 1.28 GPF. This Eco-friendly toilet also has the WaterSense certificate.
Related: Cheaper option – Toto Drake Eco Review: Two Piece Toilet! (Sanagloss isn't available).
Technical Specifications of the Toto Vespin II Toilet
| | |
| --- | --- |
| Features | Vespin II |
| Water Consumption: | 1.28 GPF |
| Pieces: | Two-Piece Unit |
| MAP Testing Score: | >= 800 (Highly Recommended) |
| SanaGloss Coating: | Yes |
| Material: | Ceramic |
| Certification: | WaterSense |
| Power Source: | Corded-electric |
| Size: | 12 Inch |
| Shape: | Elongated |
| Special Features: | Eco Friendly |
| Flush Type: | Water-Saving Toilets |
| Toilet Dimensions: | 28.5 x 16.5 x 30 inches |
| Warranty: | One-year limited warranty |
| Price: | Check Today's Price On Amazon |
Two-Piece High-Efficiency Toilet Toto Vespin ii Review 2022
Apart from having a highly-efficient flushing system, the Vespin ii toilet comes with an elongated bowl design and universal seat height with a chrome trip lever on the approachable side, making to be ADA compliant. The elongated seat and suitable height provide comfort and make it possible for people of different ages to easily access the toilet. On purchase, the user gets a one-year warranty, and installing this toilet isn't an issue at all.
Product description
Double Cyclone flushing system
Two-piece and skirted design
Universal height
SanaGloss ceramic glaze finish
Chrome trip lever
Elongated bowl design
12-inch rough-in with 10" and 14" options
ADA compliant
WaterSense certified
1-year warranty
Related: Similar price – Toto Ultramax II Review: One-Piece Elongated Toilet
Benefits of the Toto Vespin ii Toilet
The two main benefits of this toilet are Low water consumption and a Double Cyclone flushing system. I will explain all the main features in this Toto Vespin II reviews post.
Flushing technology
The Toto Vespin ii two-piece toilet uses a very powerful and efficient flushing technology known as the double cyclone technology. At times, it is referred to as the Tornado flushing system. The mechanical forces two jets in order to increase the efficiency of the flush. In return, the toilet is only able to use 1.28 gallons of water per flush, which is very effective and saves water. The advantage of this flushing system is that every time you flush the toilet, it will clean the bowl quickly and very well.
Related: Read more about the Low Flow Toilet to Save the Water
Design and style
The toilet is made of vitreous China material which is sturdy and durable. It has a two-piece design and an elongated bowl that provides more sitting areas for the users. The skirted design hides the trap way and brings simple lines on the sides. Thus, the entire cleaning process is simplified as there are no challenging lines to clean like the other designs. Also, the toilet has a universal seat height, which allows people of different ages to sit on it with much ease. The chrome trip lever is as well located on the approachable side making it be ADA compliant.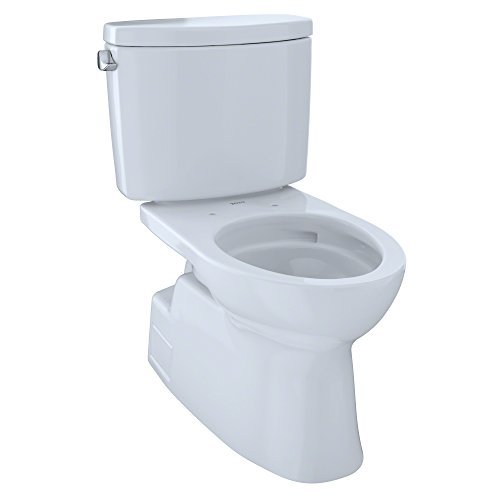 Check Price
Not only is this toilet design rich with features and aesthetics, but it can as well be a good addition to any contemporary bathroom. It's cotton white color is easy to maintain and the toilet will beautify your bathroom. Actually, it takes up less space as it has an elongated design.
Related: Most Popular 10 best contemporary toilets List
Ease of cleaning
By now, you are familiar with the term SanaGloss finish. Toto has named it CeFiONtect finish and it makes sure that a high standard of cleaning is made during every flush. This is combined together with a high-efficient flushing system to keep the toilet clean. Moreover, the SanaGloss finish prevents the development of stains, bacteria, and mold. Generally, this lowers the frequency with which you have to manually clean the toilet.
Ease of installation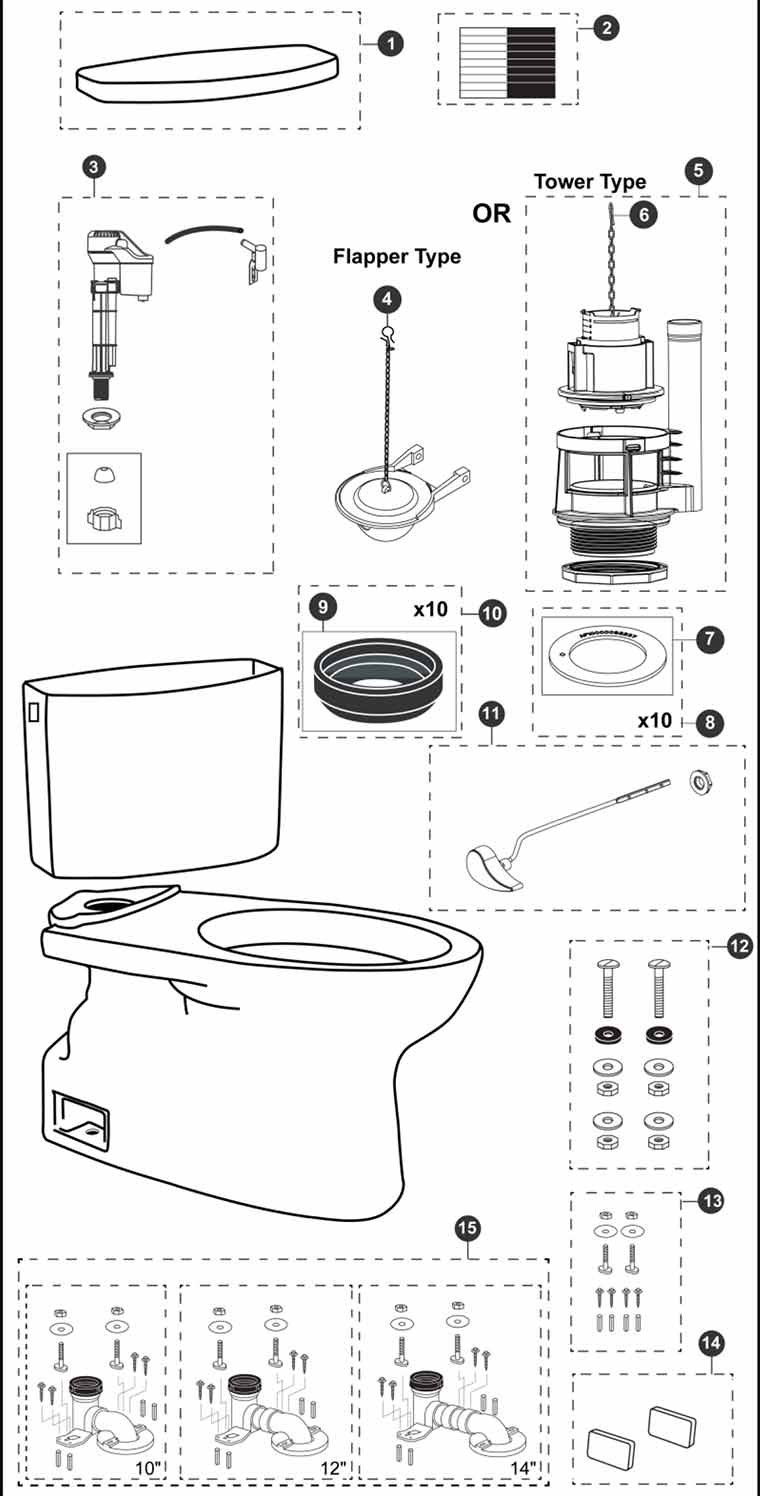 Just like many other Toto toilets, the Vespin ii toilet is as well easy to install. It comes with a 12-inch rough-in, but with options of 10-inch and 14-inch rough-in. Since this toilet has a skirted design, there is a possibility that you may require to move your water supply outlet to prevent it from interfering with the skirt. You also need a new seal and a toilet seat and then you will be good to go. Get help and follow instructions.
Related: Toto Drake II Review: Toilet with Elongated Bowl and Sanagloss
Certifications and compliance
This toilet is very efficient as it only uses 1.28 gallons of water per flush. In addition, it has a very effective flushing system that just clears the waste in a single flush, so you will end up using very little water. As a result, the toilet is said to be WaterSense certified. This is very important as people who live in certain areas get a discount on their water bill by just using a WaterSense certified toilet.
Related: Best-Selling Smart Toilets List here – https://bestflushingtoilet.org/best-smart-toilet-reviews
Warranty
Not many brands out there provide a warranty. But this is not the case with Toto as it offers warranties on all its toilet models. The Toto Vespin ii comes with a one-year warranty. So, in case something goes wrong with the toilet within this period, you are free to contact Toto and get the much-needed help. Registration of the warranty is done online.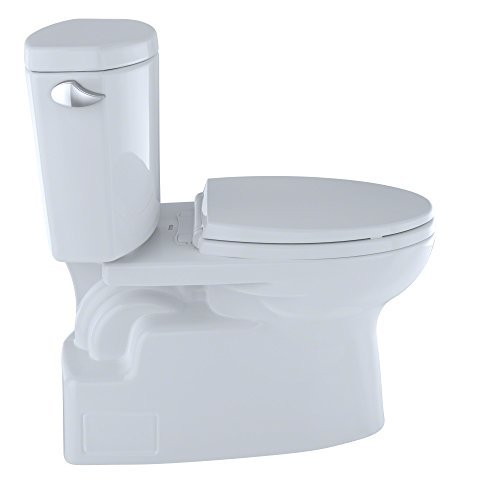 Check Price
Recap: Why buy a Toto Vespin II toilet?

The toilet provides comfort as it of a universal height and has an elongated bowl design
It is WaterSense certified hence the user will get to save water in the long run
Cleaning isn't a problem as it has an excellent finish and flushing system that clears waste in one flush.
The toilet is excellently designed to match with modern-day bathrooms
Installing this toilet is not a problem as it has a 12-inch rough-in and the other two options (10-inch and 14-inch for installation).
The chrome trip lever is located on the approach side making this toilet ideal for restrooms, homes, and other public places.
The manufacturer offers a one-year warranty
Cons:
Being a two-piece design, cleaning this toilet might be somehow challenging
The toilet seat is not included and you will be forced to buy one
Conclusion
The Toto Vespin ii toilet is a quality two-piece toilet as it is made of vitreous China material. It has an elongated design and a universal height to provide the needed comfort during use. Cleaning the toilet is easy as the Sanagloss ceramic glaze finish keeps the toilet for longer reducing the time cleaning is done. Additionally, the high-efficient dual cyclone flushing mechanism leaves nothing to chance as it clears all the waste in a single flush with just 1.28 gallons of water per flush. I have explained everything in this Toto Vespin ii review that you need to know.
With such outstanding features and performance, this is a must-have toilet for restrooms and homes. After all, the chrome trip lever is located on the approachable side.
FAQ
Q. Is the Toto Vespin ii toilet height suitable for the elderly and disabled people?
Ans. Yes, this toilet is suitable for adults, the elderly, and even disabled people. This is because it is of a universal height after the seat being set up. So, no one will have problems sitting down or standing up from the toilet.
Q. How much water will I be able to save by using this Vespin ii toilet design?
Ans. Since the toilet meets the WaterSense requirement of 1.28 gallons of water per flush, you will be able to save at least 20% of water or less. So, your water bill will be lower. Also, its effective flushing system helps you even save more water as it clears the waste in just a single flush.
Still, have a question after reading this Toto Vespin ii Review? Comment below.