The Toto Promenade II one-piece toilet is a sleek and lovely toilet that matches perfectly in conventional toilets. The 1.28 GPF toilet comes with an elongated bowl design for comfort and a universal height for use by different people. Read this Toto Promenade II review to know more about this modern Toto toilet.
Related: Similar pricing – Toto Ultramax II Toilet Review
The Promenade II toilet is very efficient in clearing waste as it has a powerful tornado flushing system while the CeFiONtect glaze keeps it clean for longer. This beautiful one-piece toilet design also has a left-hand chrome trip lever, making it suitable for installing in public restrooms as well as homes.
Related: Top 6 Best Residential Toilet Reviews
Without much ado, let's get down to the features, benefits, pros, and cons of the Toto Promenade II elongated one-piece toilet.
Technical Specifications of the Toto Promenade II Toilet
| | |
| --- | --- |
| Features | Toto Promenade II |
| Water Consumption: | 1.28 GPM |
| Pieces: | One-Piece Toilet |
| Style: | Classic |
| Color: | Cotton |
| Power Source: | corded-electric |
| Usage: | Inside |
| Installation Method: | Floor Mounted |
| Certification: | Watersense |
| Material: | Ceramic |
| Flush Technology: | Gravity Fed |
| Flushing Type: | Single Flush |
| Shape: | Elongated |
| Weight: | 103 pounds |
| Dimensions: | 28.5 x 16.2 x 29.2 inches |
| Warranty: | Manufacturer One Year Limited |
| Price: | Check Today's Price |
Toto Promenade II Review 2021
Made of vitreous china
Toto is famous for its sturdy and long-lasting toilets. Many toilet users say Toto toilets are very durable and normally last for more than 15 years with some lasting more than 20 years. The Promenade II toilet is made of vitreous china material and it is very durable. It is a good investment as you will forget about acquiring a new toilet for years.
One-piece toilet design
One-piece toilets have several advantages over their two-piece counterpart. First of all, they are easy to clean and maintain. Also, one-piece toilets have no threats to leaks from bolts or gaskets which are rampant with two-piece toilets.
Water-efficient toilet
This toilet meets various standards such as CALGreen and EPA WaterSense certification. This means that it is highly water-efficient. The toilet uses only 1.28 GPF and it is very effective as just one flush is effective in clearing waste.
Related: Top-Rated Water Saving Toilet list https://bestflushingtoilet.org/best-low-flow-toilets
Tornado high-efficiency flush system
This is one of the reasons why this toilet is very effective. The Toto's tornado flush comes with a hole-free rim design with dual-nozzles that forms a centrifugal washing action that helps in rinsing the bowl very efficiently. With the powerful flush, the bulk waste in the bowl s cleared with much ease.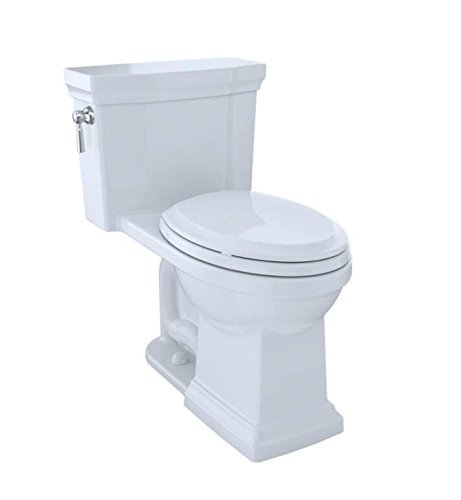 Check Price
CeFiONtect glaze
The CeFiONtect glaze provides the toilet bowl a lubricious quality which prevents particulates, germs, and stains from sticking to the toilet surface. In return, it keeps the toilet surface cleaner for longer and reduces cleaning times.
Elongated bowl design with SoftClose seat
Toto Promenade comes with an elongated bowl design and universal bowl height. Both of these make the toilet to e comfortable to sit down and stand up. It doesn't matter if you're handicapped, tall, or short; you will still be comfortable using it.
Related: Read Full Reviews of the Best Elongated Toilets Here
Floor mounted with 12-inch rough-in
Installing this one-piece toilet is easy as long as you have got assistance. It is a floor-mounted toilet with a standard 12-inch rough-in. It comes with a toilet seat so you don't have to buy one separately.
One-year warranty
Toto provides a one-year warranty to buyers of this product. This is to assure them that this is a quality and reliable product.
Summary: Why buy Toto Promenade II One Piece Toilet?

Sturdy construction
Easy to maintain as its one-piece toilet
Tornado flush is very effective in clearing waste in the bowl
CeFiONtect glaze prevents particulates from sticking o the toilet thus keeping it cleaner for longer
It is water efficient as it only uses 1.28 GPF
Easy to clean with the one-piece design and cleaning features
No leaks from bolts or gaskets
The universal height and elongated bowl offers comfort to users
No more toilet slamming with the SoftClose seat
1-year limited warranty
Setbacks:
It is quite challenging to install as it is heavy
The toilet is somehow expensive when compared to similar toilet models on the market
Some users have complained that you have to flush at least twice to clear bulk waste
Conclusion
The Toto Promenade II one-piece toilet is a great addition to any traditional bathroom. You have the choice of choosing among various colors to match your bathroom décors such as colonial white, Sedona beige, bone, cotton white, and ebony. Note that every color has its own price. This toilet is very easy to use with a powerful flushing mechanism and ADA-compliant toilet bowl.
All your housemates will have an easy time visiting the toilet and you will save a lot of water annually. Installation is also easy as long as you have a person to help you and it comes with a one-year warranty.
FAQ
Question: What is the meaning of CALGreen?
Answer: CALGreen is the standard set by California Green Buildings Standards Code (known as CALGreen). These standards have been set for faucets, toilets, flush valves, showers, and urinals with excellent performance. So, if you're installing a toilet in California, it should meet these standards.
Question: What is a universal height toilet bowl?
Answer: This is the toilet height that is recommended in the American with Disabilities Act (ADA) of 1990. Therefore, if the toilet is of ADA complaint height or of a universal height, it means that it can be comfortably used by people of different ages and abilities. This includes adults, young, and those with disabilities.
Still, have a question after reading this Toto Promenade II review? Comment below.