Replacing your toilet seat is effortless. It doesn't matter if you're replacing your old toilet seat with a bidet seat or if it's worn out or broken. No matter the case, you don't need to hire a professional plumber to help you. 
Replacing a toilet is a complex task, but changing a toilet seat is quite easy. You can install or replace your old toilet seat within minutes if you have the suitable tools. Some of the tools you will require are penetrating spray oil, a hacksaw, a screwdriver, a wrench, and a meter. These will help you to unfasten both the easy and stubborn bolts on your toilet seat.
10 Easy Steps: How to Replace a Toilet Seat?
Removing the old toilet seat is an effortless process, and you can do it yourself without calling a plumber. Follow these steps for easy and quick removal of your toilet seat and installation of a new seat.
Step 1: Measure your toilet seat
Never assume that the new toilet seat of choice will fit your toilet. Before you pick any toilet seat of your choice, make sure to measure the current toilet seat so that you can select a perfect seat for your toilet. It would help if you started by measuring the length, then width, and the distance between the toilet seat bolts at the back. With these measurements, you will land the best toilet seat.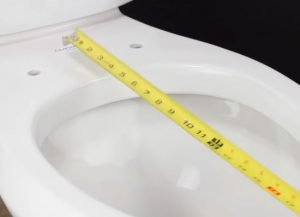 Elongated Toilet Seat: 18.5″L x 14″W
Round Seat: 16.5″L x 14″W
Square Seat: 17″L x 13.5″W
Economy Toilet Seat: 10.7″L x 10.1″W
Bidet Toilet Seat: 17″-21″L x 14.5″-16″W
If you want a particular seat, such as an advanced bidet toilet seat, you will have to measure the bowl and toilet tank's distance.
Step 2: Select the style of seat you want
The next step is to select the type of toilet seat you desire. Most standard toilets come with round toilet bowls, meaning most toilet seats are round. However, you can also acquire an elongated toilet seat if your bowl features an elongated bowl.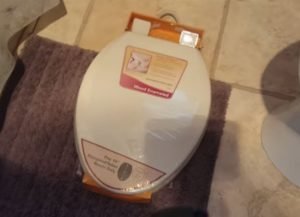 Common Toilet Seat Materials:
-Plastic Toilet Seats
-Wooden Toilet Seats
-Stainless Steel Toilet Seats
-Polyresin toilet seats
If you want more comfort and hygiene, you can also select a plastic slow-closing or bidet toilet seat. These are more advanced than regular plastic toilet seats, but the setup process is quite tricky.
Step 3: Select a seat color of choice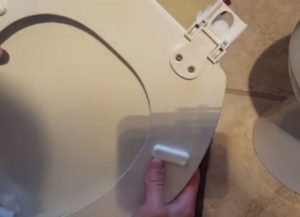 The good thing about toilet seats is that they come in a variety of colors. As a result, you can pick a toilet seat color that matches your toilet bowl; if you want a classic look, choose white color. For those who love a rustic feeling, you can select a wooden seat. Make sure you choose a toilet seat that compliments your toilet and bathroom décor.
Step 4: Assemble the right tools for the work.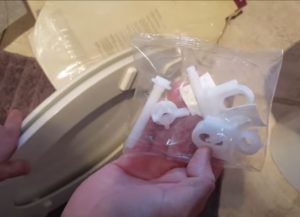 As stated earlier, you will have to gather all the right tools for an easy and smooth replacement of your toilet seat. You will need to acquire a screwdriver, wrench, putty knife, small hacksaw, penetrating oil, pliers, and meter. These will help you to remove the old one and install a new toilet seat.
Related article: Follow these simple steps to replace a toilet Flange
Step 5: Get rid of the old toilet seat
There are two types of toilet seats—one without rusty bolts and another with rusty bolts. If the bolts are in good condition, removing the toilet seat will be easy, but this will be extremely challenging if the bolts are not in good condition.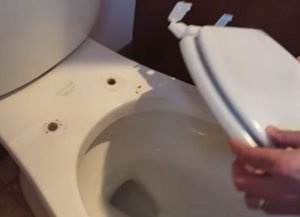 Start by prying off the plastic housing. These can be seen where the seat's hinges connect to the toilet bowl. Users can gently pry off this housing using their hands or a flathead screwdriver. Next, loosen and remove the nuts using an adjustable wrench. You can now remove the old toilet seat's bolts. Turn them counterclockwise until they come out.
If you manage to remove the bolts without a lot of force, you can go ahead and remove the toilet seat. But if the bolts are rusty and stubborn to get loose, move on to the next step.
Step 6: Apply penetrating oil for stubborn toilet seats.
You need to remove the old seat to fix the new toilet seat. When you have rusted or corroded bolts that won't get loose, you can try using penetrating oil like WD40 to loosen them up. Spray this oil directly on the bolts and give it some time to penetrate the bolt spaces. After around 10 minutes, you can now use a wrench and screwdriver to remove the stubborn bolts.
Cautions:
Use a mask: If you are a migraine patient, the product's smell may cause headaches or dizziness.
Use gloves: Skin contact may cause mild irritation or rashes.
Wear glass: Protect your sensitive eyes.
Storage: Remove all the sources of heat, flames, or fire.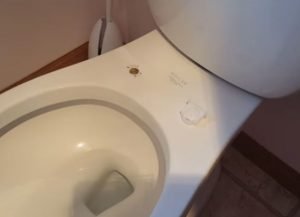 If the bolts are still stuck after using penetrating oil, you should try cutting them off. Take a putty knife, put it on top of the porcelain, and use a small hacksaw to cut off the bolts. This procedure is delicate and should be carried out with utmost precaution to avoid damaging the porcelain or toilet seat.
Step 7: Dispose of the old toilet seat.
After removing the bolts, you can now remove the toilet seat and dispose of it. You can as well as throw old bolts and nuts as new toilet seats come with their hardware.
If the toilet seat is made of resin, wood, or fiberboard, that means they are environmentally friendly, and you can easily put them in the garbage bin. But if it is plastic, it needs to be recycled.
Step 8: Position the new toilet seat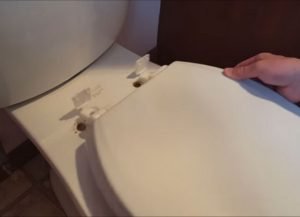 Remove the new toilet seat from the box, and most of them come with pre-attached hinges. Put the hinges exactly where the old toilet seat hinges were positioned. This is a no-brainer, and you can set up the new seat in place within seconds.
Step 9: Insert the bolts and thread the nuts.
Now you need to locate the bolt holes. The toilet hinges usually feature bolt holes on top where you will drop the bolts and attach nuts. What's more, you should not worry about the bolts falling as they feature ahead. So they will not fall off even without being fastened with bolts.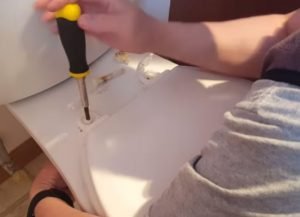 Related article: How to solve a leaky tank problem?
When you're done putting the toilet hinges in their place, you should insert the bolts and nuts into place. You can now thread the nuts on the bolts to secure the seat with the toilet bowl. Start with one side and move on to the next when you're done. Twist the nut onto the bolt clockwise until they're tight. If your toilet seat hardware includes washers, you should put them on the bolt threads. And if the hinges have plastic caps attached, snap them in position by pushing them down on the bolts' heads.
Step 10: Snap the toilet seat into place
Fasten the bolts and ensure the toilet seat is in a perfect position. Then, go through the instructions once again and ensure that everything is perfect.
The job is done without paying the plumber's cost, and you can start using your toilet seat.
Summary
If you follow the above steps, removing and installing a new seat will only take you a few minutes unless the bolts on your toilet seat have rusted. Regardless, you will still remove them and install your new and comfortable toilet seat. Make sure to assemble the right tools to avoid struggling to remove your old toilet seat.
Hi, this is Robert Crossan, the owner of this website, has 17 years of experience in the installation, maintenance, and repair of toilets and plumbing systems. After completing the Level 2 Basic Plumbing course in 2005, I started working in both domestic and commercial buildings as a professional plumber. So I can figure out the core difference between different toilet models and brands. It also helped me monitor their work performance and setbacks.