Are you confused about choosing the Toto G400 and Toto G500 toilets? Worry not, as you're not alone. Many people confuse these two toilets for being different, but they are actually one. To make this straight, the Toto Washlet G400 one-piece toilet is an upgraded version of the Toto Washlet G500. In short, Toto has created a new toilet model that is replacing the most popular Toto G500 model. Still, a few people consider buying a G500 toilet instead of a G400. In this Toto G400 VS G500 comparison, we've compared these two toilets' features, their pros, cons, and differences.
Both toilets meet CALGreen, WaterSense, and CEC standards and guidelines.
If you are looking for a luxurious toilet, then Toto Washlet G500 and G400 are both the best modern toilet models that you can buy. But if you are confused between the Toto G400 and G500 toilet, then I will help you to make the right decision. Read to the end.
Features Comparison Chart: Toto G400 vs. G500
Unique Features

Toto Washlet G400

Toto Washlet G500

Initial Release:
2016
2012
Model Number:
MS920CEMFG#01
MS970CEMFG#01
Update Version:
Yes
Initial Version
Improvement:
Yes
No
New Feature:
Yes
No
New Feature Name:
Premist
Isn't Available
Eliminating waste:
Better
Good
Weight:
100 pounds
90 pounds
Size:
28.6 x 11.6 x 26.9 inches
28.5 x 11.8 x 25.2 inches
Water Consumption:

1.28 GPF= Solid Waste
0.9 GPF= Liquid waste

Flash Type:
Dual Flush Toilet
Dual Flush System
Certification:
WaterSense certified
WaterSense certified
Pricing Idea:
Slightly Cheaper
Slightly Expensive
Price:
Check Price
Check Price
Toto G400 Washlet With Integrated Toilet
Washlets are the future of toilets. Not only are they efficient in maintaining the toilet, but they also help toilet users to have an easy time as there is no tissue paper needed to clean under.
Toto G400 is one of the latest Washlets in the market. It has been incorporated with additional features that make it bring a totally new experience to the users. Just like other washlet toilets, this toilet is compactly constructed to fit well in the modern bathroom. It has a sleek look, and the luxurious construction is amazing.
The Toto washlet 1-piece toilet comes with the dual-max 3D tornado flushing system that combines with CeFiONtect glaze to keep the toilet clean after every use. It is also comfortable to sit on or stand up as it has an elongated bowl design and a comfortable bowl height. If it's cold, it has a heated seat and is very comfortable to use. These and many other features make this a great toilet to install in your master bedroom.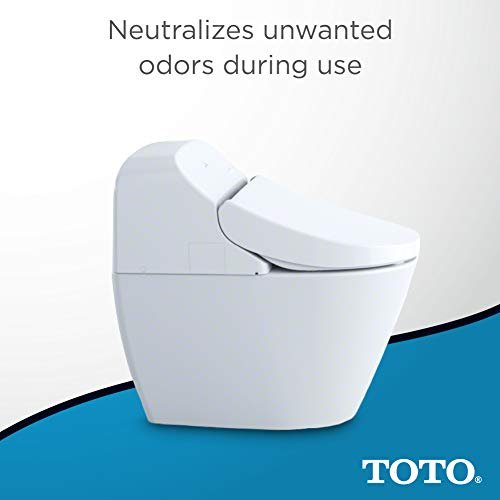 Check Price
Pros: Features We Like
The premist function prevents waste from sticking

SoftClose seat prevents slamming of the toilet seat

Sleek and compact design

Supply warm water

3D tornado flushing system clears contents in a single flush

Self-cleaning wand eliminates the use of toilet paper

Comfortable elongated toilet bowl design and universal height

A heated bidet seat allows the user to use the toilet even when it's cold

CeFiONtect glaze keeps the surface clean for longer by preventing particulates from sticking

Deodorizer gets rid of bad smells

Cleansing function for better hygiene

1-year warranty
Cons: Lacks in the Design
The toilet cannot function without electricity
It is somehow expensive
Using this toilet for the first time is quite difficult, and one has to get used to it first.
Toto MS970CEMFG#01 G500 Toilet Review
The Toto washlet G500 brings a new experience to your home like never before. This toilet can be operated without touching it but by simply using a remote control. It has a comfortable elongated bowl and is ADA-compliant for use by different people. It also uses a dual flushing mechanism that helps you save water, and it has a CeFiONtect glaze (SanaGloss) that helps keep the toilet clean for longer.
With a one-year warranty, heated seat, SoftClose seat, deodorizer, and a cleansing wand, this is a great addition to any modern bathroom.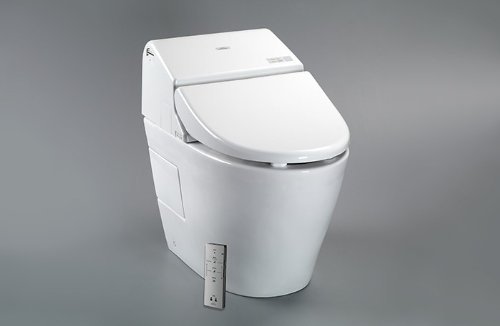 Check Price
Positive reviews from the users
Sleek and low-profile design
The dual max flushing system saves water
Hands-free operation
Automatic flushing technology
Skirted design for easy cleaning
Convenient heated seat for all-weather
SoftClose seat prevents slamming
Automatic opening/closing lid
The cleansing wand improves hygiene as you don't have to clean yourself under
The air deodorizer keeps the air in the toilet fresh before and after use
1-year warranty
Limited Setbacks:
This toilet is quite expensive

It is quite challenging to use for the first time

Requires electricity to function fully
Differences Between the Toto Washlet G500 and G400
PreMist
The Toto G400 comes with an extra feature which is the PreMist. This function uses an incoming water supply, and a premist wets the toilet bowl surface. In return, it helps get rid of waste, which is approximately 80% more effective than a dry bowl.
Allows the user to select the volume
Apart from the PreMist, the G400 also allows the user to select the volume of water to use for flushing the toilet. This is not the case with the G500, which makes a choice after you stand up from the toilet bowl. As a result, you may end up saving more water.
Price
Price-wise, the G500 is more expensive when compared to the G400 because of its old production cost. The features in these two models are almost the same, but the G400 features are slightly advanced.
It is also worth noting that the G400 is slightly heavier than the G500 toilet. But, you will not face any challenges in installing G400 or G500 toilets because of their straightforward installing process. And no need for a professional plumber to install them.
Which One is Better? Toto G400 or G500?
Both toilets share the same features and have similar performance. But, It is not difficult to decide which one of these two toilets is better. The G400 has a PreMist feature, and it is the improved version of the G500. But the G500 toilet price is slightly lower. Thus, I will recommend the Toto G400 Washlet one-piece toilet. While for those who are ready to spend a little bit more on the most popular Washlet version, I will suggest the Toto Washlet G500 one-piece toilet.
-Warm air dryer
-Save 45% on water bill
-Automatic air deodorizer
-Dual Tornado Flushing System
-ADA Compliant
-1.0 GPF for solid and 0.8 GPF for liquid waste
-Skirted One-Piece Design
-Universal Height
-PREMIST Function
-CEFIONTECT Finish
-Hole-free rim design
-5 spray settings, and more…
Hi, this is Robert Crossan, the owner of this website, has 17 years of experience in the installation, maintenance, and repair of toilets and plumbing systems. After completing the Level 2 Basic Plumbing course in 2005, I started working in both domestic and commercial buildings as a professional plumber. So I can figure out the core difference between different toilet models and brands. It also helped me monitor their work performance and setbacks.