Toto toilets never disappoint. Whether it is a one-piece design, two-piece design, elongated, or even round toilet, Toto still delivers. In this Toto Aquia ii review, we're going to discuss the Toto Aquia ii toilet design and features. You will not find much difference between Toto Aquia and Toto Aquia II toilets. But, the Aquia II price is more favorable. The Aquia 2 two-piece toilet is made with vitreous China material. In addition, it has a regular height bowl that offers comfort to people of different ages and heights. The flushing system of this toilet is Dual Max which is really powerful.
Related: Best Dual Flush Toilet Reviews [Most Popular 10 toilets]
The Toto Aquia ii toilet has a tank with dual flush buttons on top. One button is for 0.9 gallons of water per flush and the second one is for 1.6 gallons of water per flush. So, there is a button for a short call and another for a long call. And the elongated toilet bowl is spacious enough to offer much-needed comfort to the user.
Toto Aquia ii Dual Flush Toilet Reviews in 2023
The semi-skirted toilet design doesn't interfere with your water supply system and makes cleaning the toilet's outer part easy. Since it is WaterSense certified, you will save at least 20% of water, and your bathroom will never look the same ever again.
Related: Toto Aquia VS Aquia II VS Aquia III VS Aquia IV[All Toilet Comparison]
Product Description
Two-piece toilet
Regular height bowl
Dual flush toilet
SanaGloss finish
Semi-skirted design
Cotton white finish
Chrome-plated push button
Elongated/oval bowl design
Technical Features
| | |
| --- | --- |
| Features | Aquia II Toilet From Toto |
| Material: | Vitreous china |
| Piece: | Two Piece Unit |
| Water Consumption: | 0.9 GPF & 1.6 GPF |
| Shape: | Elongated |
| Color: | Cotton White |
| Flush Type: | Dual Flush |
| Installing Size: | 12″ |
| Certification: | Watersense |
| Bowl Height: | Standard |
| Flushing System: | Dual Max |
| Finish: | Cotton White |
| Product Dimensions: | 27.5 x 15.2 x 30.2 inches |
|  MaP Flush Score: |  >= 500 (Recommended) |
| Seat Include: | No |
| Price: | Check Price |
Benefits of the Toto Aquia ii Dual Flush Toilet
Sturdy construction
The Toto Aquia 2 toilet with the elongated bowl is made using a sturdy material, which is vitreous china. So, expect this toilet to last for many years to come. Also, it is made in the United States which ensures superiority and sturdiness are observed.
High-efficient Dual flushing system
This outstanding toilet with a cotton white finish comes with a Dual-max flushing system which is effective in clearing the waste inside the bowl at once. As a matter of fact, the toilet uses a full 1.6 gallons of water per flush or 0.9 gallons per flush. This dual-flush technology enables the toilet to match the EPA WaterSense requirements. With the help of the Sanagloss glazed finish, nothing will stick in the toilet, and less cleaning will be required.
Design and style
If you're looking for a uniquely designed toilet at a fair price, this is the toilet for you. The Aquia ii toilet has a unique but elegant design that will easily match your present-day bathroom. In addition, it has an elongated or oval toilet design that provides comfort to users. The toilet looks more beautiful with its semi-skirted design, which is almost similar to the skirted design. With the cotton white finish, this toilet can blend easily with bathrooms in homes.
Related: Similar Pricing Choice – Toto Drake II Two-Piece Elongated Toilet
Less water usage
With its dual flush system, you will save a lot of water as you will only use 1.6 GPF and 0.9 GPF. That means it's WaterSense certified, and you can get a discount if you install it in your home. This only applies to states with this regulation. But generally, you will save a lot of water every year.
Easy cleaning and maintenance
The efficient dual-max flushing system and Sanagloss finish keeping the toilet clean for longer after every flush. As a result, less manual cleaning is needed, and things like mold and bacteria won't grow on this shiny surface. Also, maintaining this toilet is easy. Although, a few users have complained about leakages and clogging.
Easy installation
If you have some knowledge of plumbing or you're an experienced DIY, then installing this device shouldn't be a problem at all. With a 12-inch rough-in, installing this toilet will be easy, especially now that it has a separate tank that can be attached after installing the bottom. To complete installation, you will have to purchase a seat, screws for the seat, and the waste trap seal.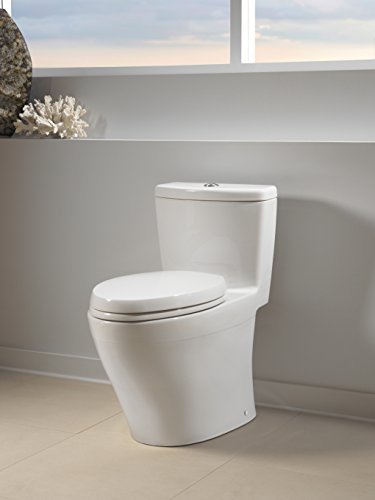 Check Price
Recap: Why buy Toto Aquia 2-piece dual flush elongated toilet?

We have figured out the advantages and disadvantages of this Toto Aquia ii Review.
Sleek and elegant design that beautifies the bathroom
Easy to clean with the efficient flushing system and Sanagloss finish
Less water is used up, and the user saves on the water bill
It has a dual-flush technology that uses only 1.6 GPF and 0.9 GPF
The toilet has a skirted design which is easy to install without interfering with the water supply line and easy to clean.
It has a universal height when the seat is included, which offers great comfort
One-year warranty
Cons:
It doesn't meet all ADA specifications and thus cannot be installed in restrooms used by the public.
It is a little bit challenging to clean
You will have to buy the toilet seat separately
Bottom line
This is one of the best-designed toilets on the market with its compact semi-skirted design and elongated bowl. The Toto Aquia ii is of an ideal height, and WaterSense certified. It is easy to install and clean. With the dual flush buttons, you will be able to save a lot of water by just using 0.9 GPF and 1.6 GPF. The toilet will add vigor to your bathroom, and you will use it for a long period of time.
FAQ
Q. Do I have to change my water supply line if the toilet has a semi-skirted design?
Ans. No, you don't have to. The semi-skirted toilet design can be installed in a 12-inch rough-in without adjusting the water supply line.
Q. Does this toilet come with a toilet seat?
Ans. No, the Toto Aquia ii toilet doesn't come with a toilet seat. So, you will have to purchase a separate toilet seat.
Need more options? Check here for top rated flushing toilet list https://bestflushingtoilet.org/.

Hi, this is Robert Crossan, the owner of this website, has 17 years of experience in the installation, maintenance, and repair of toilets and plumbing systems. After completing the Level 2 Basic Plumbing course in 2005, I started working in both domestic and commercial buildings as a professional plumber. So I can figure out the core difference between different toilet models and brands. It also helped me monitor their work performance and setbacks.