The American Standard ActiClean toilet is a two-piece elongated toilet that uses 1.28 GPF. The key feature of this toilet is its self-cleaning feature, just like the American Standard Vormax Plus. The self-cleaning feature simplifies the work of the user as cleaning is minimized because the toilet is cleaned only by a press of a button. You can either switch it to a quick clean or a deep clean cycle. This American Standard ActiClean toilet cleaning mechanism is powered by a battery and has a cleaning solution in the cartridge. If only one could program the cartridge, or if it was made automatic, it could have made things even simpler. So, Is it worth buying? Read this American Standard ActiClean reviews post to know more!
Related: Best Flushing Toilet Reviews (Plumber Recommended Toilets)
Technical Specifications of the American Standard ActiClean Toilet:
| | |
| --- | --- |
| Features | American Standard ActiClean |
| Water Consumption: | 1.28 GPF |
| Pieces: | Two-Piece |
| MAP Testing Score: | >= 1000 (Highly Recommended) |
| Included Components: | Toilet |
| Material: | Vitreous china |
| Certification: | Watersense |
| Shape: | Elongated toilet |
| Flush Technology: | VorMax: cleaning cycles deep clean |
| Toilet Dimensions: | 30.2 x 20.7 x 31.4 inches |
| Warranty: | Lifetime warranty on chinaware, 10 years on mechanical parts, 1 year on electronics, and 1 year on seat |
| Price: | Check Today's Price On Amazon |
Apart from the user-friendly cleaning mechanism, the toilet features a powerful Vormax flushing system that clears solid waste in one flush. This flushing system is very effective in that it leaves the surface of your toilet sparkling clean. Other vital features of this toilet include the Everclean surface, elongated bowl design, clean curve rim, and triple power cleaning action. Your toilet will always be kept clean with these features, and you won't have to clean it regularly. You can also check the American Standard toilet reviews article to compare the warranty with other models.
American Standard ActiClean Reviews 2021: Why Buy this Two-piece toilet?
Self-cleaning toilet
This is what differentiates this toilet from many other designs. This new model uses this feature to keep the toilet clean with just a press of the button. The self-cleaning device comes with an easy-to-control panel that does not need any guidance. Everything is crystal clear and easy to operate.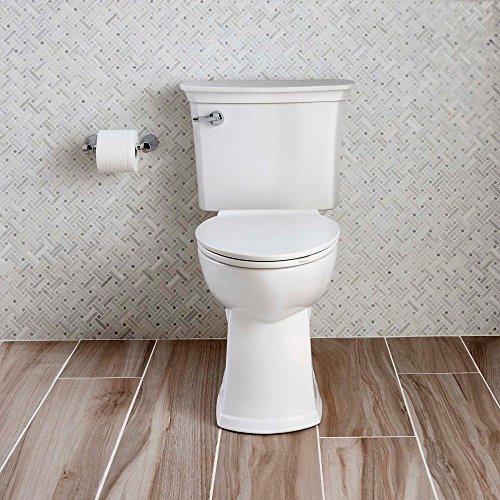 Check Price
For you to use the self-cleaning feature, you will have to either click on the quick clean button that lasts for a 1-minute or the deep clean button that lasts for 10-minutes. Actually, you have to press the button for at least 3 seconds to unlock the child lock function. It can remove all the stains with a simple single button press. After selecting a cycle, the ActiClean system will release the cleaning solution into the bowl. Strong water will then scrub the whole bowl surface, clean it from top to bottom, and a powerful siphon will leave the bowl clean and be smelling fresh.
Vormax flushing technology
This is one of the most powerful flushing systems present today. It rinses the bowl perfectly, leaving it without any waste or even stains. As a matter of fact, the Vormax jet flushing system has been proven to clean two times better than the normal toilets. And it does all this by just using 1.28 gallons of water per flush. You can also read this American Standard Vormax review to get another powerful toilet like this.
Triple power cleaning action
The toilet features a triple power cleaning action that cleans and gets rid of stains even below the rim with the Vormax flush technology, Acticlean toilet cleaning solution, and the clean curve rim. So, cleaning is made easy, and you won't have to flush your toilet twice.
Clean curve rim
This is one of the unique features of the Acticlean self cleaning right height toilet. The Clean curve rim does not have the rim area where dirt and other debris hide. The open rim makes cleaning the rim to be easy as all corners can be reached with much ease.
EverClean surface
After every flush, the toilet stays clean. Thanks to its EverClean surface, which is extremely smooth and very easy to keep clean. So, no matter how many times you use this toilet, it will always remain clean for longer.
Related: Everclean toilet – American Standard Champion 4 Reviews
Elongated bowl design
Comfort is one of the features that people look for.  Toilet ActiClean has an elongated bowl with more sitting space. Also, the toilet seat is of an ideal height to offer user comfort. As a result, different people, even with disabilities, will have an easy time using this toilet.
EPA WaterSense certified
If you live in states like California, which require all toilets installed in the state to be WaterSense certified, then you have nothing to worry about. Because this toilet uses just 1.28 gallons of water per flush, and thus, it is WaterSense certified. In the end, you will be saving water and reducing your water bill.
ADA compliant
There is no problem for those who intend to install this toilet in public areas as it is an ADA complaint. It has a chrome trip lever located on the toilet's left-hand side, a standard height toilet with a seat included, a Self-Cleaning Right Height elongated bowl design.
Related: American Standard Cadet 3 Review: FloWise 1.28 GPF Toilet
2-1/16 fully glazed trap way
There is no day that you will be faced with the challenge of having to flush twice or more times for the bowl to be cleared. The 2-1/16-inch trap way is larger than the industry standard and very effective in clearing large solid wastes. That's why it is rated with a 1000 MaP score.
Lifetime warranty on chinaware and 10-year limited warranty on parts
When you go through reviews, you will realize that a good number of users received toilets with broken or cracked parts. But with the lifetime limited warranty and 10-year mechanical warranty, and 1-year seat warranty, you are able to request and get a replacement for this particular model. Thus, you're guaranteed support from the company in case you have any problem with your toilet.

Check Price
Summary: Why buy an American Standard ActiClean toilet?

ActiClean cleaning Cartridge toilet provides great performance as it moves 2.2 lbs of waste in just a single flush.
The toilet Acticlean comes with VorMax Flush Technology that helps maintain a clean, hygienic toilet.
It is very comfortable with the Self-Cleaning Right Height elongated bowl design and standard height.
The toilet is very simple to install and easy to maintain a tidy bowl
It comes with a durable, self-closing Robust plastic seat features no slip.
The Everclean surface keeps the toilet cleaner for longer
It is ADA compliant
The toilet is WaterSense certified as it only utilizes 1.28 GPF that cleans and removes blemishes with a single press of a button.
The clean curve feature prevents dirt buildup and makes cleaning to be easy.
It comes with a lifetime limited warranty and a 10-year limited warranty on mechanical parts.
The self-cleaning right system makes cleaning to be easy and quick
The price is affordable as the cost depends on Toilet Model Number
Cons:
A few customers complained that the self-cleaning system doesn't clear everything as some stains can be spotted on the toilet surface.
Cleaning the toilet outside is a bit challenging as it has an exposed trap way. Replacing Flush Valve is also time-consuming.
Bottom line
After looking at the different features that the Acticlean self cleaning toilet offers, it is very clear that it will reduce your cleaning time and keep your toilet clean and removes stains for longer. This is with the help of the self-cleaning system and powerful Vormax flushing mechanism. However, the cost of cleaning will increase as you will have to buy batteries and the cleaning powder regularly. If you read this American Standard ActiClean reviews, then you will able to make buying decisions yourself.
Generally, this is a wonderful toilet that utilizes less water, and it is very easy to install. Its design can match with any modern or conventional bathroom, and you will have an easy time cleaning your toilet. So, it is very convenient for many users.
FAQ
Q. How does the Acticlean feature on the toilet function?
Ans. This system is used by choosing a button for either a quick clean or deep clean cycle. Afterward, the cleaner powerfully enters the bowl and scrubs the wall of the whole toilet bowl. Depending on the cleaning cycle, the cleaner will saturate in the bowl for 1-minute or 10-minutes. Then, the system will automatically switch to the rinse cycle, siphoning the cleaning agent and, as a result, rinse the bowl. You will end up with a clean bowl.
Q. How long does the battery last before I change them?
Ans. The Acticlean system uses 4 AA batteries that last up to 1-year. After this period, you should have new batteries and replace them with the old ones in the cleaning device.
Q. What is the toilet made of?
Ans. The toilet is made of vitreous china material. This is for the toilet seat and tank. While for the lid, it is constructed from durable plastic.
Still, have a question after reading this American Standard ActiClean reviews article? Comment below.