Are you stuck between the American Standard Cadet 3 and American Standard Champion 4 toilets? You have come to the right place. In this American Standard Cadet 3 VS Champion 4 article, we're going to compare two of the most popular American Standard toilet models and make things easier for you.
Related: Difference Between American Standard Champion 4 and Champion 4 max
Since the American Standard toilet brand is very popular, it can be challenging to pick from its wide range of toilet models. This is because every toilet seems to be great and well designed. For instance, the American Cadet 3 and Champion 4 share lots of features but they also have some differences. Regardless of what toilet you pick, you will still get outstanding performance and durability. Read on to know which one is better…
Comparison Chart: American Standard Cadet 3 VS Champion 4 Tioilet
| | | |
| --- | --- | --- |
| Features | Cadet 3 | Champion 4 |
| Piece: | Two-Piece | One-Piece |
| Water Consumption: | 1.28 GPF | 1.6 GPF |
| Shape: | Round | Elongated |
| 100% factory flush tested: | No | Yes |
| Clogging: | High | Less |
| Water Saving: | Yes(20% save) | No |
| Certification: | Watersense | Watersense, certified frustration-free |
| Flush Valve: | 3 inches | 4 inches |
| Dimensions: | 28.2 x 15.8 x 30.8 inches | 29.8 x 17.8 x 29.5 inches |
| Slow-Close Seat: | Include(+cover) | Include |
| Powerful Flush: | No | Yes |
| Price: | Low | High |
| Warranty: | chinaware(lifetime), mechanical parts(5 year) | Limited 10-Year |
| Trapway: | 2-1/8-inch | 2-3/8 inches |
| Price: | Check Price | Check Price |
Features details: Difference Between American Standard Cadet 3 and Champion 4:
American Standard 2988.101.020 Cadet 3 Toilet
If elegance is what you're looking for, this is a perfect addition to your bathroom. The American Standard Cadet 3 is a sleek and compact toilet that can easily be installed in any modern bathroom. It features a bowl and tank that are shipped separately but very easy to install. It has an elongated bowl design with the right height for great comfort.
Related: American Standard Cadet Pro Reviews
The toilet is equipped with American Standard's Cadet 3 flushing system that is strong and clears waste in one flush. Also, it has an extra wide flush valve for a cleaner flush and a large siphon trap way to reduce clogging. With its Everclean surface, cleaning is made easy and you will end up using less water as the toilet utilizes just 1.28 GPF.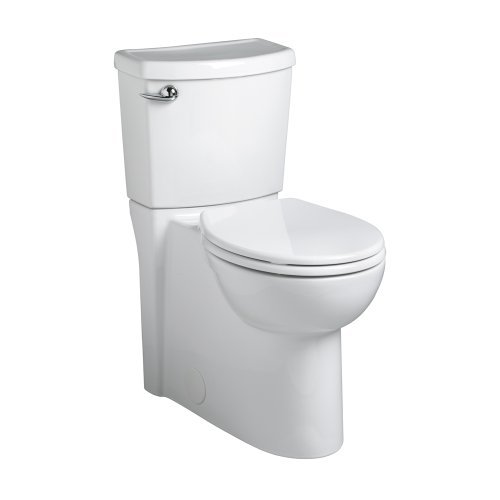 Check Price
Pros:
Easy to clean with its Everclean surface
Has a skirted design for easy exterior cleaning
ADA compliant
Features a slow close seat with no slamming
Saves water as it only uses 1.28 gallons of water per flush
Sleek and compact design
Large siphon trap way to reduce clogging and push down 1, 000 grams of waste in one flush
The Cadet 3 flushing system ensures that waste is cleared in one flush
The Manufacturer offers a 5-year limited warranty
Cons:
Quite expensive when compared to other American Standard toilets
Many users have complained about the toilet seat as being small and uncomfortable
Related: American Standard Titan VS Champion 4
American Standard 2034314.020 Champion 4 Toilet
The Champion 4 is not only a high-performing toilet but it is well one of the best sellers on the market. The toilet comes with a powerful American Standard's Champion 4 flushing system that leaves nothing behind after one flush. Additionally, it features an Everlcean surface that leaves your toilet clean after every flush. Together with the large fully glazed trap way and 4-inch piston action accelerator flush valve, you will never experience clogs in your toilet again. Also, the slow close seat doesn't slam after use and the toilet uses 1.6 GPF. Similar to the Cadet 3, the Champion 4 meets ADA requirements and it is of the right height.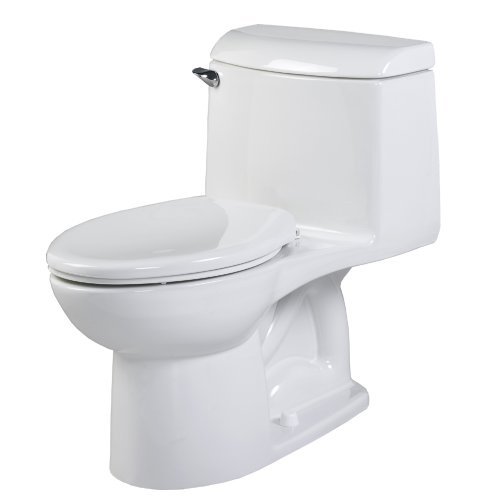 Check Price
Pros:
Easy to clean and maintain with its one-piece design
Powerful champion 4 flushing system clears waste in a single flush
Slow-close seat doesn't slam
The flushing system is efficient in performance but silent
Durable Vitreous China construction
Right height to provide comfort to different users
The Everclean surface keeps the toilet clean for longer
Saves water as it uses only 1.6 GPF
Cons:
It has a skirted design which is somehow challenging to clean
It is somehow expensive when compared to other toilets in the same category
Buying Decision: American Standard Champion 4 or Cadet 3?
The American Standard Champion 4 and Cadet 3 toilets go head-to-head in terms of the features that they offer to users. They have powerful flushing systems, are of a universal height, ADA compliant, and come with a slow close seat. Some of the differences include water usage, design, and price. The Cadet 3 uses only 1.28 GPF, while the Champion 4 uses 1.6 GPF. The Champion 4 is a one-piece toilet, while the Cadet 3 is a two-piece toilet. In terms of price, the Champion 4 is slightly costlier than the Cadet 3 toilet. If you need a powerful flush with fewer clogging issues, then buy Champion 4. But if you want to save the water bill, then buy Cadet 3.
FAQ
Question: What are the different flushing systems that American Standard offers?
Answer: American Standard is one of the most popular brands on the market. They have been in this field for a very long period of time and offer a wide range of flushing systems. Some of the flushing systems that you will have to choose from include pressure-assisted system, the Champion 4 flushing system, dual flush, aquaforce flushing system, and Cadet 3 flushing system.
Question: My toilet tank is not sitting level and wobbles. What is the problem?
Answer: In case the tank moves, remove the tank cover and place a level across the top of the tank. Then, pull the tank down evenly and attempt to level it out. Utilizing a screwdriver to hold bolts tightly, turn the nut with a wrench ¼ turn left side, then ¼ turn right side. Avoid turning the screwdriver. Move from one side to another until the tank is secure on the bowl and level.

I hope you have gotten your answer after reading this American Standard Cadet 3 VS Champion 4. You can comment below for more information.