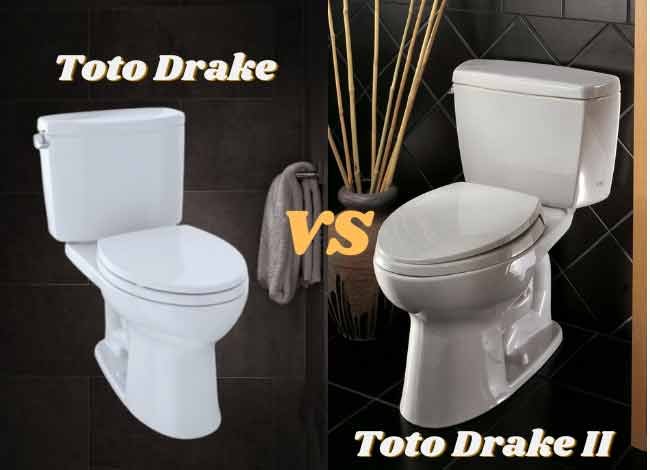 The Toto Drake and Drake II toilets have lots of similarities. But the Drake II toilet has a lot of improved features than Drake.
In summary:
A lot of people just assume that a toilet is just a toilet. This is not true as toilets differ in size, noise level, design, water usage, comfort, and performance. For this reason, you should look for the best toilet that meets your demands and needs.
In this Toto Drake vs. Drake II post, we're going to compare the Toto Drake and the Toto Drake II toilets. These are famous toilets from Toto, and they perform very well. Let's find out which one is better!
Features Comparison: Toto Drake vs. Drake II Toilet 2023
Features

Drake

Drake II

Water Consumption:
1.6 GPF
1.28 GPF
Certification:
WaterSense
ADA
MaP Flush Score:
>=1000 (

Highly Recommended)

>=800 (

Highly Recommended)

Flush Technology:
G-Max Flush Toilets
Tornado Flush Toilets
Water Saving:
No
Save 20%(compare to drake)
CEFiONITECT glaze:
No
Yes(prevents particles from adhering)
ADA Compliant:
No
Yes
Recommendation:
Best for Commercial & Home Use
Best for Home Use
More Details:
Toto Drake Reviews
Toto Drake II Reviews
Price:
Check Price
Check Price
Similarities and Differences Between the Toto Drake and Toto Drake II toilets
Durability
A toilet is something that we will use for many years to come. So, it needs to be durable and reliable. Toto creates advanced toilets that last for years, and that's one of the reasons why many homeowners prefer Toto over other brands. The Toto Drake and Drake 2 toilet models are made with vitreous china material. This is a sturdy material that will last for a very long period of time. In addition, the manufacturer offers a one-year warranty. But this shouldn't worry you as very few customers have complained about the toilets having issues.

Check Price
Water Usage
One of the most important factors to look at when choosing a toilet is its water consumption. A toilet that uses less water will help you save on water or reduce your water bill. In some states, it's a requirement to have toilets that use less than 1.28 GPF. The good news is that both of these toilets allow you to save water. The Toto Drake I uses 1.6 gallons of water per flush, while the Toto Drake II uses 1.28 GPF. So, the Drake II is more water-efficient than the Drake toilet. That's why it is WaterSense certified.
Related: Cheap Option – Toto Entrada Review: Top 2 list(Elongated & Round)
Flushing system
When the toilet has a poor flushing system, it will be more costly and take most of your time. Bad flushing systems cause toilets to clog, and they need more than one flush to clear all the contents in the bowl. The Drake II has a more powerful flushing system which is the dual, double cyclone technology. On the other hand, the Drake 1 has a G-max flushing system, which is not as powerful as the former but also very efficient in performance. They all provide a quieter flush when compared to that other toilet models.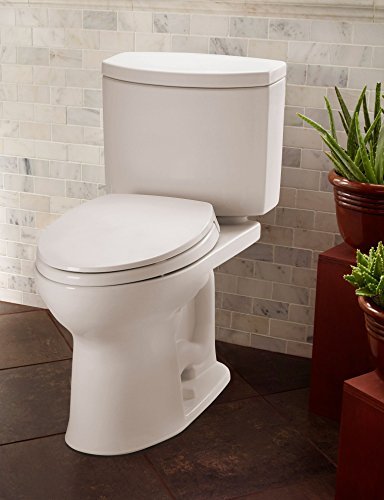 Check Price
Ease of cleaning
Toto toilet models are very easy to clean as they come with a SanaGloss finish, which doesn't support the growth of mold, mildew, and bacteria. Therefore, the toilet is kept cleaner for longer. Also, Toto advises its clients to avoid cleansers, acidic detergents, and polishing powders. Instead, they suggest that the user should use non-abrasive toilet cleaners and soft-bristled brushes. These are not coarse and will not mess with the toilet's texture or composition.
Related: Toto Ultramax VS Ultramax II
Features
Despite being different models, these two toilets come with similar features. They are both two-piece toilets with elongated bowl designs. So, they are very comfortable to use. Also, the toilets have a SanaGloss finish, which keeps the toilets cleaner for a long. In addition, they are of a comfortable height and are ADA-compliant. Drake and Drake II toilets have a chrome trip lever located on the left-hand side.
Comfort
Both of these toilets are very comfortable as they have an elongated bowl design. Hence, the user is provided with more sitting space. In addition, these toilets are of a universal height and ideal for use by different people, such as adults, the elderly, and disabled people. Sitting and standing up are very easy.
Related: Best Comfort Height Toilets List – https://bestflushingtoilet.org/best-comfort-height-toilet
Installation
There is no need to call for a plumber to fix one of these toilets for you. Whether it is the Drake or Drake 2 toilet, installing them is very simple because they have a 12-inch rough-in and are two-piece toilets.
Benefits of the Drake and Drake II toilets
Toto Drake and Toto Drake II toilets offer the user lots of advantages. They are very easy to use, comfortable, and durable, come with a powerful flushing system, don't clog easily, and allow the user to save water. In addition, these toilets are beautifully designed and add elegance to any bathroom in that they are installed.
Related: Toto Ultramax ii VS Drake ii
Setbacks of the Drake and Drake II toilets
Just like any other good thing, they also have their own disadvantages. These toilets don't come with a toilet seat; thus you will have to incur an extra cost. They are also noisy, which is a nuisance to many people.
Toto Drake vs. Drake II: Which one should buy?
Even though these toilets have some similarities and differences, overall, the Toto Drake II is considered to be a better toilet than the Drake toilet. It is more powerful and uses less water than the Drake toilet. The Toto Drake II has a super smooth glaze which makes it harder for wastages to stick to it. The water swirls around the bowl also help to remove the skid marks. The Drake II series has essentially no rim, which means easier to clean. But on the other hand, the Drake toilet is cheaper and a great option for some.
FAQ
Q. Are these toilets water-efficient?
Ans. Yes, they are. The Toto Drake and Drake II use less than 1.6 gallons of water per flush. Actually, the Toto Drake II is WaterSense certified as it only uses 1.28 GPF.
Q. What should I use to unclog a blocked toilet?
Ans. If you have a clogged toilet, you can use a plunger or wire to push the clogs and free your trap away. But always check the toilet as kids can throw toys or clothes, which may block the toilet and thus bring such issues.

Hi, this is Robert Crossan, the owner of this website, has 17 years of experience in the installation, maintenance, and repair of toilets and plumbing systems. After completing the Level 2 Basic Plumbing course in 2005, I started working in both domestic and commercial buildings as a professional plumber. So I can figure out the core difference between different toilet models and brands. It also helped me monitor their work performance and setbacks.