Toto is one of the best flushing toilet brands that come up with advanced technology in the Toto Washlet toilet series. The Toto washlet toilets are convenient to use as they use little water but also prevent you from contaminating germs by cleaning you. Your job is to sit down on the bowl, do your things, get cleaned, and stand up and go, and the rest will be cleared and cleaned by the Toto G500 toilet.
In this Review article, we're going to look at the Toto washlet G500, which is a lovely, powerful, comfortable, and efficient toilet. This smart toilet has lots of features similar to the Toto washlet G400 Toilet. I have also explained Toto G400 and G500 feature differences here. Continue reading this Toto Washlet G500 review to find out why we rate it so high.
Washlet with Integrated Toilet Toto G500 Review
Today, many companies are going green so are the toilet companies. Toilet companies are creating toilets that not only use little water but also don't need toilet paper as they do the job for you down there.
Technical Specifications
| | |
| --- | --- |
| Features | Toto G500 Toilet |
| Water Consumption: | 1.28 GPF or 0.9 GPF |
| Pieces: | One-Piece Toilet |
| Color: | White |
| Shape: | Elongated |
| Installation Method: | Floor Mounted |
| Certification: | WaterSense |
| Flushing Type: | Dual-Max flushing system (Front and rear) |
| Weight: | 24.6 pounds |
| Dimensions: | 28.5 x 11.8 x 25.2 inches |
| Warranty: | One-year limited warranty |
| Price: | Check Today's Price |
Sleek and compact look
This is a beautiful toilet that will change the look of your bathroom. First and foremost, it is lovely and compact in design. The white finish can complement any modern bathroom, and the skirted design makes it look even more beautiful as there is no Trapway to show.
Related: Best Modern Toilet Reviews [Hi-Tech Contemporary Toilets List]
Easy to use
With the remote control, operating this unit isn't a problem at all. Just change the temperature of the toilet seat or any other function of your choice. Also, you can set one of the two user settings so that you don't have to be setting the toilet whenever you visit.
Related: 15 Best Toilets List https://bestflushingtoilet.org/best-toilets
Saves water
Using just 1.28 gallons per flush for a full flush and 0.9 gallons per flush for a partial flush, you will be able to save a lot of water. In some states, this might allow you to get a rebate. That's why this toilet is EPA WaterSense certified, and you will end up saving at least 16900 gallons of water per year.
Cleaner bowl for longer
After flushing the toilet using the dual-max cyclone system, the cycle bowl cleanse, together with the SanaGloss glaze, ensures that nothing remains on the toilet surface. The cycle bowl cleanse helps with ease of cleaning, while the SanaGloss ceramic glaze prevents particles, dirt, grime, and germs from sticking on the surface of the toilet, thus keeping it cleaner for longer.
Related: Best Self-Cleaning Toilet [Get Rid of Manual Cleaning]
Comfortable elongated bowl design
The elongated front bowl design provides more sitting space. Thus you will enjoy using this toilet. In addition, it has a comfortable height or universal height or ADA-compliant height. This means that it is okay for use by different people, whether old, young, or even sick.
Auto close/open lid
If you're irritated by toilets with slamming seats, then you have landed on the right toilet. The Toto Washlet G500 toilet comes with a toilet lid/seat that doesn't slam but closes automatically and slowly.
Related: More Advanced Toilet Review here – Toto MS992CUMFG#01 Neorest 1.0 GPF and 0.8 GPF 700H Dual Flush Toilets
Nightlight
In case there is a blackout or the light is dim, you will still be able to recognize where the toilet bowl is as it has illumination. Other features to note are the automatic air deodorizer and warm air dryer. All of these make using this toilet to be fun and comfortable—no more no bad smells before and after using the toilet.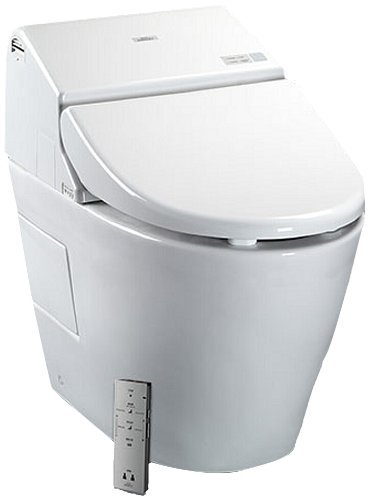 Check Today's Price
Common Problem and Solution with Toto G500 Toilet
Problems
Solutions

The toilet Does Not Flush

Don,t Flush the Button Repeatedly

The tank is filling with water

Use a bucket full of water to flush

The toilet lid opens on its own

Don't directly expose the sensor to sunlight

Don't place the detection range of the sensor

The sensor may detect someone using the urinal

Cannot open/close with the Remote Control

Check the remote control working

The seat/lid may not be mounted correctly

The incorrect detection to operate under fluorescent lights

Shut Off the Water Supply Valve

Tighten Connection Nuts

Auto Flush Set to On

Remove the dirt

Sit back on the toilet seat
Summary: Why buy Toto G500 Washlet with Integrated Toilet?
Lovely and sturdy toilet with an illuminated Touchpad.
The dual flush mechanism saves water.
Comfortable as it features the elongated bowl design and comfortable height
SanaGloss finish keeps the toilet clean for longer by preventing dirt and grime from sticking to the surface
A powerful gravity flushing system ensures all the bulk waste in the toilet is cleared
Convenient toilet with heated seat and automatic deodorizer
Integrated Toilet G500 is easy to use with remote control settings
Toto dual flush toilets offer automatic open or close lids for a touch-less operation
The toilet offers a unique front and rear warm water washing system.
Setbacks:
Toto High-efficiency toilet is quite expensive

Some users have complained that the toilet is not as comfortable as it appears to be

Installation is quite cumbersome and requires professional help
Conclusion
The Toto Washlet G500 is a high-performing toilet with easy-to-use features. It makes life for the old, sick, as well as disabled people to be easy as they don't need to touch the toilet in order to operate it. The toilet washes dry, flushes, and cleans on its own. Simply use the remote control to save your preferred settings and enjoy the experience. With this toilet, you will save both time and energy spent cleaning as it stays clean most of the time.
FAQ
Question: Is this toilet of a comfortable height?
Answer: Yes, it is. The toilet has its seat at 16-1/8 inches, which makes it be of comfortable height. The term comfortable height is also used to mean ADA compliant. It is at least 2 inches higher than the standard or traditional toilet.
Question: Can I install the Toto Washlet G500 toilet?
Answer: This is quite challenging and not easy. I would say a big "NO." Installing this toilet on your own can be somehow challenging as it involves a long process. So, it is better to get the services of a professional plumber for proper installation.
Still, have a question after reading this Toto G500 Review? Comment below.
Hi, this is Robert Crossan, the owner of this website, has 17 years of experience in the installation, maintenance, and repair of toilets and plumbing systems. After completing the Level 2 Basic Plumbing course in 2005, I started working in both domestic and commercial buildings as a professional plumber. So I can figure out the core difference between different toilet models and brands. It also helped me monitor their work performance and setbacks.