Toto is one of the most popular toilet brands on the market. It has lots of toilet models on offer, but we will only look at the Toto Utramax II one-piece toilet and the Toto Drake II two-piece toilet. These two are the best-selling flush toilet and have some exceptional features to offer to their users. But which one is better? Toto Drake II or Ultramax II? The main difference between these two toilets is the Ultramax II one-piece toilet and Drake II is a two-piece toilet.
If you want a powerful flush, easy installation, small family use a modern toilet, then Toto Drake is a great choice. But, If you want a water-saving, easy to clean, low maintenance cost, larger family or commercial use toilet, then Ultramax II will be a great choice. Read this Toto Ultramax II vs Drake II toilet review article to know more about this.
Feature Comparison: Toto Ultramax II VS Drake II
The Toto Drake II and Ultramax II have lots of similarities. Although, they have a few feature differences too.
Features

Toto Drake II

Toto Ultramax II

Piece:
Two-Piece
One-Piece
Flush Type:
Power Flush
Water-Saving
Flush Rating(MaP Test):
>=800 (

Highly Recommended)

>=800

(Highly Recommended)

Certification:
ADA, EPA WaterSense, CEC & CALGreen
ADA, WaterSense, CALGreen, & CEC
Maintenance:
Medium cost
Low cost
Dimensions:
28.8 x 16.5 x 29.4 inches
28.375 x 16.5 x 29.75 inches
SoftClose Seat:
Not Include
Include
Affordability:
Yes
No
Item Weight:
94 pounds
99 pounds
Complain:
Less
A little bit High
Installation:
Very Easy
Not Easy
Popularity:
Most Popular
Popular
Easy to Clean:
Easier
Much Easier
Sanagloss:
Yes
Yes
Water Consumption:
1.28 GPF
1.28 GPF
Recommendation:
Best for Small Family
Best for Large Family or Commercial
Price:
Check Price
Check Price
Toto MS604114CEFG#11 Ultramax II Het Double Cyclone One-piece Toilet
The Toto Ultramax II toilet is one of the best toilets from Toto. This is because of its excellent performance and amazing features. Being an upgrade of the Toto Drake and Ultramax toilet series, this toilet adds both elegance and comfort to your bathroom. It features a powerful double cyclone flushing system, which is more efficient than the G-max flushing system featured in most Drake toilet models. This flushing system is very powerful and silent at the same time. Also, it only uses 1.28 gallons of water per flush, enabling the user to save water and receive a lower water bill.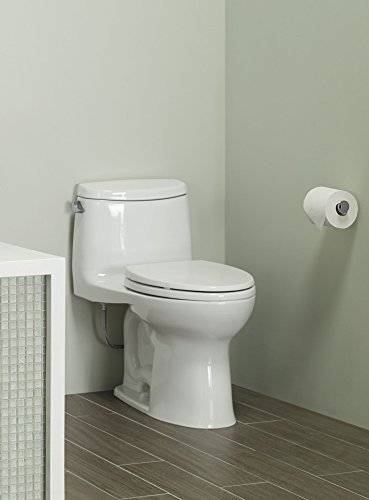 Check Price
Additionally, the toilet has a smooth, ion barrier glazing that cleans the toilet after every flush. So, cleaning is simplified as the toilet stays cleaner for longer. No mold, mildew, or bacteria will develop on the toilet surface. The elongated bowl design offers comfort to users, and the ADA height makes it ideal for all kinds of people. With fewer clogs and easy cleaning, this toilet will be a joy to have in your contemporary bathroom.
Pros:
It is ADA compliant and thus ideal for adults, disabled people, and the elderly.
The toilet comes with a SanaGloss finish that keeps the toilet cleaner for longer.
It is environmentally friendly as it is WaterSense certified
The toilet is easier to clean and maintain as it's a one-piece design
The manufacturer offers 5 different colors to choose from
It has a maximum performance flushing rate of 500 grams of solid waste, which clears the bowl very well and in one flush.
The toilet features a soft-closing seat, and it is quiet in operation
The elongated bowl design provides added comfort or users
Cons:
It is a bit more expensive than Drake II
The toilet is a bit heavier as it is a one-piece design
Toto CST454CEFG#01 Elongated Drake Two-piece Toilet
I love this toilet model because it doesn't disappoint at all. Toto Drake II is one of the best-selling toilet models in the whole wide world. Being a two-piece toilet, installing it isn't an issue at all. Also, it comes with a powerful double cyclone flushing technology that clears the waste in just one flush. Using this toilet will enable you to conserve water as only 1.28 gallons of water per flush is used up. Similar to the Ultramax II toilet model, the Drake II rim doesn't have holes, and thus flushing is more powerful.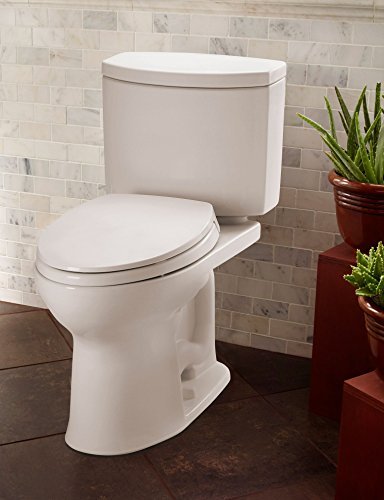 Check Price
The beautiful SanaGloss finish makes cleaning the Drake II toilet to be seamless. It is also of a standard height and has an elongated bowl design for extra comfort. The white cotton finish can match with any bathroom, and you will never wake up your kids in the middle of the night due to its quiet operation.
Pros:
It is very silent in operation
It has an elongated bowl design that offers additional sitting space
The toilet uses 1.28 gallons of water per flush, making it be eco-friendly as it saves 205 water
It has double cyclone technology, which is very powerful and moves the waste efficiently in one flush.
The universal height makes it ideal for use by different people, be it adults, disabled or elderly.
The toilet remains cleaner for longer with its SanaGloss finish
It is easier to install as it comes with a 12-inch rough-in
Cons:
It doesn't come with a toilet seat, and this is an added cost
The toilet is slightly harder to clean as it is a two-piece design
It's easier for this toilet to leak as it is a two-piece design
Which one is the best toilet – Toto Ultramax II or Drake II toilet?
The final choice lies in your hands, and it will depend on your needs and budget. Both toilets are excellent in performance and very comfortable. However, the Ultramax II toilet is slightly more costly than the Drake II toilet. Also, the Ultramax II one-piece toilet has 5 colors to offer, while Drake II has only 4 colors to choose from. When it comes to maintenance, the Ultramax 2 toilets are easier to maintain as it is a one-piece design, but Drake II is easy to install as it is not heavy. So, it is the main difference between a Toto Ultramax II vs Drake II.
Whatever toilet that you select, ensure that it meets your needs and demands. It shouldn't be too expensive or lack the features that you want.
FAQ
Q. If the toilet is messy, how should I clean it?
Ans. This toilet has a SanaGloss finish which keeps the surface of the toilet cleaner for longer. But in case you encounter a messy toilet, you can clean it using the normal toilet cleaning agents. Toto advises users to avoid polishing powders and cleansers as they can be harmful to the toilet. A soft-bristled brush and non-abrasive toilet cleaner will do the trick.
Q. How many gallons of water per flush will I use?
Ans. For these two toilet models, you will only use 1.28 gallons of water per flush. Therefore, you will be able to save water and reduce your water bill.
I hope you have found the main features and the difference of each toilet in this Toto Ultramax II vs Drake II article.

Related Comparison Articles You Might Also Like: