The Toto Drake ii toilet is one of the best power flush toilets that you will ever come across. This is because of its high-quality design, excellent finish, and powerful flush technology. You will never have a problem clearing the waste and other dust in the bowl. And with its super smooth ion barrier glazing, cleaning is made easy. Is it worth buying? Toto Drake 2 is one of the best-selling (arguably: All-time) modern two-piece toilets from the Toto brand. As a plumber, I have installed the Toto Drake II toilet more than 100 times and complain issues(Like leakage, Clogging, flush not working properly, etc.) were less. Drake II is the upgraded version of the Toto Drake toilet. Read this Toto Drake II review to know more about this toilet.
Compared to other Toto brand toilets, this one is a bit cheaper and meets ADA requirements. It is also easy to install, and it will last for a very long period. Read on to know more about this two-piece elongated toilet from Toto.
Technical Features of the Toto Drake II Toilet
Features

Toto Drake II

Type:
Two-Piece Elongated
Flush Type:
Tornado Power Flush system
Technology:
The double Cyclone flushing system
Water Consumption:
1.28 GPF
Water-Saving:
Saves 20% water over 1.6 GPF toilets
Material:
Vitreous China
Certification:
ADA
Meet Standard Requirements:
EPA WaterSense, California's CEC and CALGreen
ADA taller universal height seat:
Yes
Weight:
94 pounds
Trapway Diameter:
2.125 in.
MaP Testing Rating:
>= 800 (

Highly Recommended

)
Shape:
Elongated
Color:
Cotton White
Maintenance Cost:
Less
Package Dimensions:
28.8 x 16.5 x 29.4 inches (without seat)
Price:
Check Price
Main Features & Toilet Toto Drake ii Review 2021
Dual cyclone technology
Sleek high profile two-piece design
The powerful, quiet Tornado flushing system
Super smooth, ion barrier glazing
Computer-designed trap way
ADA height compliant
Polished chrome right hand trip lever
CEFiONTECT glaze gravity flush
What are the Benefits of the Toto Drake ii toilet?
You will love to use this toilet because the Toto Drake 2 Toilet has some advanced features.
Durability
Toto toilets are known to be one of the most durable best flushing toilets on the market, and that's why many users and plumbers highly recommend them. The Drake II toilets are made of vitreous china material, which is sturdy and long-lasting. This means that you will use this toilet for many years before having to acquire a new one or even replace a defective part. Toto gives unrivaled performance, durability, and reliability. This is as a result of their great experience of more than 90 years in this field. The company manufactures three basic models: Original Drake, Ultra-High efficiency Drake II, and Eco Drake model.
So, even if the price of the Toto CST454CEFG#01 Drake ii toilet is slightly above that of its competitors, you can be guaranteed that you are getting the best toilet that will last for a very long time.
Related: Cheap toilet – Toto Entrada Reviews
Design
The drake ii with the white cotton finish is one of the perfectly designed toilets on the market. It is very comfortable and easy to use. This is because of its elongated bowl design and slim tank; thus, the user has enough space for sitting. In addition, when the toilet seat is added (not included in the purchase), the toilet has a chair height which is the universal height and ADA requirement. Apart from the excellent seat, the toilet also has an option of lockable lids to prevent messing with the double cyclone flushing system. Toto offers drake II in a variety of colors which are cotton white, colonial white, ebony, Sedona beige, and Bone.
Flushing Power
One of the features that make Toto toilets special is their powerful flushing systems. The Toto Drake ii toilets come with the G-max flushing system design, which provides an extra boost to the efficiency of the 1.28-gallon flush. The toilet is more efficient as the water enters the bowl via the angled nozzles.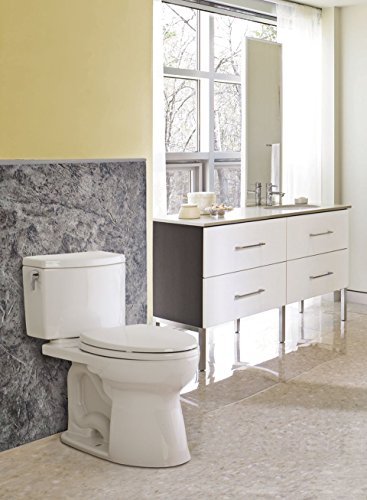 Check Price
Additionally, the computer-designed fully glazed trap way makes sure that the toilet gets rid of all the waste in the toilet bowl and in just a single flush. Thus, Toto Drake 2 is much better than the old version of Toto Drake. You can also read the difference between Toto Drake ii and Toto's original Drake model here.
Water usage
Another attribute that makes this toilet special over others is that it uses little water per flush. The drake 2 utilizes just 1.28 gallons per flush. But still, the toilet doesn't meet the EPA WaterSense requirements. However, the powerful and efficient flushing mechanism implies that it will clear the contents in just one flush. Since the toilet doesn't come with a dual flush, more water is used up as both short, and long calls use 1.28 gallons of water per flush.
Cleaning
With a two-piece toilet, the Toto Drake ii toilet with the Sanagloss finish is a bit challenging to clean. You cannot compare them with one-piece toilets from the same brand when it comes to ease of cleaning. The good news is that this toilet has a 3-inch valve, as opposed to the industry standard of 2-inch valves. Since the valve is larger, this means that the flushing will be faster and more powerful than it delivers the 1.28-gallon flush in about half the time of that of a standard flush. With the power flow, brought together with the enlarged 2 1/8-inch fully glazed trap way, this means that the drake ii is almost very hard to clog. Also, its coated CEFiONTECT glaze finish prevents bacteria and messes from sticking.
Ease of installation
Unlike other complicated toilet models on the market, the drake ii two-piece toilets are very easy to install. This is because it has a standard 12-inch rough-in from the completed wall to the middle of the waste pipe. Actually, this is one of the toilets that come complete with parts that are required in order to fix it. This is, of course, without the seat, which is bought separately. The toilet installation process is very simple and can even be done by a DIY enthusiast. All you need to do is to follow the installation instructions in the manual.
Related: Similar Pricing Toilet – Toto Aquia ii Dual Flush Toilet Reviews
Warranty
On top of offering outstanding features and performance, the Drake 2 toilets with Sanagloss finish come with a one-year limited warranty. Many people find this to be short-lived since toilets are one of the most used items in the house. But considering that many toilet brands offer the same warranty, it is only a wise idea to check out reviews and find out what previous buyers are saying about the toilet. With this high water efficiency toilet model, many users and buyers talk positively about it, and it is very reliable.
Why buy Toto Drake 2 Toilet?
It has a powerful flushing performance that clears waste in just a single Tornado flush system.
The toilet is very silent in operation and a great toilet for home use.
This Ultra-High efficiency toilet has a Sanagloss finish that looks smooth, nice and the toilet is very simple to clean.
It comes with an elongated bowl shape that provides comfort to the user. So you will not be awkward like with the round bowl toilets, which are 2 inches bigger than the elongated bowl.
The toilet has an ADA-compliant height when the seat is added, making it easy for adults to sit on or stand up.
It is eco-friendly as the user gets to save 20% water.
The manufacturer provides a one-year warranty.
It is perfectly designed with a slim toilet tank that leaves enough b bathroom space for sitting on the toilet.
Check Price
I don't like:
It is a two-piece toilet design which is a bit difficult to clean because there is a large space between the toilet tank and bowl.
The toilet is slightly priced when compared to similar 2 piece toilet models from other brands.
Acquiring Toto toilet parts may be somehow challenging as this is not an American brand, but it is from Japan.
The warranty is good but very short, which may not benefit the users at all as the toilet parts may break or become dysfunctional after many years of use.
It is not a dual flush toilet, and thus, both short and long calls will use the same amount of water. Also, you might rarely notice some skid marks around the bowl outlet. But, Toto Drake II is a much better choice than the Toto Drake eco-toilet.
Conclusion
It is evident that the Toto Drake II toilet is a great investment in any house as it meets ADA requirements and is sturdily built. You have the option of selecting either a left-hand lever or a right-hand lever. The excellent shape will also provide comfort, and it is very easy to install. In our Toto Drake ii toilet reviews, I have explained everything that you need to know about this toilet.
FAQ
Can I buy any toilet seat for this Toto drake ii toilet?
A. First of all, this model doesn't come with toilet seats, so you will have to buy a separate seat and fix it. The good news is that you can buy any toilet seat as it will perfectly fit on the Toto Drake ii toilet with an elongated bowl.
Is it possible to install the drake toilet by myself?
A. This is one of the most convenient and the easiest to install toilets. The toilet has a standard 12-inch rough-in from the finished wall to the center of the waste pipe. Thus, it fits most of the standard toilet needs. The bolts are not complicated, and you just need to follow the user manual to install them successfully.
Was this Toto Drake II review helpful? Or have you any questions? Comment below.