The high-profile Toto Legato elongated one-piece toilet with a CeFiONtect finish only uses 1.28 GPF. The Legato toilet has a sleek skirted design, just like the Toto Carlyle II toilet has. That makes cleaning outside the toilet to be seamless. It is uniquely designed and has a chrome trip lever located on the approachable side of the toilet, making it be ADA compliant. Moreover, the Legato Toto toilet has a universal height and comes with a toilet seat. Read our Toto Legato toilet reviews to know more about this toilet.
Elongated bowl, Sanagloss ceramic coating (Easy clean), SoftClose seat, Powerful flush, water-saving features make this Flushing toilet worth buying. It is a one-time investment that can keep away from headaches because a low-quality toilet increases the overall cost(leakage, flush doesn't work, and maintenance cost arises).
Technical Specifications of the Toto Legato One-Piece High-Efficiency Toilet 1.28 GPF
| | |
| --- | --- |
| Features | Toto Legato-ms624124cefg Toilet |
| Piece : | One |
| Water Consumption: | 1.28 GPF |
| Certification: | Watersense |
| Material: | Ceramic |
| Size: | 12 inches |
| Shape: | Elongated |
| Flush Type: | Gravity Flush Toilets |
| Product Dimensions: | 28.5 x 17.2 x 28 inches |
| Compliant: | ADA and CalGreen |
| SanaGloss Ceramic Coating: | Yes |
| Price: | Check Today's Price On Amazon |
High-Efficiency Toto Legato Toilet Reviews 2022
A huge advantage of this toilet is that there are no leaks from the bolts or gaskets, and the one-piece design enables it to be free of mold, bacteria, and other substances. Additionally, the dual cyclone flushing system is very effective and clears the waste in one flush.
On the other hand, the CeFiONtect ceramic glaze keeps the toilet bowl cleaner for longer. As a result, it reduces waste buildup and manual cleaning. The Legato toilet design is also EPA WaterSense certified and Calgreen compliant.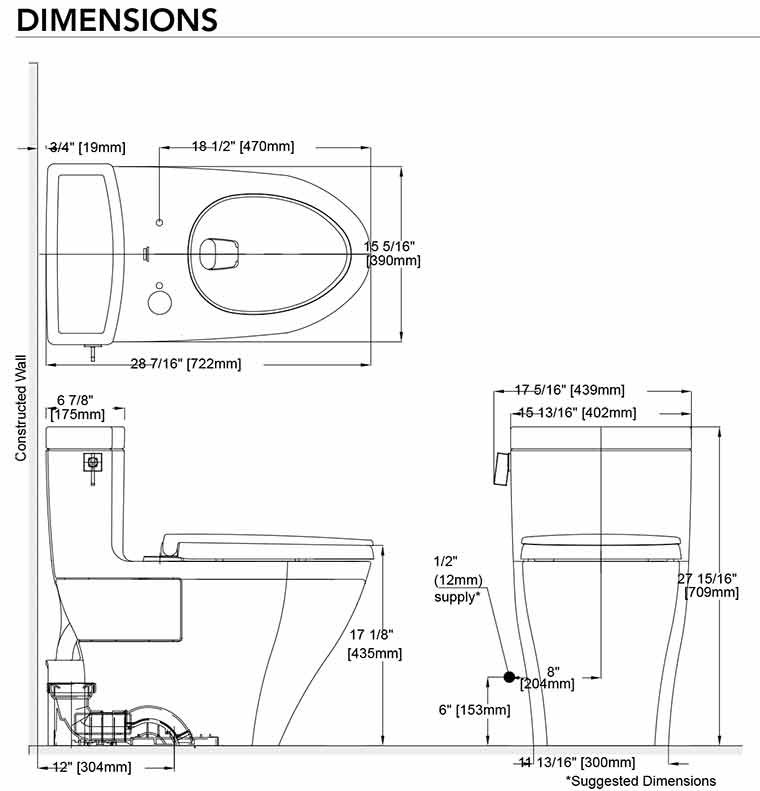 Related: Similar budget Choice-  Toto Ultramax II One-Piece Elongated Toilet
Features and benefits of the Toto Legato one piece toilet
Vitreous China construction – this is a toilet that is sturdily made and will last for several years to come. This material is strong and durable.
One-piece toilet design – the one-piece design does cleaning and maintaining the toilet to be easy. Also, there is no place that the mold or bacteria will hide as everything is cleared by the powerful tornado flushing system.
CeFiONtect Ceramic glaze – also known as "Sanagloss finish," this finish keeps the toilet cleaner for longer as nothing can stick to it that easily.
Chrome-plated trip lever – the trip lever is located on the recommended side of the toilet, making it be suitable for restrooms, public places, and for home use as well.
Elongated front bowl – this not only makes it possible for the toilet to be installed in slim bathrooms but also offers comfort to different users.
Double Cyclone flush technology – this cyclonic rinsing action is highly effective as it clears all the contents in the bowl with a forceful centrifugal rinse by just using 1.28 GPF.
Skirted design toilet – the design makes the toilet look even more beautiful and easy to clean on the outside.
SoftClose toilet seat – not many toilets come with a quick-release seat, but this one has one. The seat is comfortable and makes the toilet be ADA compliant as it matches the standard height.
Universal height – the toilet is of a universal height with the inclusion of the seat, hence suitable for all people of different ages.
ADA and Cal Green compliant – the chrome trip lever and universal height make this toilet to be ADA compliant.
EPA WaterSense certified – using this toilet allows you to save more than 20% water as it only consumes 1.28 gallons of water per flush and clears the waste in the toilet at once.
One-year warranty – the manufacturer offers buyers a one-year warranty, but their customer care is one of the best. Also, the product is reliable and thus no need to worry.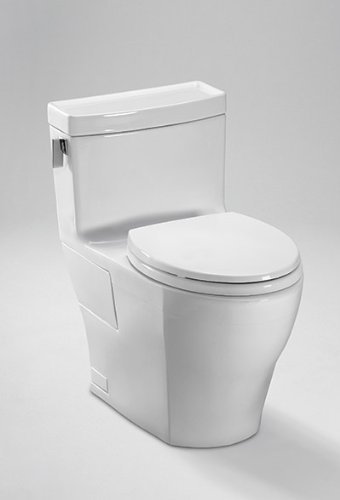 Check Price
Recap: Why buy Toto Legato Toilet?

This perfect toilet has a high-efficient dual flushing system.
Cotton white finish with CeFiONtect glaze gives it a modern look
Universal height gives different users an easy time using the toilet
A lot of water is saved as it is EPA WaterSense certified
The chrome-plated trip lever makes it be versatile as it is located on the approach side of the toilet.
Toto toilet has a quiet flushing system.
Elongated bowl design with a seat included offers comfort to the user
The CeFiONtect finish and Tornado flush keep the toilet clean for longer. Thus less cleaning is needed.
Being a one-piece toilet, cleaning is made easy
Cons:
Installation of the toilet is a bit troublesome as you need to change the water supply line due to the skirted design.
Conclusion
The Toto Legato one-piece toilet is exceptionally designed, and it will beautify your bathroom. In addition, the toilet is water-efficient in performance as it uses the tornado flush and has a CeFiONtect ceramic glaze that keeps away mold, bacteria, and other substances. This helps to keep the toilet clean for a longer time. It is also has a suitable height and can be used by people of different ages and heights.
If you have been searching for an elegant, sturdy, powerful, and lovely toilet design, then you should try out the Toto Legato elongated bowl toilet.
Related Product: Luxury 1 Piece Choice- Toto Carolina II Toilet Review
Toto Legato vs Aimes
The Toto Legato and Toto Aimes feature almost identical. Both toilets have these kinds of features: Tornado Flushing, Elongated Bowl, SoftClose Seat, Skirted Design, ADA Compliant, CeFiONtect Ceramic Glaze, 12″ Rough-In and water consumption 1.28GPF. Even their price same. So, you will not find any difference between them. Aimes and Legato both Toto toilets have identical toilet, and only their name is different.
FAQ
Question: How much space is needed to install the Toto legato toilet?
Answer: Being a one-piece toilet with an elongated bowl design, the legato toilet doesn't require much space to install. Actually, it can fit into a thin bathroom, and it is more convenient than round bowl toilets.
Question: What size toilet is good for my kids?
Answer: It is a good idea to buy a big toilet instead of a small toilet because your kid will grow up quickly and the small toilet will become useless very fast. So, purchase a big toilet but get the ideal toilet seats that kids are comfortable with. A standard toilet height such as the one Toto Legato is good for your home and even for washrooms in school.
Visitors Search Term:
Toto Legato review
Toto Legato Toilet Reviews