The Kohler San Souci is a beautiful and compact toilet suitable for installation in homes. Its unique and low-profile design makes it look outstanding and will instantly change your bathroom's look. Being a round bowl toilet, the Kohler San Souci one-piece toilet is ideal for small bathrooms. Moreover, the flushing toilet is comfortable to use as it is of a standard height. With the AquaPiston canister and gravity system, the toilet flushes effectively, ensuring that nothing is left in the toilet bowl. Read this Kohler San Souci toilet review to know more about this Kohler flush toilet.
Additionally, the Kohler San Souci uses only 1.28 gallons per flush, thus making the toilet water-efficient and EPA-certified. The toilet seat features an innovative technology that prevents it from slamming after use by closing slowly.
Single Gravity Flush Toilet- Kohler San Souci Reviews
Sleek design: For an attractive modern look
Round bowl: Ideal for compact bathrooms
Vitreous china material: 10+ years of lifespan
Gravity-fed flush: Bowl flush from all sides
Comfort Height: Ideal for all ages
WaterSense: Known for low water consumption
Warranty: One year
| | |
| --- | --- |
| Great Features | Kohler San Souci Toilet |
| Water Consumption: | 1.28 GPF |
| Pieces: | One-Piece |
| Bowl Height: | Standard |
| Color/Finish: | White |
| Certification: | EPA Approved |
| Material: | Vitreous China |
| Bowl Shape: | Round |
| Flushing Technology: | Gravity Fed |
| Flushing Power Type: | Single Flush |
| Included: | Mounting Bolts & Quiet close lid |
| Water-Efficient: | Yes |
| Capacity Description: | High |
| MaP Performance Rating: | >= 1000 (Highly Recommended) |
| Easy to Clean: | Yes |
| Bowl Height without Seat (in.): | 15.25 |
| Warranty: | 1-Year Limited Warranty |
| Price: | Check Price |
Sleek and Lovely Round Bowl Design
Whether you want to install it in the master bathroom or lower bathroom, this will be a great addition and will change the look of your bathroom altogether. The sleek and compact design allows you to have more space for the installation of other bathroom appliances.
Durable construction
The San Souci toilet is made of vitreous china material. This is a reliable material; thus, you can rely on your toilet to last for 10+ years. The toilet also has a durable trip lever located on the left-hand side of the toilet.
Related article: Check The Feature Details of Kohler Persuade Toilet
Powerful Gravity Fed Flush Mechanism
The toilet features a gravity-fed flushing system, one of the most powerful and effective in performance. In addition, it has the AquaPiston flushing canister that allows water to flow into the bowl from all sides. It increases the power and effectiveness of the flush. The big flush valve (3 inches) and large concealed Trapway (2.125 inches) play a vital role in the effective clearance of waste in the bowl.
Easy to clean and maintain
Since it is a one-piece toilet with an integrated tank and bowl, cleaning will be easy and fast. Furthermore, this toilet is easy to maintain as the bowl and tank are one piece. Thus there is no place for debris, mold, or dirt to hide.
Comfort Height Toilet
The toilet is of a standard height which makes it ideal for use by different people. However, the round front bowl is not as comfortable as the elongated bowl design.
Related: Best Toilets 2023 List [Most Popular 15 Toilet Reviewed by Plumbers]
Meets WaterSense Standards
Kohler San Souci meets the EPA standards, using less than 1.28 GPF. This implies that the toilet will help you save water and have a lower water bill. You will be able to save more than 16,500 gallons of water per year.
Easy to install Kohler San Souci One Piece Toilets
Installing this one-piece toilet isn't very difficult. All you need is a helper, and you will fix it within no time. It is quite heavy, but if you have a 12-inch rough-in, the installation process is easy and quick. Not that the bolts and seat are included, but not the supply line. Hence you will have to purchase it separately.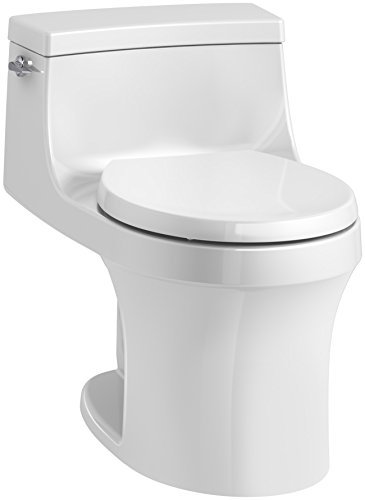 Check Price
One-year limited warranty
The manufacturer offers a one-year limited warranty and a 90-day money-back guarantee. This is great, but the warranty should be improved on.
Why buy Kohler San Souci Round Toilet?

The sleek and compact toilet design requires less floor space than the other two-piece toilets.
Its durable construction achieved good customer reviews
Gravity flush technology clears contents in one powerful flush
Has a wonderful MaP rating of 1000
A round bowl design is ideal for a small bathroom
Easy-to-clean one-piece toilet design
It saves water as only 1.28 GPF is used
The toilet is leak-free as it features a sturdy canister with less exposed material
It is eligible for consumer rebates in some states
One-year limited warranty
Negative Reviews Kohler San Souci K-5172:
The toilet is not ADA compliant
The supply line is not included in the purchase. Thus you will have to buy this separately.
Installation is challenging as this toilet is heavy and needs proper handling during installation.
Solve common Kohler San Souci toilet problems
There are lots of internal issues that the Kohler San Souci toilet faces. If you do not take proper measures, the entire toilet system may collapse. Here I am enlisting some of the severe problems of the san Souci toilet, 
The fill valve, which is the main part that allows water to enter the tank, may collapse. If the water has excessive iron or minerals, it may block the toilet parts. The fill valve may have faced the same problem. It allows the water to keep flowing into the tank, which causes over-flooding. 
Solutions: You need to clean and replace the seal if it is damaged or collects rust in it. Replace the flush valve seal and the fill valve with new ones. Replace the damaged piston or seat washer, and fill the valve seat if necessary. Tight the flush valve gasket nut if it is leaking.
Poor flushing performance 
Poor flushing may be initiated due to a worn-out flush button or if the water level is not at the correct level. A blockage in the main water supply line can also yield no flushing.
Solutions: Repair the chain to the trip lever or flush valve and adjust the correct water level for strong flushing. The trapway, jet, and rim holes must be cleared. 
Lack of efficiency of the Toilet Tank
The tank can exert some unwanted issues, just as not filing itself in the quick possible time.
Easy Fix: Clean and clear the supply line and the valve inlet and open the water supply shut-off valve. 
The toilet might produce some unnatural ghostly gurgling sound while filling the tank or during flushing. This is because the valve head might have been dirty or the water pressure is too high. Sometimes a jam in the bolts and connection also produces this horrible sound effect.
Solutions: You should close the water supply shut-off valve, clean the valve head, and flush the lines.
Comparison: Kohler San Souci Vs. Santa Rosa
The Kohler Santa rosa is a tremendous one-piece toilet that comes with a powerful flushing system. It is a comfort height toilet that spectacularly consumes minimum water in every flush, accurately 1.28 gpf. Its excellent ergonomic design can please anyone. The toilet seat is elongated in shape, ensuring maximum comfort and ease, and the fantastic WaterSense technology can save much of your bill. And the best part of this toilet is that it is a budget-friendly product that will not put much pressure on your pocket. 
The san Souci is another colossal edition by the renowned brand Kohler. The main difference between San Souci and Santa Rosa is that Santa Rosa has an epic MAP score of around 1000. The MAP value of the san Souci is less than 800, which means Santa rosa can evacuate a much larger amount of waste in each flush. San Souci uses a weak AquaPiston flush valve, which makes the flush far more clumsy than the Santa rosa. So, according to this informative comparison, Santa Rosa seems more powerful and effective than Kohler San Souci.
Conclusion
The Kohler San Souci is a great toilet for smaller bathrooms due to its compact design. It has a very effective flushing mechanism and clears waste in just a single flush. Also, there are no leaks, and it uses only 1.28 gallons of water per flush. With its lovely design and outstanding features, this is a nice toilet to invest in.
FAQs
Question: Can I install this toilet in the restroom?
Answer: No, you can't. This is because the toilet is not ADA-compliant. It is a requirement that only ADA-compliant toilets should be installed in restrooms or public areas. But the Kohler San Souci is a wonderful toilet for homeowners or offices.
Question: Can I install the toilet by myself?
Answer: Though this is possible, it is not recommended at all. This is because the San Souci one-piece toilet is quite heavy, as the tank and bowl are adjoined together. Installing this toilet yourself is risky as you may drop or damage it while installing it. You should get a helper to assist you in proper and safe installation.
Hi, this is Robert Crossan, the owner of this website, has 17 years of experience in the installation, maintenance, and repair of toilets and plumbing systems. After completing the Level 2 Basic Plumbing course in 2005, I started working in both domestic and commercial buildings as a professional plumber. So I can figure out the core difference between different toilet models and brands. It also helped me monitor their work performance and setbacks.