Bio Bidet is one of the most popular toilet seat brands on the market. This brand is known for its sleek and feature-packed bidet seats. Today, we will be going through one of their latest additions to the Bio Bidet Bliss series. This is the Bio Bidet BB2000 bidet seat.
This is a sleek and luxurious bidet seat that will compliment most modern bathrooms. Its streamlined design is captivating to the eye, and its exceptional bidet functions make users want to stay the whole day seated on the toilet. Read this Bio Bidet BB2000 review to know more about this Smart toilet seat.
Technical Specifications of Bio Bidet Bliss BB2000 smart Toilet Seat
| | |
| --- | --- |
| Features | Bio Bidet BB 2000 |
| Material: | ABS, Stainless Steel Nozzles |
| Water Consumption: | 1 GPM |
| Size: | Elongated |
| Color: | White |
| Capacity: | 400 lbs |
| Coverage: | 15 Amperage |
| Stainless Nozzle: | Yes |
| Voltage: | 120V |
| With exclusive Hydro-Flush Technology: | Yes |
| Batteries: | 2 AA batteries are required. (included) |
| Remote control operation: | Yes |
| Warranty: | Three Year Limited |
| Deodorizer: | Yes |
| Air dry system: | Yes |
| Slow closing lid: | Yes |
| Weight: | 15.27 pounds |
| Dimensions: | 21 x 15.6 x 9 inches |
| Price: | Check Today's Price |
Like many top bidet seats, the Bio Bidet BB2000 toilet seat features a heated seat, warm air dryer device, vortex water stream, air deodorizer, blue LED night light, nozzle, intelligent body sensor, and low-closing seat. Apart from the usual features, this unit also boasts advanced functions such as bubble-infused aerated wash, hydro-flush technology, and nozzle replacement. With these added features, your toilet experience will never be the same.
The Bio Bidet Bliss BB 2000 seat has done away with most of the limitations of the past Bidet toilet seats and added several features that bring forth a new experience. Read the whole post to find out why this bidet seat is highly rated among the best. In our Bio Bidet BB2000 reviews, we've simplified things further for you by highlighting its features, pros, and cons.
Remote Controlled Bio Bidet BB2000 Review With Pros & Cons
Sleek and stylish design
At such a slightly high price, you get what you pay for. The Bidet BB2000 is a real example of elegance and luxury in the bathroom. Thanks to the sleek and attractive design that is very appealing to the eye.
On top of that, the unit is simple to install, and you don't need to hire a plumber. You just need an adjustable wrench to tighten the mounting screws. At around 15.3 pounds of weight, this seat can hold a weight capacity of up to 400 pounds.
Durable Nozzle
The stainless steel nozzle is durable and doesn't rust. As a result, you will depend on it for many years to come. Aside from that, it can be replaced if it gets out of shape. The nozzle position is also adjustable to different positions, depending on the likeness of the user.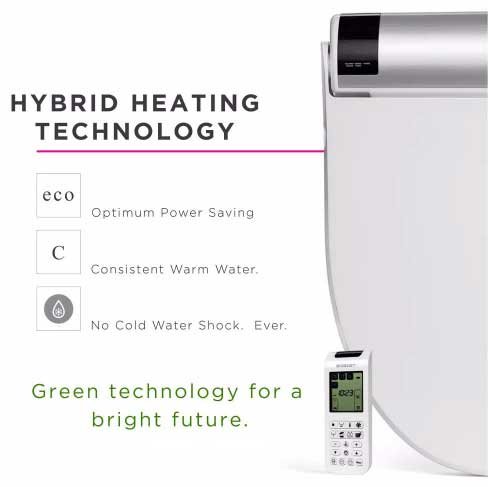 Check Today's Price
Furthermore, the nozzle delivers three different settings, which are posterior clean, feminine wash, and vortex wash. Also, it has two massaging functions, which include oscillating wash and pulsating clean.
Wireless remote controls
You will not be required to touch the toilet when you're done. This is thanks to the wireless remote control that you can use to instruct different settings. Choose the level of water temperature, adjustable water pressure, rear wash or posterior wash, and much more. The remote has a choice of two colors, which are white or black. So, the option is yours!
Warm air dryer
Many people are currently embracing the bidet toilet seat because of the aspect of hygiene that they offer. Unlike using toilet paper, you don't need to touch your nether area at all. The nozzle cleanses your nether area, and the hot air dryer dries the area.
Air deodorizer
The Bio Bidet BB2000 toilet seat saves you the stress of smelling odors from the toilet. It features an air deodorizer that absorbs the odor and releases clean and fresh air into the toilet.
Heated Toilet seat
Sitting on a cold toilet seat in the morning is very unbearable, but this unit changes all of that. It has an adjustable hybrid water heating system that can control water temperature. So, you can set the level of seat temperature that is okay for you.
Hybrid heating technology
Another unique feature of this toilet is the hybrid heating system. The Seat is more advanced than Bio Bidet USPA 6800. Unlike some bidet units that deliver unreliable water temperature during use, this system provides unlimited warm water during use. The temperature of the water remains constant, which makes it comfortable and fun to use. So, regardless of the weather or usage, the water will still retain its temperature.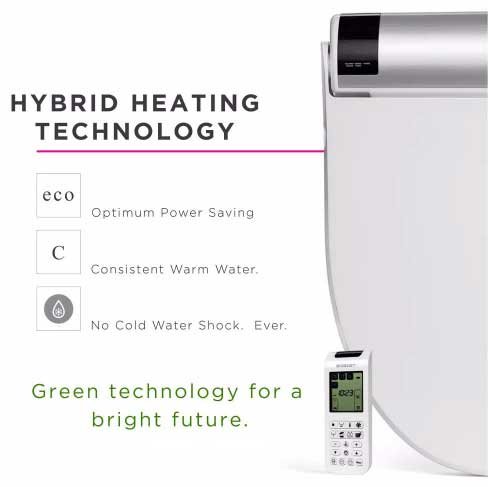 Check Today's Price
Night light
This premium bidet seat comes with a night LED light, slightly different from other bidet seats. The night light is fitted on the side control panel, which is vital in helping you to detect the toilet in the dark. Also, you don't have to turn your bathroom light as the blue night light will guide you to the toilet.
Hydro-flush technology
The hydro-flush technology helps to keep the stainless steel nozzle clean. The technology works by cleaning the nozzle inside and out. As a result, all the impurities and water minerals in the nozzle are removed. Water passes through the nozzle with a lot of pressure through a specially located drain at the nozzle tip with all the unwanted materials.
Slow-closing seat and lid
Similar to many bidet toilet seats, this unit also comes with a slow-closing seat. This seat prevents the making of noise as it doesn't slam like ordinary toilet seats. Also, the seat won't hurt your fingers if you forget to remove them while closing the toilet seat.
3-year warranty
The manufacturer has full trust in its products, and that's why this product features a 3-year warranty. So, you can buy the bidet seat with confidence as it is covered for three years against defects in material and workmanship.
Pros of the Bio Bidet BB2000 bidet toilet seat
Sleek and luxurious design
Comfortable to use with different spray volume settings
The adjustable heated seat offers comfort in cold and minimizes overall toilet paper usage
The air deodorizer keeps the toilet smelling fresh
Bio Bidet BB 2000 is easy to mount
Simple to use with the wireless remote controlling technology
Hydro-flush technology keeps the nozzle clean
Auto wash feature reduces the tissue paper usage
The cool blue night light makes identifying the toilet in the dark easy
Slow-closing seat avoids slamming of the toilet
A warm air drying system maintains a high level of hygiene with continuous warm water
3-year manufacturer's warranty
Cons
The enema function is not as effective as others
Electric toilet seats are quite expensive compared to a regular toilet seat
Summary
If you've been looking for a luxurious bidet toilet seat with easy-to-use and reliable features, then the Bio Bidet BB2000 will be an excellent addition to your bathroom. Bio Bidet products never disappoint and do the BB2000 bidet seat. Offering a mix of luxury and functionality, the BB2000 will instantly change the look and comfort of your toilet. Additionally, it is simple to mount and clean. Also, you can forget about the cold mornings or leave some residue in your nether area.
Even though the enema pressure is low, this shouldn't stop you from acquiring this elegant and luxurious unit for your modern bathroom. I hope you have got a clear idea after reading this Bio Bidet BB2000 review.
FAQs
Question: My bidet toilet seat is fading; what is the problem?
Answer: This is because you may be using an abrasive and harsh cleaner to clean your toilet seat. It is vital to stay away from toilet bowl cleaners and cleaning products that contain aerosols, bleach, essential oils, abrasives, or vinegar. Using such cleaners may remove the finish or cause scratches. Instead, it would be best if you used a mild soap that will not only clean your seat properly but as well as kill germs.
Question: How do I tell that the Bio Bidet seat will fit my toilet?
Answer: You can find out by taking the measurements of the toilet bowls. Start by measuring the back of the bowl to the furthest point of the bowl in the front. Then, measure the bowl from side to side. Finally, measure the bolt spread of the hinges from the center of one hinge to the center of another hinge. Don't forget to consider the type of toilet seat. It can be an elongated or round bowl design.