In America, some of the notable toilet brands are the American Standard and Kohler. But which one produces the best flushing toilet on the market? Different people will come up with different opinions about these two brands. Some love the American standard toilet brand because of its efficiency, while others love Kohler because of its comfort. Read this American Standard VS Kohler Toilets to know more about these two brands.
As a plumber, I have installed lots of Kohler and American Standard toilets. Some models work great, and some do not. You have to select a toilet depending on your budget, flushing power, easy cleaning, water consumption(1.6 or 1.28 GPF), and bathroom size. You cannot blindly depend on the brand. Although, I have compared some general information between American Standard and Kohler brands. I have also compared these two brands' most popular toilets.
General Comparison Between American Standard and Kohler Toilets
Which brand of the toilet should you select? Kohler or American Standard toilet? The basic comparison is here:
Although both toilets are EPA(Environmental Protection Agency) approved. But, with the new Federal law that requires all toilets manufactured in the USA to use an average of 1.6 gallons per flush or less; Thus, you should choose your flushing toilet wisely. Many homeowners rush to buy a new toilet and only regret it later. With so many brands on the market, choosing a quality and reliable toilet is wise. Do not rush; check out the reviews and compare prices and features.
Major issues with American Standard toilets: water usage, leaky valves, and ghost flushing
Common problems with Kohler toilets: expensive, weak flushing, and clogging.
Quick Comparison Chart:
| | | |
| --- | --- | --- |
| Features | Kohler Toilet | American Standard Toilet |
| Company Business: | More than 100 years(Parent Est. 1873) | More than 100 years(Parent Est. 1875) |
| Company Employee: | 32,000+ | 15,200+ |
| Est. Yearly Revenue: | $2 to $5 billion | $500 million to $1 billion |
| Customer Support: | Need Improvement | Very Responsive |
| Warranty: | Limited 1-Year Limited Warranty | Limited 10-Year Warranty |
| Warranty Support: | Not Great | Very Helpful |
| Price: | A little bit Higher | Low |
| Maintenance Cost: | High | Medium |
| Leak Issues: | Complaint Increasing | Still Reasonable |
| My 2023's Rating: | 85 out of 100 | 90 out of 100 |
| My 2023's Top Pick: | Check Today's Price | Check Today's Price |
Detailed Comparison:
Kohler toilets have a slight edge over American Standard toilets in terms of ease of installation because they are lightweight and easy to lift by one person. But it should not be a major issue.
In terms of flushing systems, American Standard toilets have some of the latest flushing mechanisms (like Cadet 3, Vormax, and Tornado) that are more powerful than Kohler toilets.
When we compared the price ranges, we found American Standard toilets to be more affordable and have lots of variety. On the other hand, Kohler toilets are slightly expensive.
If we compare the overall look and design, Kohler toilets are more attractive and appealing compared to American Standard toilets.
Most Kohler toilet models utilize less water than American Standard toilets. So they are more eco-friendly.
Kohler offers 1–5 years of warranty, depending on the model, while American Standard offers 5–10 years of warranty.
When it comes to clog-free operation (in regular models), American Standard beats Kohler. But if you go for the luxurious option, both are anti-clog toilets.
Most Popular Kohler Cimarron Vs. American Standard Champion 4 Comparison:
The American Standard Champion 4 and Kohler Cimarron toilets are the most popular of these two brands.
| | | |
| --- | --- | --- |
| Features | American Standard Champion 4 | Kohler Cimarron |
| Flush Type: | Dual-Flush | Gravity Flush |
| Water Consumption: | 1.6 GPF | 1.28 GPF |
| Certification: | Watersense certified frustration-free | WaterSense |
| Material: | Vitreous China | Vitreous China |
| Color: | White | White |
| Style: | Elongated | Elongated |
| Product Dimensions: | 17.8 x 29.8 x 29.5 inches | 28.8 x 17.6 x 30.8 inches |
| Piece: | One Piece | Two Pieces |
| Warranty Description: | Limited 10-Year Warranty | One-year limited warranty |
| Details: | Read Reviews | Read Reviews |
| My Recommendation: | Check Price | Check Price |
Affiliate Disclosure: "This page contains Amazon affiliate links. When you buy through our links, I may receive a commission at no extra cost to you."
Features Comparison: American Standard vs. Kohler Toilets
We have decided to compare the two brands and help you to come up with an informed choice.
Flushing system
American Standard toilet has a very powerful dual flushing system that clears all the contents in the bowl in just one flush. But then, Kohler tends to use very little water during flushing. So, Kohler is very efficient in water usage, while the American Standard provides a very powerful flush. The good thing with the American standard is that it clears all the waste in just a single flush, while Kohler has been reported not to be very efficient in clearing both liquid and solid waste at once. As a result, using the American Standard toilet lets you save water in the long run.
For a silent flushing system, the American standard still tops Kohler. American standard toilets flush silently, and not even your neighbor will hear a sound. This is not the case with Kohler as they produce a low sound, but it is not as loud as some other toilet brands on the market.
Related: Toto VS Kohler Toilets
Cleaning
I don't have much to say about cleaning the American standard or the Kohler toilets, as they are both very easy to clean. First of all, it all depends on the toilet model and type of toilet. One-piece toilets are very easy to clean when compared to two-piece toilets. On top of that, Kohler toilets have an excellent finish, making cleaning easy as they don't stick. Alternatively, the powerful flushing system found in American Standard clears all the waste and dust in the bowl, leaving it sparkling clean after every use.
Installation
Both of these toilet brands offer easy-to-install toilet models. Since they are made in the USA, they meet all the plumbing requirements and can be installed with much ease. The bolts are not tricky; you just need to follow the installation instructions. One-piece toilets are easier to install than two-piece toilets. Take measurements of your bathroom before buying a toilet. You don't want a large toilet taking out most of the space. Rounded toilets typically take up more space than elongated toilets.
Maintenance
This is one area where Kohler faces some challenges. Many Kohler users have had different issues with their toilets, such as clogging. On the other hand, American Standard users highly recommend their toilets, and most of them have not had any challenges like leakages or clogging. So, American Standard toilets are very easy to maintain when compared to Kohler toilets.
Related: Toto VS American standard toilets
Price
The American standard toilet brand offers some of the cheapest quality toilets on the market. When compared to Kohler, American Standard toilets are more affordable but still very effective in performance. So, it is just a matter of preference, but they differ in price slightly. American standard toilets are very durable and are offered at a lower price when compared to Kohler. But if you want a slightly comfortable toilet at a higher price, then you can choose one from Kohler.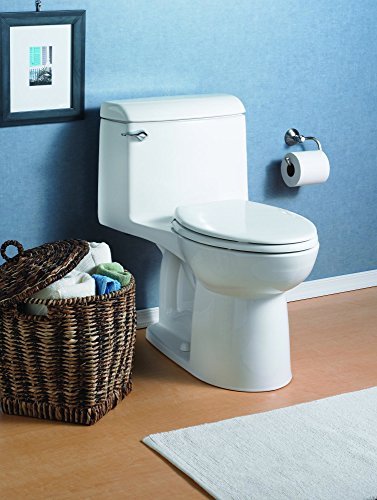 Design
You can go for the Kohler or American Standard toilet, depending on your needs. Kohler is known to have an elongated bowl and a comfortable height. At the same time, the American standard offers different toilet designs, with both round and elongated toilets offered. American Standard is also comfortable, but it needs more installation space. Kohler is great for compact areas and where the bathroom space is small. Also, Kohler toilets are more comfortable when compared to American Standard toilets. Therefore, if you are looking for an elegant toilet to add to your modern bathroom, I would suggest you select Kohler.
American Standard or Kohler? Which is a better toilet?
So, what is the conclusion of the American standard vs. Kohler toilets post? The Kohler and American standard toilet brands are efficient, powerful, durable, and very easy to clean. The final decision will depend on their price, efficiency in flushing, and comfort. American standard toilet is slightly cheaper and comes with a very efficient and silent flushing system. At the same time, Kohler is very comfortable and uses very little water per flush. Comparing these two toilet brands shows that the American standard is better due to its ease of use and water efficiency in performance. But Kohler is not far off as it has similar features and brings comfort to your bathroom.

All in all, you should pick a toilet that meets your demands and budget. After all, they are all durable and high-quality toilets.
I hope this Kohler vs. American Standard toilets comparison article was helpful. Still have a question? Comment below.
Hi, this is Robert Crossan, the owner of this website, has 17 years of experience in the installation, maintenance, and repair of toilets and plumbing systems. After completing the Level 2 Basic Plumbing course in 2005, I started working in both domestic and commercial buildings as a professional plumber. So I can figure out the core difference between different toilet models and brands. It also helped me monitor their work performance and setbacks.