The Kohler Devonshire toilet is a high-efficient and comfortable toilet. This toilet has impressed me more than the Kohler Persuade and Kohler Corbelle toilets. The manufacturer offers different colors to complement different bathroom colors. You can pick from biscuits, almonds, white, black, ice gray, or sandbar. Read this Kohler Devonshire toilet review to know more about this. (Download Manual)
The Kohler K-3837-96 Devonshire two-piece toilet is comfortable to use as it is of chair height and has an elongated bowl design. It is very effective in performance as it has Kohler's canister flush valve that provides powerful and smooth actuation with consistent usage. When clearing the bowl, the toilet only uses 1.28 GPF, which makes it water efficient.
Note: Kohler Devonshire K-3488-0 toilet features a one-piece design with 1.6 GPF water usage.
| | |
| --- | --- |
| Technical Specifications | Kohler K-3837-96 Devonshire Toilet |
| Water Consumption: | 1.28 GPF |
| Pieces: | 2-Piece |
| Bowl Height: | Standard |
| Color/Finish: | Biscuit |
| Size: | 30.5″ x 17.25″ x 31″ |
| Material: | China with the exposed seal material |
| Shape: | Elongated great design |
| Flush Type: | Gravity Flush Operation |
| Number of Handles: | 1 |
| Handle/Lever Placement: | Left |
| Certification: | Watersense |
| Dimensions: | 40.2 x 28.8 x 25.5 inches |
| Weight: | 98 pounds |
| Warranty: | One-year limited warranty |
| Price: | Check Today's Price |
These and many other features have been discussed further in our Kohler Devonshire reviews. So, continue reading and find out more features, pros, and cons of the Kohler Devonshire elongated two-piece bowl toilet.

Comfort Height Kohler Devonshire Toilet Review in 2023
Vitreous china construction
If you have used Kohler before, then you understand how durable they are. This hasn't changed either with the Kohler Devonshire elongated bowl toilet. It is constructed using vitreous china material, which is durable and long-lasting. This means that you will use this toilet for many years to come as long as you maintain it well. It also has a sturdy chrome trip level that starts the flushing process.
Excellent design and finish
Whether you've got a modern or traditional bathroom design, the Devonshire Kohler toilet will still look beautiful in it. Thanks to its rounded basin or the lavatory, which has a gentle feel to its square deck. The biscuit color is lovely and ideal for the bathroom.
1.28 GPF Toilet
Using 1.28 gallons per flush is amazing as you will end up saving at least 16500 gallons of water every year. Also, some users will get rebates in some municipalities in the USA. Even with this water consumption rate, the toilet is able to clear all the waste very effectively in one attempt.
Comfort height elongated bowl design.
Another feature that sets this toilet above its competitors is its comfort. The toilet has a chair height, which makes sitting down or standing up to be simple. Moreover, the user will be comfortable sitting on the bowl as it is of an elongated design. So there is more space and comfort.
12-inch rough-in
Installation isn't a problem, and you can do it on your own. This is because it comes with a 12-inch rough-in and it is a two-piece toilet. Thus, you can start by setting up the toilet bowl and fixing the toilet tank later. Also, the pre-installed tank bolts make attaching the tank to the bowl to be easy and fast.
Kohler's canister flush valve
You will never experience clogs when you install this toilet in your bathroom. This is because it has Kohler's canister flush valve that provides a powerful flush performance that eliminates clogs without utilizing a lot of water.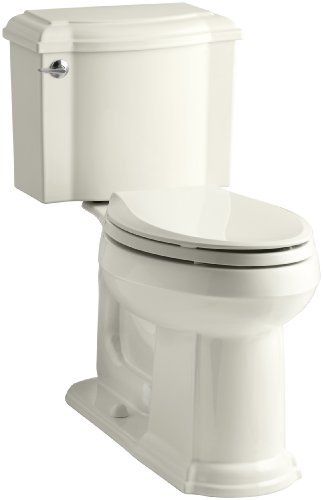 Check Price
Class five (R) flushing system
The class five flushing system offers outstanding bulk waste flushing performance and as well leaves the bowl clean.
One-year limited warranty
On purchase of this 2-piece toilet, the user gets a one-year limited warranty from Kohler. This instills confidence in the buyer and assures them that the company is ready to replace or repair any damaged part within this period.
Why buy Kohler Devonshire 1.28 GPF Toilets?

Comfortable chair height
Elongated bowl design for added comfort
Durable as it is made of vitreous china material
Excellent design that will complement both contemporary and traditional bathrooms
It saves water as it only uses 1.28 gallons of water per flush
Powerful flushing system that clears contents in a single flush
Easy to install as it has a 12-inches rough-in
Wide range of colors to choose from
EPA WaterSense certified, ADA compliant & leak-free performance
A powerful canister valve eliminates clogs without wasting a lot of water
1-year limited warranty
Buyer's Negative Feedback
The toilet seat, wax ring, and supply line are not included in the purchase. Thus you will have to buy them separately.

It has nooks and crannies, which make cleaning the exterior of the toilet to be quite challenging.
Summary
If you've been looking for a powerful and great toilet at a great price, then the Kohler Devonshire two-piece toilet is for you. This beautiful and durable toilet has all the features of a modern toilet but can also easily blend with traditional bathroom designs. It is also easy to install, and it will effectively clear the contents of the toilet bowl.
Having this toilet will help you get rebates in some states and, at the same time, conserve the environment.
FAQ
Question: Can I also get a 10-inch rough-in of the same toilet?
Answer: You will not get a 10-inch rough-in. Kohler offers a Devonshire toilet model with only a 12-inch rough-in. Rough-in means the distance between the wall and the center of the outlet pipe where waste wastes and other contents leave the bowl.
Question: Does the toilet come with a toilet seat, wax ring, and supply line?
Answer: No, it doesn't. You will have to purchase all of these things separately if you intend to install the toilet by yourself. This is an added cost that you will have to bear, but the manufacturer sells all of the installation hardware.
Still, have a question after reading our Devonshire toilet reviews article? Comment below.
Hi, this is Robert Crossan, the owner of this website, has 17 years of experience in the installation, maintenance, and repair of toilets and plumbing systems. After completing the Level 2 Basic Plumbing course in 2005, I started working in both domestic and commercial buildings as a professional plumber. So I can figure out the core difference between different toilet models and brands. It also helped me monitor their work performance and setbacks.