American Standard has been in this industry for a long, and they are known for their high-quality and high-efficient toilet designs. Unlike Toto toilets and Kohler toilets, the American Standard toilets are slightly cheaper but still perform at a very high level.
If you want to upgrade to a powerful and ultra-high-efficiency American Standard toilet like the Optum Vormax, then you should try out the American Standard Vormax plus. If you want a one-piece toilet, then look at this American Standard Ultima Vormax toilet review. The Vormax Plus is a self-cleaning toilet that freshens the bowl every time you flush the toilet. Vormax plus combines with Lysol and the powerful VorMax flush hydraulics to bring a unique cleaning experience with just a single flush. Read our American Standard Vormax Plus reviews to know more about this toilet.
| | |
| --- | --- |
| Quick Verdict | Score |
| Positive User Reviews: | 90% |
| Flushing Strength: | 95% |
| Cleaning Performance: | 94% |
| Outlook: | 90% |
| Installation Process: | 96% |
| Water-Efficiency: | 95% |
| My Ratings: | 93% |
What is the VorMax flushing system?
I think you got confused about this Vormax flushing system and how it works from this. The Vormax flushing system is a revolutionary invention. It eliminates the conventional rim holes, which deliver water in the flush cycle around the inside of the bowl. So there are no rim holes around the bowl, making it easy to maintain. And this powerful flush system needs only 1.28 gallons of water to clean the bowl. So this is quite a robust flush system and very good for your environment, as it reduces the water bill. This powerful flush system easily cleans the whole bowl, makes the toilet shiny, and has fewer bacteria.
American Standard Vormax Plus Review
The Vormax plus toilet is easy to install as it has a 12-inch rough-in, and it is a two-piece design. Installing this toilet will help you save water as it only uses 1.28 gallons per flush. The toilet is very comfortable as it has an elongated bowl design and is ADA-compliant. These and many other features of the Vormax self-cleaning toilet have been discussed further in this review.
When you install this toilet, you will say goodbye to smelly toilets and won't have to scrub hard to get a shiny look.
Technical Specifications
| | |
| --- | --- |
| Features | American Standard Vormax Plus Toilet |
| Water Consumption: | 1.28 gallons of water per flush |
| Pieces: | Two-Piece |
| Bowl Shape: | Elongated |
| Color/Finish: | White |
| Material: | Vitreous China |
| Commercial / Residential: | Residential |
| Flush Type: | Single Flush |
| Powerful Vormax flushing system: | Gravity Fed |
| MAP Testing Score: | ≤ 1000 (Highly Recommended) |
| Product Height (in.): | 30.8125 |
| Product Width (in.): | 18.0625 |
| Style: | Minimalist, Modern |
| Great Features: | Antimicrobial, Deodorizing |
| Warranty: | Limited 10-year warranty |
| Price: | Check Today's Price |
The VorMax plus two-piece toilet is a nice toilet for the money as it offers lots of amazing features. The toilet is constructed with vitreous china material, which is long-lasting. It has the toilet tank and bowl separate, which makes the installation process to be easy. In addition, it has a standard rough-in of 12 inches, which is common in the latest homes. So, no need to contact the plumber as you can set up the toilet by yourself.
VorMax Plus FreshInfuser
One of the features that separate the Vormax plus toilet from other toilet brands is its two VorMax Plus FreshInfuser packs, which are included in the purchase. The VorMax jetted scrub, together with the Lysol, functions hand-in-hand to keep the toilet bowl clean and smelling fresh. This can be as well attributed to the self-cleaning toilet that freshens the bowl after every flush. With this system in place, you won't have to scrub the toilet as it will clean itself effortlessly constantly. You can also buy specially formulated VorMax Plus FreshInfuser separately.
Easy To Clean
Toilets flushing power depends on their flush valves. The VorMax flush technology alone cleans twice better than standard toilets with a single flush. This efficient flushing and cleaning system ensures that no staining or buildup is left behind. Moreover, the toilet bowl is made of an Everclear surface, which prevents the development of odor-causing mold, mildew, and bacteria. Also, the cleaning compartment is well concealed behind the toilet seat and is easy to access. The best part of all is that the flushing system only uses 1.28 gallons per flush.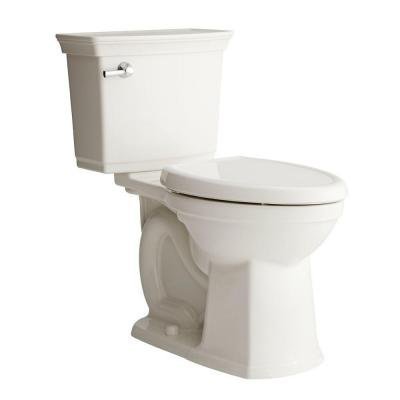 Check Price
Water Saver
In the end, you're able to save water and get a discount on your water bill in some states. At the same time, you keep the environment clean by minimizing water misuse. Another feature that I almost forgot about the VorMax Plus two-piece toilet when it comes to keeping it clean is the CleanCurve rim. The CleanCurve rim design helps eliminate concealed, hard-to-reach areas where dirt and other debris tend to hide.
ADA compliant height
Using the toilet is also easy as it is a chair-height elongated toilet.  Thus, different people can utilize the toilet without straining a lot. Also, it has a chrome trip lever on the left side, making it ADA-compliant with the standard bowl height. The elongated bowl design offers more sitting space, and the slow close seat ensures that people in the house are not distracted by the slamming.
Easy to Install
Installing this WaterSense toilet is one of the easiest things, as discussed earlier. The toilet is a two-piece design and has a 12-inch rough-in, and things like toilet seats, bolts, and wax ring are included for easy and quick installation. With a limited 10-year warranty, this is a toilet that you can spend your hard-earned cash on, and you will not regret making the decision. It will simplify your work, as scrubbing the toilet will be minimized. You will only have to purchase another VorMax plus fresh infusers to keep the toilet clean and smelling fresh.
Why buy American Standard Vormax Plus Toilet?

Durable construction for longevity
A self-cleaning toilet remains fresh and clean after every flush
High-efficient toilet as the water usage is 1.28 GPF for solid waste
Large Trapway to clear contents in one flush
Easy to install with a 12-inch rough-in
This right-height toilet comes with a 1000g MaP performance rating
Vormax toilets are EPA approved
Comfortable bowl height
Everclean surface is smooth and easy to clean
No toilet seat slamming as it comes with a slow close, quick release seat
Features clean curve rim design that gets rid of concealed, hard-to-reach areas that hide dirt
Limited 10-year warranty
The Reason Why It Got Negative Reviews:
The dual injection flush valves have been reported by many users to cause leaking.
Common Problems and Solutions:
There are a few problems you face when you use this American Standard Vormax toilet. The first one is sometimes it'll not be enough to clean the bowl with one flush because of heavy waste and less water. That is why you need to wait a little bit to pour the water tank properly for another flush. So if your American Standard Vormax toilet doesn't flush well, you can attach a 1.6-gallon old version of the vormax water tank. I think then you can easily clean your waste in one flush.
Another problem is the tank flapper is not strong enough, and the injection flush valve is leaking water. For this type of problem, you make sure the valve is attached tightly, and if you face a problem with a weak tank flapper, you can contact the company. They give you a 10 years warranty. So if they need it, they can change the flapper or the whole toilet. 
2 Alternative For American Standard Vormax Plus
American Standard Optum VorMax Toilet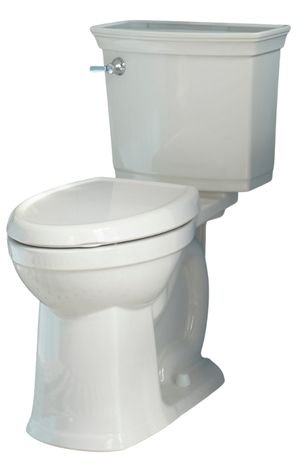 Two Piece Toilet
Flush Valve Size Three
Product Weight 92 lb
12 Inches Rough-In
Vitreous China Material
Gravity Fed Flushing Technology
Single Flushing
GPF Max 1.28
Toilet Bowl Height With Seat 18-11/16
Toilet Trapway Diameter 2-1/2
Two No. Of Flush Valves
10-Year Limited Warranty
American Standard Townsend VorMax Toilet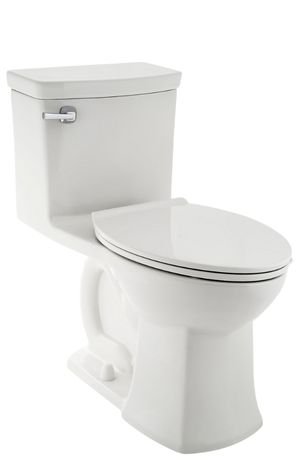 One Piece Toilet
Flush Valve Size Two
Gravity Fed Flushing Technology
Single Flushing
12 Inches Rough-In
GPF Max 1.28
Vitreous China Material
Toilet Bowl Height with Seat 18-9/16
Toilet Seat Front Type Closed
Toilet Glazed Trapway 2-1/16
Two No. Of Flush Valves
Summary
The Vormax Plus tall-height two-piece toilet is a high-performance toilet model with outstanding features. The toilet features a powerful flushing system in the VorMax jetted scrub with Lysol to keep the bowl clean and smelling fresh most of the time. It is also comfortable as it has a chair-height bowl, and it is elongated to provide the needed comfort.
Made from vitreous china material, this is a toilet model that will last for a long time. You will also end up saving on your water bill as it only uses 1.28 GPF. Install this toilet in your bathroom or public restroom and let it do the work. With a 10-year warranty, this is a worthy investment. I have explained everything in our American Standard Vormax Plus toilet review that you should know.
FAQ
Question: What is the difference between a 10-inch and 12-inch toilet rough-in?
Answer: Normally, there are toilets that need a 10-inch rough-in, a 12-inch rough-in, and a 14-inch rough-in. If you want to know the rough-in dimensions, measure from the middle of your toilet bolt holes to your wall. A good number of standard American toilets are made with a 12-inch rough-in.
However, if you are not able to install a 12-inch rough-in toilet where you lack enough space to install your tank onto the toilet bowl due to the wall being an obstacle, a 10-inch rough-in may be the solution. And if there is a lot of space between the back of your tank and the wall, then you should install a 14-inch rough-in toilet.
Question: The toilet tank is not sitting in place? What should I do?
Answer: In case the tank is wobbling, remove the tank cover and put a level across the top of the tank. Then, pull the tank down evenly and attempt to level it out. With the help of a screwdriver, hold down the bolts securely and turn the nut with a wrench a quarter to the left and a quarter to the right. Do not turn the screwdriver again and go from side to side until the tank is secure on the bowl and in position.
Still, have a question after reading our American Standard Vormax Plus reviews? Comment below.
Hi, this is Robert Crossan, the owner of this website, has 17 years of experience in the installation, maintenance, and repair of toilets and plumbing systems. After completing the Level 2 Basic Plumbing course in 2005, I started working in both domestic and commercial buildings as a professional plumber. So I can figure out the core difference between different toilet models and brands. It also helped me monitor their work performance and setbacks.