The toilet that you choose for your home or office is very important. Not all toilets are made the same, and they offer a different level of comfort and performance. After installing different flushing toilets, I came upon the Toto Neorest 700h toilet, which amazed me, and I decided to write this Toto Neorest 700H review. If you are looking for not only a luxury toilet but also a smart toilet, then you should consider buying this Toto 700H Neorest dual flush toilet. It is a much better toilet than the Toto G500 and Toto G400 toilets.
Related: Our Recommended 10 best Dual Flush toilet Comparisons
The Toto Neorest 700h toilet is an advanced toilet and one of the best toilets from the Toto brand. Despite having a high price tag, this is a high-performing modern toilet, and it is very comfortable. It is also easy to use and clean. In this Toto Neorest review, We've highlighted everything that you need to know about this Toto 700h toilet.
Technical Specifications of the Toto Neorest 700H Toilet
| | |
| --- | --- |
| Features | Toto Neorest 700H |
| Flushing System: | Dual Flush |
| Water Consumption: | 1.0 GPF & 0.8 gallons per flush |
| Pieces: | One-Piece |
| Color/Finish: | Cotton White |
| Style: | Contemporary |
| Material: | Ceramic with SanaGloss CEFIONTECT glaze finish |
| Shape: | Oval |
| Flush Type: | Siphon Jet |
| Power Source: | corded-electric |
| Voltage: | 120 volts |
| Certification: | Watersense |
| Dimensions: | 32.5 x 15.5 x 21.5 inches |
| Weight: | 124 pounds |
| Warranty: | 3-year limited(residential). One year limited(commercial) |
| Price: | Check Today's Price |
Toto Neorest 700H Review 2021
Powerful flushing system
The Toto nearest toilet features a double cyclone flush system. This is very effective in getting rid of the waste in the toilet bowl. It is a dual mechanism that allows for a partial flush of 0.8 GPF or a full flush or 1.0 GPF. This makes the toilet be an ultra-high-efficiency toilet.
Comfortable elongated bowl
The washlet is very comfortable to sit on or stand up. It can be utilized by people of different ages or those with disabilities without any issue.
One-piece design
Since this is a one piece toilet, you will have more room in your bathroom, and it can as well be ideal for fitting in small bathrooms. The modern look of the toilet will also change the look of your bathroom, and you will love it.
Related: Cheaper Option – Kohler Veil Intelligent Toilet Review [Skirted Smart, Dual Flush Toilet]
Hands-free operation
The spread of diseases will be minimized as you don't have to touch it after using the toilet for its Auto open seat. The toilet sensor will detect when you stand up and move away from the toilet, and its tornado flush system will automatically activate. Also, An automatic air deodorizer activates while using the toilet.
It uses a remote control.
The toilet comes with a remote control which makes using it to be more fun. Some of the functions that you can control using the remote are pressure, oscillating, position, dryer, and pulsating functions. The remote control can also help you change the wash cycle.
Heated seat with temperature control
Many people hate visiting the toilet during winter. But with the Neorest one-piece toilet, this is a thing of the past as the heated seat will be fun to use. The heated seat will keep you during cold nights and in the winter. Just adjust the temperature control system to suit your preference.
Related: Which is better? Kohler Veil or Toto Neorest?
Ewater+ technology
Cleaning this toilet is easy, and you don't have to do it frequently. This is because it has ewater+ technology that keeps the bowl clean and hygienic. In addition, the toilet is made of a SanaGloss finish that prohibits stains and other dirt from stocking on the surface of the toilet, thus keeping it cleaner for longer.
Related: Read Ewater+ feature toilet Toto Carolina II Reviews here
Oscillating and pulsating functions
Handling a dirty toilet is very disgusting. It can be very challenging to clean hard-to-reach areas of the toilet as some dirt hides in tricky corners. For this reason, the Toto Neorest toilet model is made with oscillating and pulsating functions that come into action during flushing to keep the bowl clean for longer.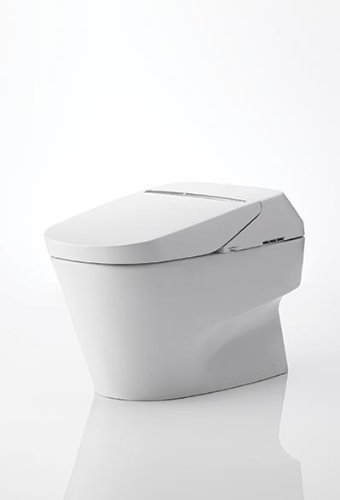 Check Today's Price
Soft-close seat
The seat included with this toilet model. One of the challenges of using traditional toilets is that the seat is slammed many times, and it ends up breaking. With the soft close Bidet seat that the Neorest one-piece toilet comes with, there is no slamming as it closes slowly after helping yourself.
Outstanding warranty
Apart from offering amazing features, the Toto Neorest toilet comes with a Three-year warranty for residential use and a 1-year warranty for commercial use.
Summary: Why buy Toto Neorest 700h dual flush toilet?

Easy to operate with a remote control
Elongated bowl design for added comfort
Skirted toilet for ergonomics and ease of cleaning
ADA compliant and automatic air deodorizer
EPA WaterSense certified. One flush is enough to flushing down the waste.
Water-saving Tornado flush uses 1.28 gallons per flush.
Nightlight with heated seat and Ewater
Soft-close integrated bidet seat with air dryer
Remote control operation with automatic flush sensor
3-year warranty and a one-year warranty for commercial
Setbacks:
It is an expensive advanced integrated toilet
Toto 700H High efficiency toilet is quite advanced and needs time for one to become well-versed with it.
Final thoughts
Overall, the Toto Neorest one-piece toilet may be high priced, but it's worth every penny. So, not everyone can afford it, but it brings a wonderful experience to the users. The Neorest toilet model is one of Toto's high-end toilets, and it has lived up to the hype, as seen from its features and benefits that we have discussed above. I highly recommend this toilet, and it will lower your water bill.
Toto G400 vs 700H
One of my visitors ask me, "what is the difference between Toto G400 and Toto 700h"? Here is the detailed comparison:
Features
Toto 700H
Toto G400
Flush Technology:
Double Cyclone
3D Tornado flush
Dual Flush System:
1.0 GPF & 0.8 GPF automatic flush
1.28 GPF & 0.9 GPF automatic flushing
Ewater+:
 This technology keeps the toilet bowl clean & hygienic
NO
Instant Water Heater:
YES
NO
Wide Front Cleanse:
YES
NO
Night Light:
YES
NO
Dimensions:
32.5 x 15.5 x 21.5 inches
28.6 x 11.6 x 26.9 inches
Price:
High
Low
Warranty:
Three Year (residential); 1 Year (commercial)
1 Year
Price:
(

My Recommendation

)Check Price
Check Price
FAQ
Question: Will Toto give me a warranty if I install this toilet in my office?
Answer: Yes, they will. If you install the toilet for commercial purposes, the brand will give you a one-year warranty. But for residential use, such as installing it in your house, you will get a 3-year warranty.
Question: I have pets in the house that love drinking from the toilet? Will they trigger the toilet?
Answer: This is a good question. The sensor on this toilet is very sensitive as a cat jumping on top of it may trigger it. You can change settings or manually set it, but it's still not the best solution. To prevent your cat or dog from triggering the sensor, it is best if you keep the bathroom door closed always.
Still, have a question after reading this Toto Neorest 700H Review? Comment below.