If you want to buy a high-quality Flushing toilet or want to upgrade your toilet to the latest model, then look no further than the Toto Ultramax ii toilet. This toilet model comes with all the essential features of a modern toilet. The Ultramax 2 has a WaterSense certificate and ADA, CALGreen, CEC compliant. This Toto toilet has Tornado Flush system. Not only it is the most powerful flushing system, but also Efficient and saves lots of water. Toto Ultramax II one of the best One-Piece toilet I ever used.  The bowl is coated SanaGloss finish which helps to prevent waste, bacteria, and mold from sticking to the surface. In this Toto Ultramax ii review, I am going to explain "Why you should consider buying this toilet?".
Note: Toto Ultramax II is the improved version of the Toto Ultramax Toilet.
Technical Specifications of the Toto Ultramax II Toilet
| | |
| --- | --- |
| Features | Ultramax II |
| Piece: | One-Piece |
| Water Consumption: | 1.28 GPF |
| Material: | Vitreous China |
| Shape: | Elongated |
| Certification: | WaterSense |
| Color: | Cotton White |
| Flush Type: | Water-Saving Tornado Flush system |
| Size: | 28 3/8″ x 16 1/2″ x 28 3/4″(LxWxH) |
| Installation Method: | Floor Mounted |
| SanaGloss finish: | Yes |
| CEFIONTECT glaze: | Yes |
| Universal Height Standard: | Yes |
| MAP Testing Score: | >= 800 (Highly Recommended) |
| Seat: | Include SoftClose seat |
| Warranty : | One Year Limited Warranty |
| Price: | Check Price |
The Toto MS604114CEFG#11 toilet model is elegantly designed to easily fit in any contemporary bathroom. It has a powerful flushing system and a Sanagloss finish to clear waste in one flush. It has the ideal height and has a seat included (no need of purchasing separately).  The toilet can as well be installed with much ease and it is extremely comfortable.

Elongated Toto Ultramax ii Review
One-piece toilet
Elongated bowl design
Large glazed trap way
Double Cyclone flushing system
Soft-close seat
Quiet operation
Sanagloss finish
ADA compliant
What is the Benefits of Toto Ultramax ii toilet?
Durability
Made of vitreous China material and a chrome finish, the Toto Ultramax 2 toilet is a product that you will use for many years to come. Once you fit it in your bathroom, you can forget about acquiring a new toilet in the near future as most of them last for at least 10 years. Toto takes pride in creating some of the most durable toilets with very little or no cases of clogging or leaking. When you check out the reviews of this MS604114CEFG#01 toilet model online, you will find out that many people haven't complained about them and instead, they have been applauded for their excellent performance.
Modern Design
Are you looking for a perfectly designed toilet that will easily match your modern bathroom? Toto Ultramax ii toilet with Sanagloss finish is the perfect example of a modern toilet with outstanding features. It comes with an elongated bowl design and a slim tank. This helps to provide more seating capacity to different users. In addition, the design and height are perfect and highly recommended for use by adults, elderly people, or even individuals with disabilities. With its magnificent design and Sanagloss cotton white finish, the toilet will add elegance to your bathroom and give it that modern look.
Maintenance and cleaning
This is a one-piece toilet, hence it is very easy to clean and maintain. Moreover, the toilet comes with the double cyclone flushing technology and the Sanagloss finish that ensures the waste is removed quickly and effectively in just a single flush. Also, the Sanagloss finish proceeds to reduce the creation of water stains and the reduction of the development of microbes and other bacteria. So, the toilet is kept cleaner for longer and cleaning becomes very easy.
Unlike other toilet brands, this one doesn't clog easily or even leak. Therefore, maintaining this toilet is very easy and simple.
Flushing mechanism
The MS604114CEFG#01 toilet model uses Toto's double cyclone flushing system which is very effective and powerful. This flushing system utilizes two nozzles and forms a forceful centrifugal action that cleans the rim and bowl excellently in every flush. During the flushing process, the water comes out via a 3" flush valve and is sent in three different directions. The first direction is through the large siphon jet located at the end of the bowl and it is channeled straight down the glazed trap way.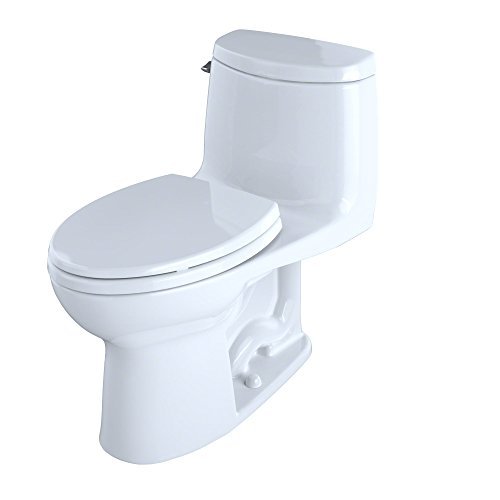 Check Price
The remaining two directions are through the two nozzles that are based just below the rim of the bowl. As a matter of fact, these nozzles conserve more water than various small rim holes. In return, this leads to a better wash off the rim and the toilet bowl. Also, cleaning becomes easier as the rim has no holes.
Since the water is directed in a centrifugal counterclockwise motion, the rim and bowl are cleaned very easily and well. The flushing system doesn't spill nor splash the water on the toilet seat. Also, flushing and refilling are very silent and fast, respectively.
Water usage
One of the greatest advantages of this toilet model is that it doesn't use up a lot of water. Actually, it uses 1.28 gallons of water per flush. So, you can be guaranteed that you will save more than 20% water. After all, the flushing system is very effective and it will clear all the contents in just one flush. Moreover, the toilet will not clog nor have any leakages easily. Thus, I like the Ultramax 2 more than the Ultramax.
The toilet clears its waste in one flush because of the powerful flushing mechanism and the large glazed trap way. The trap way measures 2 1/8-inches. This large trap way is glazed in the Sanagloss finish which prevents the bacteria, dirt, mold, and water from sticking to the surface and as a result, the toilet is cleaned super easily.
Ease of installation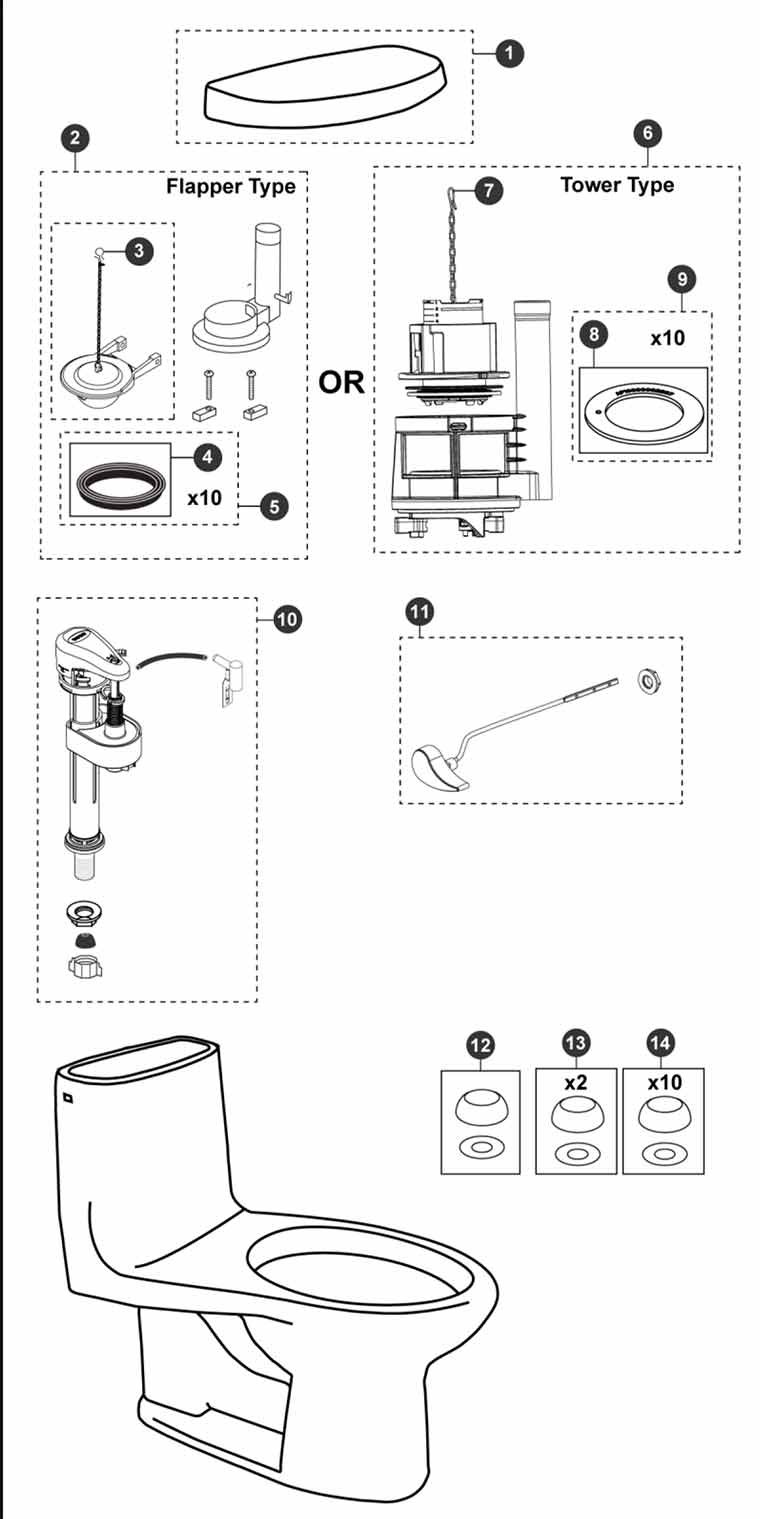 If you're a DIY enthusiast or confident in yourself, there is no need to call a plumber to install this toilet for you. This is because this toilet is very easy to install by following the instruction manual. Also, it doesn't come with a lot of bolts as it comprises only two of them.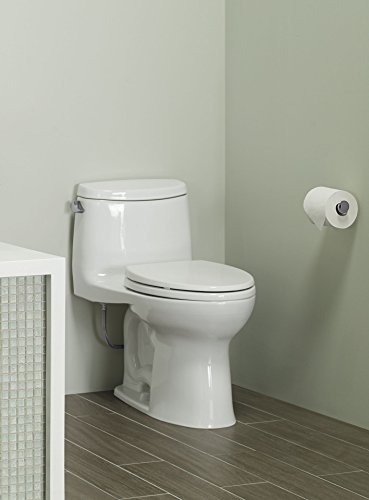 Check Price
Furthermore, the toilet uses a standard 12-inch rough into the waste pipe, which is measured from the wall to the center of the pipe. Being a one-piece toilet, the Toto Ultramax ii toilet will be a bit heavier to lift and you need some help to not mess around, especially when placing it in the hole.
Warranty
Just like many other toilet brands on the market, this toilet offers its buyers a one-year warranty. This is very short but there is nothing to worry about Toto toilets as it is the #1 most popular toilet brand in the world.
Keep reading this Toto Ultramax II Toilet review to find the pros and cons of this model.
Pros:
It is a single-piece toilet and very easy to clean
It is WaterSense certified and thus very little water is used up
The toilet has a modern look and design that can easily match any present-day bathroom
It has a powerful double cyclone flushing system that ensures that everything is cleared in just one flush.
It has an elongated bowl design and a universal height seat that provides comfort to the user
The toilet is very easy to install by following the installation instructions in the user manual
Cons:
The footprint of the toilet is somehow larger when compared to that of older models
It is a bit costly when compared to similar toilet models
Summary
With various top features like an elongated design, one-piece design, Sanagloss finish, dual cyclone flushing system, ADA compliant, WaterSense certified, and large glazed trap way, the Ultramax ii is a quality toilet to own. The manufacturer offers various colors to choose from such as cotton white, colonial white, Sedona beige, and bone.  At such a great price, this toilet will add vigor to your bathroom and offer you comfort like never before. It can as well be used by different people without any issue. If you read this Toto Ultramax ii review, you will understand why I am suggesting this to buy.
FAQs
What is the problem with my toilet if I hear water running in at all times?
Ans. If your toilet constantly fills itself, even when no person is utilizing it, it can be said to have "phantom flushes". In such a case, this can be easily fixed by replacing the flapper in the tank. Also, there is a chance that something is holding the flapper from closing tightly and enabling water to leak from the tank into the bowl.
How easy is it to install the Toto Ultramax ii toilet?
Ans. For individuals with DIY plumbing skills or plumbing knowledge, this can be a walk in the pack. One-piece toilets like this one are very easy to install. You just need a helping hand to get the job done.
Is it easy to clean the Sanagloss of the Toto Ultramax II?
Ans. You can use a soft brush or soft fabric brush and mild dish soap to clean. This toilet can be installed almost anywhere in the world including states like California with strict requirements included.
Related articles on TOTO toilets: