American Standard is one of those toilet brands that have provided excellent products for a long, and they are still doing the same. In this American Standard Cadet Pro Reviews, we're going to look at the American Standard Cadet Pro 2-piece toilet.
What I like most about the American Standard toilets is that they are of high quality but are offered at a slightly lower price than Kohler and Toto.
The American Standard Cadet Pro with an elongated bowl is beautifully designed and offers excellent performance. Just like the American Standard Cadet-3 toilet, it is easy to install, and it has a powerful flushing mechanism. With a MaP rating of 1000, you can rely on it to clear bulk loads very effectively.
The Everclean surface, cadet flushing system, and PowerWash rim ensure the toilet is clean at all times. So, cleaning is greatly minimized. The toilet is also comfortable with an elongated bowl and standard bowl height. Read on to find out more about this linen-colored toilet from American Standard.
American Standard Cadet Pro- Specs & Reviews
Technical Specifications
| | |
| --- | --- |
| Key Features | American Standard Cadet Pro Toilet |
| Water Consumption: | 1.28 GPF |
| Pieces: | Two-Piece |
| Bowl Height: | Standard |
| Color/Finish: | White |
| Certification: | EPA Approved |
| Material: | Vitreous China |
| Bowl Shape: | Standard height elongated toilet |
| Flushing Technology: | Gravity Fed |
| Flushing Type: | Single Flush |
| Free Parts: | Bolts, Seat, Concealed Trapway |
| Gallons Per Flush: | 1.28 |
| Capacity Description: | High |
| MaP Performance Rating: | 1000 |
| Not Included: | Water Supply Line, Seat, and Wax Ring |
| Warranty: | Limited 5-Year warranty |
| Price: | Check Today's Price |
Material- Vitreous china construction
Since the American Standard Cadet Pro is made of vitreous china material, you can depend on this great toilet to serve the user for many years to come. Vitreous china is a strong material and very durable as long as it is properly maintained. In addition, the toilet has a nice design and finish that easily complements modern bathrooms.
Certification- EPA WaterSense
This water-efficient toilet is good for the environment and may help the user get a lower water bill. The toilet utilizes only 1.28 gallons of water per flush. This means that the user will be able to save at least 16500 gallons of water annually. In some municipalities, one may get a rebate.
Bowl design- Elongated chair height
When it comes to comfort, you have nothing to worry about. The Cadet Pro 2-piece toilet features an elongated bowl design that provides more sitting space when compared to round bowl toilets. But it can still be installed in spaces for round bowl toilets. Moreover, the toilet has a chair height, allowing people of different ages to sit down or stand up comfortably.
Flushing System- PowerWash Cadet Flush
The cadet flushing system works in conjunction with the PowerWash rim to ensure that all the contents in the bowl are clearly easily and in a single flush. In addition, they ensure that the bowl is left clean while using 20% less water.
Design- Two-Piece
Being a two-piece toilet with a 12-inch rough-in, the American Standard Cadet Pro is easy to install. You can start by installing the toilet bowl and, later, the toilet tank. The 12" rough-in is the standard side of most toilets; thus, you shouldn't have difficulties installing it. Note that you will have to purchase a toilet seat separately.
Bowl Surface Finish- EverClean
There is no need to constantly clean the toilet as it has an EverClean surface that keeps it cleaner for longer than your previous toilet. Things like dirt, odor-causing bacteria, debris, and stains are kept away from the bowl.
Warranty- Limited 5 Years
Most toilets on the market offer only a one-year warranty. So, a limited 5-year warranty from American Standard is great, considering that they offer high-quality and well-performing toilets.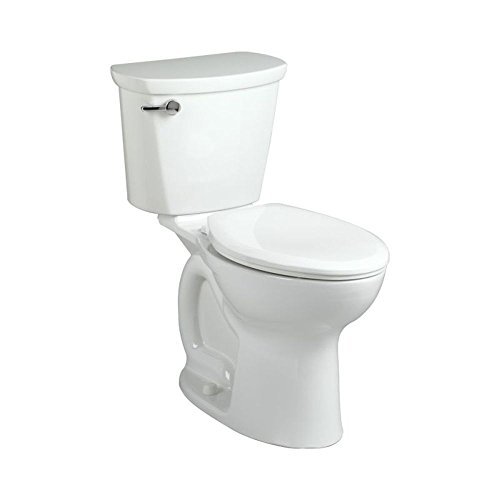 Check Today's Price
Why buy American Standard Cadet Pro Toilet?

Durable construction for longevity
EverClean surface leaves the surface of the toilet cleaner for a longer
Easy to install and fit perfectly in a small bathroom or large bathroom
Reduces the usage of toilet paper and saves water up to 20%
Outstanding design and finish that easily blends with modern toilets
Powerful flush with the cadet flushing system and PowerWash Rim
EPA WaterSense Certified
The elongated bowl design offers comfort during use
Chair height for comfort to users of different ages
Limited 5-year warranty
Negative Reviews:
The toilet doesn't come with a seat, and thus you will have to purchase it before installing the toilet.
The seat is also poorly made, as it slips sideways when a person sits on it.
Fix Common American Standard Cadet Pro Toilet Problems
Why is my American Standard Cadet Pro toilet not flushing?
Reasons: closed water supply valve, clogged supply line, loose flush valve
Solution: Shut off the water connection to the toilet tank and clean the cap, gasket, and washers. Readjust the chain and inspect the other flushing parts.
American Standard Cadet Pro toilet flushing slowly
Reasons: Supply pressure too low or bowl water level is too high, Closed valve, clogged trapway
Solution: Inspect the refill tube to see if it is OK or damaged. Use the right supply valve and ensure its pressure remains at a minimum of 20 psi. Remove clogs from trapways, drainpipes, or vents.
Why is my American Standard Cadet Pro toilet leaky?
Reason: Loose nuts or bolts, poor water connection
Solution: Check the connection between the toilet and the floor. If the bots or nuts corrode, replace them and reattach the toilet properly. Don't use any sealant while fixing the water supply connection. Check the floor flange and seal to see if they need to be replaced.
American Standard Cadet Pro toilet keeps running
Reasons: Chain too tight, Flapper seal damaged, Clogged water line
Solution: Loosen the flush valve chain if it is too tight. Replace the flapper seal and remove clogs from the water supply line.
Why is my American Standard Cadet Pro toilet wobbly?
Reason: damaged wax ring, floor not level, loose nuts
Solution: If the bathroom floor is not level, use a toilet shim. Retighten the loose nuts and replace the old wax ring.
Let's compare it with other toilet models:
The American Standard Cadet Pro toilets are comfortable and include many features. But, there are some differences between the Cadet Pro and the other toilet.
American Standard Cadet Pro vs. Cadet 3
The American Standard Classic Cadet 3 toilets present a variety of sizes. The different sizes and variations are suitable for fitting the toilet in every bathroom. Their flushing performance is admirable. The cadet pro has the same flushing performance. The metal trip levers, metal shank fill valves, and a powerful water-saving flush are the additional features of the cadet pro. The cadet pro uses only 1.28 GPF for its powerful flushing.
Although Cadet 3 gives the possibility of using less water for every flush, if you tell me to choose the better one, I will select Cadet Pro. It will fulfill my desire to come in different sizes and dimensions. I can fit the toilet anywhere in my bathroom.
American Standard Cadet Pro vs. Champion Pro
The American Standard Cadet Pro and the Champion Pro both come with a powerful flushing system. The Cadet Pro clears the entire toilet bowl with one flush. So, it is suitable for use in every house. On the other hand, the champion pro deserves to be admired for his better and more forceful flushing. The large cylinder for flushing allows a tremendous amount of water at a time to flush the toilet perfectly. Thus, the Champion Pro works better than the American Standard toilets.
Toto Drake vs. American Standard Cadet Pro
American standard toilets are comfortable. You can use the modern and popular toilet in any bathroom. On the other hand, the Toto Drake is also famous, and Toto is a renowned toilet brand. But, if you have two bathrooms in your house, you can use the American Standard toilet. But, if you want to let the toilet be used for your children, you may use the Toto Drake. It will save you money by saving water that your children cannot understand.
Conclusion
The American Standard Cadet Pro toilet is a high-quality and feature-packed toilet. It has a powerful flushing mechanism that clears waste easily, and the EverClean surface leaves the toilet clean for longer. With a limited 5-year warranty and a low water usage rate of 1.28 GPF, the cadet pro is a nice toilet to add to your coveted bathroom. I have explained everything you should know in our American Standard Cadet Pro reviews.
FAQs
The Specification of the toilet shows that this is a 1.28 GPF, while the product shows 1.6 GPF. So, which is correct?
This is a very good question. Many people have been confused as to whether this is 1.28 gallons per flush or 1.6 gallons per flush toilet. The correct answer is that this is a high-efficiency toilet, as it only uses 1.28 GPF. So, don't let the 1.6 GPF flush on the product description deceive you.
What does a MaP score of 1000 mean?
The MaP (Maximum Performance) score refers to the toilet's flushing capability. A toilet flushes solid waste, including soybean paste and toilet paper. Actually, the MaP score means how much particular waste a single flush can remove.
The MaP score range is from 250 to 1000. The MaP score of 1000 is the highest ability of flush toilets. The flushing can remove a thousand grams of solid waste with a single flush.
Can I get a soft close seat for this Cadet Pro 2-piece toilet?
No, you won't get it. The manufacturer doesn't offer a slow-closing seat for the American Standard Cadet Pro toilet. As a result, you will have to choose from the available seats without the slow closing function.
Related Articles on American Standard Toilets:
Hi, this is Robert Crossan, the owner of this website, has 17 years of experience in the installation, maintenance, and repair of toilets and plumbing systems. After completing the Level 2 Basic Plumbing course in 2005, I started working in both domestic and commercial buildings as a professional plumber. So I can figure out the core difference between different toilet models and brands. It also helped me monitor their work performance and setbacks.