Are you tired of leaving residue in your nether area? Worry not. The Brondell Swash SE400 will ensure that you leave the toilet spotlessly clean. This beautifully and luxuriously designed toilet bidet seat comes with all the functions that you can want in a top-quality bidet toilet seat at a fraction of the price. So, you pay less for more. Read this Brondell Swash SE400 Review to know more.
The Brondell Swash SE400 boasts a conveniently located control panel for ease of use. So, you can access the bidet seat setting that you desire at the touch of a button. The unit also has a stainless steel nozzle that cleans your nether area by selecting different functions. Also, the price is lower than the Brondell Swash 1400 advanced bidet seat. There is an oscillating massage and a gentle massage. You can adjust your settings as much as you desire.
Quick Overview: Features
Posterior and Feminine Warm Water Wash
Warm Air Dryer
Massage
Nozzle Oscillation
Adjustable stainless-steel nozzle
Adjustable water temperature
Illuminating nightlight
Ergonomic heated seat
Adjustable temperature control
Automatic eco mode
Thermal Fuse & Thermostat
Water Level Sensor
Energy savings
Gentle-closing seat and lid
Safety seat sensor
Self-cleaning nozzles
Brondell Swash SE400 Bidet Seat Review in 2023
If you want to improve hygiene in your bathroom and have comfort at the same time, then you will be glad to have a reliable and luxurious bidet toilet seat such as the Brondell Swash SE400.
Technical Specifications
| | |
| --- | --- |
| Features | Brondell Swash SE400 Bidet Toilet Seat |
| Material: | Stainless Steel |
| Maximum Weight Capacity: | 275 Pounds |
| Size: | Elongated |
| Color: | White |
| Power Source: | AC |
| Nightlight: | Yes |
| Warm Water System: | Tank |
| Voltage: | 120V |
| Stainless Steel Nozzle(s): | Yes |
| Auto Mode:  | Yes |
| Gentle Massage Pulse: | Yes |
| Warranty: | One Year Limited |
| Deodorizer: | Yes |
| Warm Air dryer: | Yes |
| Slow closing lid: | Yes |
| Weight: | 9.7 pounds |
| Dimensions: | 20.87 x 18.5 x 6.1 inches |
| Price: | Check Today's Price |
Modern design
The Brondell Swash SE400 is a sleek and elegant electronic bidet seat that will bring comfort to your bathroom. It is of a contemporary design, which means that the measurement of the toilet seat will easily match most bathroom decors.
Aside from the elegant look, installing this unit is fast and straightforward. It comes with an elongated bidet seat design, bidet hose, mounting hardware, and user manual. These will help you to easily and quickly set up the seat.
Hidden pocket
The modern design is made to look lovelier with a hidden pocket. This conceals the power socket and water hose connections. Not only does it make it look beautiful, but it is also safe.
Related article: Follow these 9 easy steps to remove a toilet seat
Stainless steel nozzle
The self-cleaning nozzle is sturdy and uniquely designed. It protrudes during use and returns after cleansing your nether area. The nozzle stays clean by cleaning itself after every use. However, it doesn't feature sterilization, which helps to disinfect it.
Gentle closing lid
The days of banging the toilet and waking up the kid in the middle of the night are over. The Brondell Swash S400 ensures to eliminate toilet slamming as it has a gentle-closing seat. The seat features a Sturdy Sittable Lid that Bio BB 2000 toilet bidet seat doesn't have. So you won't hear loud bangs when you leave the toilet.

Check Today's Price
Side control panel
Using this unit is fun and easy, as this is thanks to the side control panel. The panel allows you to access different settings, from a heated set to an oscillating massage and warm air dryer. All you need is to touch on the setting that you desire, and you're good to go.
Heated seat
Sitting on the toilet in cold mornings or in winter is quite challenging. This is because the toilet seat is cold and unbearable to use. However, Brondell Swash SE400 changes everything as it features a heated seat. Like Brondell Swash CS1000 seats, you can adjust the temperature of the seat to suit your preference.
Adjustable water temperature and pressure
Apart from adjusting the seat temperature, you can also change the water pressure and temperature to suit your needs. Pick a gentle spray or oscillating spray. The heated tank ensures that you get warm water every time you use the bidet toilet.
Warm air dryer
Not every individual has an easy time cleaning their nether area after finishing their business. So, when the wand ends its cleansing job, you can turn on the warm air dryer so that you can leave feeling great and not wet. That's why many people are replacing tissue paper with bidet toilet seats. But the model doesn't feature an air deodorizer which is found in the Toto washlet C200 and Toto C100 electronic bidet seats.
Illuminating nightlight
Waking up at night to visit the toilet can be stressful, more so if there is a bright light. This toilet simplifies things for you as it has a cool blue nightlight that illuminates to guide you to where the toilet is based. So, the light won't interfere with your sleep as much as the bright light would.
One-touch auto mode
Are you in a hurry to do your business quickly? Simply press the one-touch auto mode, and the toilet will do the rest for you. This is a convenient feature, especially for a household with many people.
Related article: Check the review of Tushy portable bidet travel toilet seat
Power-saving eco-mode
The power-saving eco-friendly mode saves both power and water. When this mode is applied, the toilet works as usual but can use less power and water in the process. As a result, you will still be appropriately cleaned but at a lower cost. So, you will save on your water and electricity bills in the long run.
1-year manufacturer's warranty
The best part about acquiring the Brondell Swash SE400 bidet toilet seat is that a one-year warranty covers it. So, if you receive a defective unit, you can always return it and replace the toilet seat.
Pros:
Lovely and sturdy design
Durable and rust-free stainless steel nozzle
No more distraction with bright light as the cool blue light guides you to the toilet
A warm air dryer gets rid of toilet paper use
No waste of electricity and water with the power-saving eco-mode
Adjustable water pressure and temperature ensure that you're comfortable
Convenient control panel for ease of use
Simple to install
The hidden pocket conceals both water and power connections
One-year warranty
Cons:
It doesn't feature a deodorizer that keeps the toilet smelling fresh throughout
The pressure is not as powerful as other high-end bidet toilet seats
Brondell Swash SE400 Installation Video:
Brondell Swash SE400- Common Problems Fixed
The Swash SE400 bidet seat is not working (or suddenly stopped operating)
Reasons:
-The seat sensor is not working
-Issue with the power connection 
-Water temperature is too high
Solution:
-Plug in the bidet with the power connection properly
-Reset the GFCI outlet 
-Adjust the water temperature and sitting position. 
-Override the seat sensor
SE400 Nozzles are not working
Reasons: 
-Clogged nozzles and filter
-Low water pressure 
-Issue with the external bidet filter
Solution:
-Clean nozzles and mesh filter
-Unclog the water supply line and external bidet filter
Water and seat not heated
Reason:
-Seat sensor is not working
-Seat temperature turned off
-Water comes out cold
-Eco mode is on
-Blown fuse
Solution: 
-Reset the seat temperature setting
-Turn off the Eco mode
-Adjust water temperature from the control panel
-Replace the bimetal resettable fuse if it is blown out
The washing spray is not working
Reason:
-Body sensor stopped working
Solution:
-Adjust the seating position
-Adjust the seat sensor by following the user manual.
Cleaning the bidet seat (Photo)
Clean toilet seat: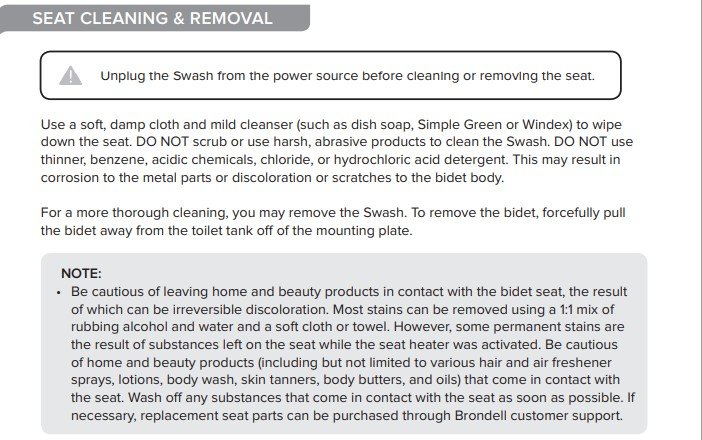 Nozzles cleaning: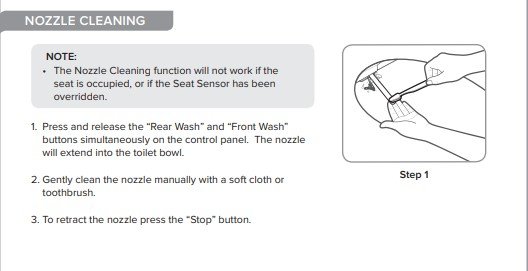 Cleaning the mesh filter: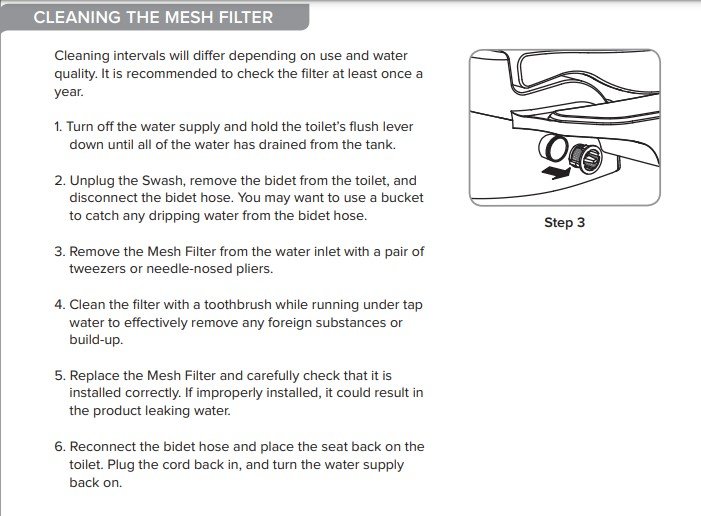 Brondell Swash SE400 vs. CL1500-EW 
Brondell Swash
SE400
CL1500
Max Heater Power Consumption:
600W
800W
Power Consumption:
660W
870W
Supply Water Pressure:
14.2 psi
9.95 psi
Dimensions:
18.5 in x 20.87 in x 6.10 inch
18.5 in x 20.7 in x 5.7 inch
Weight:
9.7 lbs
11.9 lbs
Mesh Filter:
0.43 in x 0.6 inch diameter
0.51 in x 0.44 inch diameter
Seat Weight Limit:
275 lbs
330 lbs
Lid Weight Limit:
Lid Weight Limit:
160 lbs
Safety Devices:

Thermal Fuse
Thermostat
Water Level Sensor

Thermal Fuse
Thermostat
Water Level Sensor
Thermal Sensor
Bi-metal
Bottom line
The Brondell Swash SE400 is an affordable but elegant toilet that will change your toilet experience. It has many features that you can desire in a high-end bidet toilet seat and is easy to use. Installing the toilet seat isn't a problem as it features all the mounting items. Also, it is comfortable to sit on and sturdy enough to hold the recommended weight without crushing.
If you've been looking for a budget-friendly toilet that will bring cleanliness to your bathroom and save the environment, then the Brondell Swash SE400 is an ideal bidet toilet seat for you. You can invest in this toilet confidently, as Brondell is a reliable brand with many bidet toilet seats. Besides, this unit comes with a one-year manufacturer's warranty.
FAQ
Question: Why use the cleaning wand instead of toilet paper?
Answer: With the ever-changing technology, bidet toilet seats have made using the toilet to be more convenient as you don't have to use tissue paper. Toilet paper doesn't clean as well as a cleaning wand. Aside from that, it is not very hygienic. But when you use a cleaning wand, you save water and trees. This is because toilet paper is manufactured from trees and uses a lot of water in the process. As a result, cleaning yourself using a cleansing wand is more economical and saves the environment.
Question: Is this a round or elongated bidet seat design?
Answer: This particular Brondell Swash SE400 bidet toilet seat is of an elongated configuration. However, the manufacturer also offers a round-bidet seat design for the same model so that you can use it on your round-shaped toilet bowl. You can select the right design for your toilet, depending on whether you've got a round or elongated bowl design.
Elongated toilet bowl designs are the best, as they can accommodate most people. Also, they offer more comfort when compared to round bowl toilets. On the other hand, round bowl toilets take up less space, and that's why they are perfect for compact bathrooms.
Still have questions after reading this Brondell Swash SE400 Review article? Comment below.
We are really lucky to have a hard-working, multi-skilled plumber on our team. Collin D. Gallegos, a professional plumber who has worked with us since 2012, is an expert in vent, septic, and drainage systems. He is a Certified Master Plumber and has worked on various commercial plumbing projects. He usually helps our readers resolve plumbing and pipe-related issues with a proper DIY troubleshooting and repair guide.