If you're looking for an advanced flushing toilet that will take up little space in your bathroom but still perform at a very high level, then the Kohler Veil intelligent toilet is for you. It is a dual flush, skirted smart toilet. Continue reading this Kohler Veil Intelligent Toilet review to discover more features, pros, and cons of this powerful and advanced toilet.
This Kohler one-piece toilet without a tank is perfectly made for compact areas, and it will change your toilet experience. Not only is the Kohler Veil lovely and compact, but it is also comfortable with many advancements. The toilet features a heated seat toilet, an elongated bowl, hands-free operation, integrated cleansing function, and a deodorizing system. Veil Intelligent is a good example of a future toilet like the Toto Neorest 700H.
Related: Kohler Veil VS Toto Neorest Comparison
Technical Specifications of the Kohler Veil Intelligent Toilet
| | |
| --- | --- |
| Features | Veil Intelligent Toilet |
| Water Consumption: | 1.28 GPF & 0.8 GPF |
| Pieces: | One-Piece |
| Color/Finish: | White |
| Certification: | Watersense |
| Material: | China |
| Bowl Shape: | Elongated |
| Flushing Type: | Dual Flush Toilets |
| Gallons Per Flush: | 1.28 or 0.8 |
| Included Components: | 1 |
| Weight: | 110 pounds |
| Dimensions: | 26.4 x 17.2 x 21.4 inches |
| Warranty: | One-year limited |
| Price: | Check Price |
Kohler Veil Intelligent Toilet Review 2021
Vitreous china construction
Just like many high-quality toilets, the Kohler Veil intelligent one-piece toilet is made of durable vitreous chinaware. Thus, you can depend on the toilet to serve you for many years to come.
Ergonomic design
The ergonomic design of the toilet makes it fun and interesting to use. You won't have problems using or cleaning it.
LCD touchscreen remote
There is no challenge using this toilet as it comes with a remote. Simply press on the LCD touchscreen remote for different functions. Use the remote to change temperature, pressure, or the position of the wand.
Related: Kohler San Souci Toilet Reviews
One-piece toilet
This is a compact toilet without a tank. Every part is compressed into one with the inclusion of the supply stop valve, bowl & seat, power cord, LCD remote control, and braided inlet supply hose. Installation is also easy as it is connected directly to the supply line. But ensure that your bathroom has a minimum water supply flow rate of 1.5 gallons in 10 seconds. Also, the toilet rough-in should be 12-inches from the wall.
Skirted elongated bowl design
This toilet is good-looking and very easy to clean, thanks to its skirted elongated bowl design. The elongated bowl offers comfort and enough sitting space for users.
Eco-friendly toilet
This toilet not only reduces your water bill but also saves water. For a partial flush, the toilet uses 0.8 gpf and for a full flush, the toilet uses 1.28 gpf. That's why it is EPA WaterSense certified.
Related: Kohler Corbelle Toilet Review [Continuous Clean System]
Integrated cleansing seat
The toilet comes with a lovely cleansing seat. The seat cleanses itself through warm water. When the weather is cold, you can use a heated seat. Just use the remote control to set it to your preferred temperature.
Before and after using the toilet, the self-cleaning wand will cleanse the toilet on your behalf. So, no need to touch it for hands-free operation.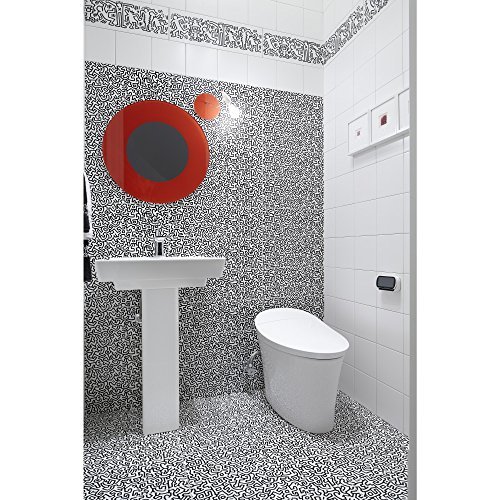 Check Price
Dual flush mechanism
The Kohler Veil one-piece toilet features a dual flush mechanism which is effective and helps to save water. The dual flush system is very effective and will clear the contents in a single flush. Simply ensure that the water pressure in your bathroom is 1.5 gallons in 10 seconds or 9.0 gallons per minute.
Automatic deodorization system
This is one of the features that I love most about this toilet. The automatic deodorizer keeps the toilet smelling fresh all the time. As soon as you sit on the toilet, it will detect and the fan will turn on to get rid of any bad odor in the bowl.
Nightlight
Even when there is a blackout or in dim lighting, finding the toilet bowl will be easier as the nightlight will turn on automatically with its built-in sensor.
One-year warranty
The manufacturer offers a one-year warranty to buyers of this toilet.
Summary: Why buy Kohler Veil Toilet?

The toilet is durably constructed for longevity
It saves water as it has 0.8 gpf for a partial flush and 1.28 gpf for a full flush
The dual flushing system is very effective in clearing the contents in the bowl without wasting water
Easy to use with the touchscreen LCD remote
It has a heated seat with adjustable temperature settings
Hands-free opening and closing
Ergonomic design
It is EPA WaterSense certified
Integrated cleansing functionality keeps the toilet clean
Comfortable elongated bowl design
A one-year warranty
Setbacks:
One-year warranty is a bit short for such an expensive and quality toilet model
This toilet is quite expensive
It needs electricity to function
Final thoughts
The Kohler Veil Intelligent toilet is the toilet of the future. It takes up little space in your bathroom but performs very exceptionally. This one-piece toilet uses a dual flush mechanism and consumes less than 1.28 GPF. So, it is very convenient and at the same time offers comfort with its heated seat, elongated bowl design, and comfortable height.
FAQ
Question: Does this unit need electricity to function?
Answer: Yes, It does. The Kohler Veil intelligent toilet requires to be connected to an electrical outlet for it to function fully. Things like a heated seat and LED lighting need electricity. Also, you have to change the batteries in the remote if you hear it beeping of not functioning as directed.
Question: Does the brand offer warranty on the Kohler Veil intelligent tankless toilet?
Answer: Yes, it does. Buyers of this product will get a one-year warranty. Though short, the warranty will instill confidence in the buyer and they can always replace broken parts if they arrive in a bad state.
Still, have a question after reading this Kohler Veil Intelligent Toilet Review? Comment below.