Have you been looking for a lovely and high-efficient Toto toilet? The Toto Aimes one-piece toilet is a high-efficiency smart toilet that will change your modern bathroom's look. In addition, this compact toilet can be upgraded by adding a washlet as long as it is an elongated washlet model. The Toto Aimes has lots of similarities with the Toto Legato toilet. Read the entire Toto Aimes Toilet review and make an informed judgment when buying the one-piece toilet.
The Toto Aimes elongated bowl toilet will help you save water as it only uses 1.28 GPF. It is also comfortable as it features a cozy universal height bowl.
If you don't love Sedona beige, choose other colors, such as bone, cotton white, or colonial white. This one-piece comfort height toilet is also easy to install and clean. You won't have clog problems with the powerful flushing mechanism in Tornado Cyclone flushing.
Quick Pons & Cons:
| Pros  | Cons |
| --- | --- |
| Water Efficiency: Often designed with low-flow technology to conserve water. | Cost: Generally more expensive than standard toilets. |
| Sleek Design: Modern and minimalist design can enhance bathroom aesthetics. | Complexity: Advanced features may require more complicated installation and maintenance. |
| Advanced Features: May include bidet functions, heated seats, and automatic lids. | Electricity Dependence: Features like seat warming and automatic flushing require electricity. |
| Hygiene: Enhanced cleaning features can provide a more hygienic experience. | Repair Costs: High-tech components can be costly to repair if they malfunction. |
| Comfort: Ergonomic features and user-friendly interfaces for improved user comfort. | Power Outages: During power outages, some functionalities may not be available. |
| Eco-Friendly: Reduced water usage is better for the environment. | Accessibility: High-tech functions may not be user-friendly for all individuals, especially the elderly or technophobic. |
| Customization: Adjustable settings to cater to personal preferences. | Sensitivity: Automatic sensors can sometimes be too sensitive or not sensitive enough. |
| Odor Control: Some models have built-in deodorizing systems. | Installation Requirements: May require professional installation due to complex features. |
Quick Verdict:
Design: One-Piece
Bowl Shape: Elongated
Water Usage: 1.28 GPF
Map Score: 800 grams
Seat: Soft-close (included)
Flushing System: Dynamax Tornado
Certifications: ADA & WaterSense
Glaze: CEFIONTECT
| | |
| --- | --- |
| All Aspects | Score |
| Positive Reviews: | 98% |
| Flushing Power: | 93% |
| Cleaning Performance: | 95% |
| Durability: | 96% |
| Easy Installation: | 90% |
| Water-Saving: | 97% |
| Our Final Ratings: | 95% |
Pros: Why Buy Toto Aimes One Piece Toilet?



It is more sleek and compact than two-piece toilets
The skirted toilet design is easy to clean.
SanaGloss finish prevents dirt and stains from sticking to the toilet bowl
The ADA-compliant soft close seat doesn't slam
A powerful Tornado cyclone flushing system clears waste in a single flush
It saves water as it only uses 1.28 GPF
Comfortable toilet with the elongated bowl design
Technical Specifications of the Toto Aimes Toilet
Features

Toto MS626124CEFG#1 Aimes Toilet

Water Consumption:
1.28 GPF
Pieces:
One-Piece Toilet
Color:
Cotton
Shape:
Elongated
Material:
Ceramic
Certification:
WaterSense
Flushing Type:
ADA-compliant Gravity Flush Toilets
Voltage:
1 volt
Number of Handles:
1
Installation Method:
floor
Weight:
119 lbs.
Dimensions:
28.5 x 17.2 x 28 inches universal height
Warranty:
One-year limited

warranty

Price:
Check Today's Price
High-Efficiency Toto Aimes Toilet Review in 2023
Material: Vitreous China (Why Choose This Material?)
With the Toto Aimes toilet, worrying about how long it will last is unnecessary. This is because it is constructed using vitreous china, a sturdy and long-lasting material. It is a coating applied to porcelain or ceramic to smooth the surface. So the toilet prevents rings, spills, stains, or scrapes. The manufacturer also offers a warranty, which helps to instill confidence in the buyers as they can get a replacement in case of damage.
Bowl Type

: Elongated (Who Should Buy This?)
The Toto Aimes is a comfortable toilet with an elongated bowl design. This bowl is more comfortable than round bowls because it offers more sitting space. An elongated bowl is much easier to clean. But you need enough space in the bathroom as the seat size is bigger than a round toilet seat. For compact bathrooms, a round toilet seat is recommended.
Height

: Comfort Height (Is it more comfortable than a regular toilet?)
Besides having a comfortable elongated bowl, this toilet has a cozy height bowl. This makes sitting down or standing up to be easy. Additionally, the comfort height is ideal for many people compared to the toilet's standard bowl height. Most comfort-height toilets are between 17 and 19 inches tall, while regular toilets can be up to 15 inches tall. So the toilet is best suited for tall adults, not kids. It is better suited for people with disabilities as well.
Flush: Tornado Cyclone (How Powerful the Flushing System is?)
One of the most exceptional features of the Toto Aimes toilet is its Tornado flushing system. The flushing system is powerful and ensures that all waste in the bowl is cleared in a single flush. So, no more waste buildup in the bowl.
The Tornado flushing system is an upgraded version of the Double Cyclone flushes with three jets instead of 2 that are better clean under the rim. Also, the system uses less water and produces less noise than traditional toilets.
Since it has a dual nozzle water propulsion system, it flushes more consistently when compared to the traditional rim hole, which can be found on most toilets.
Finish– SanaGloss ceramic glaze (How does it help maintain the toilet?)
Many homeowners hate cleaning the toilet more often. The Toto Aimes toilet eases things with a powerful tornado-flushing system that clears contents swiftly. Almost all Toto toilets have a Sanagloss finish (Cefiontect), a patented glaze. It cleans the toilet particles from sticking to the bowl surface. But you need to spend an additional $40-$60 compared to a regular bathroom without Cefiontect. The SanaGloss ceramic gaze also helps prevent a buildup of bacteria, dirt, and germs on the surface of the toilet. As a result, cleaning is greatly minimized, and fewer cleaning chemicals will be used in the long run.
Design: Skirted (Why should you avoid a non-skirted toilet?)
The nooks and crannies are located behind the bowl. The streamlined skirted design of the toilet hides the Trapway making the toilet more beautiful. Toto offers a Skirted in most of its high-end toilet designs. Since the Trapway is concealed, cleaning is made easy.
The modern seamless design will make your bathroom more attractive. But the toilet is expensive and difficult to install (need to hire a plumber) compared to regular exposed trapway toilets.
Seat: SoftClose/No Slam (Is the heart included?)
The Toto Aimes one-piece toilet hahas an elongated SoftClose seat, so you won't be required to buy a seat separately. With this toilet seat, you won't have to slam it anymore as it has a durable stainless steel hinge that slows down as it lowers the seat and lid.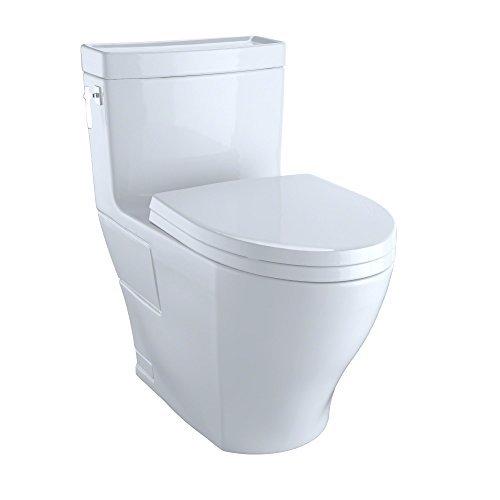 Check Price
Water Usage: High-Efficiency (Is the toilet EPA certified?)
The toilet is ADA and EPA WaterSense certified, which means it is environmentally friendly and utilizes 20% less water than traditional bathrooms.
This is a high-efficiency toilet, as it only uses 1.28 gallons per flush. You will be able to save water and get rebates in some states. The tornado flush system is also very efficient; you will not have to flush twice.
Rough-in: 12-inch (Is it a standard measurement?)
The toilet has a 12-inch rough-in size, standard for your modern bathroom. And it has an optional rough-in of 10" and 14", but they are expensive and have limited options. So, I always recommend a 12-inch rough as it can prevent clogs, dampness, and humidity.
Comparison Chart: Toto Aimes vs. Nexus
| | | |
| --- | --- | --- |
| Features | Toto Aimes | Toto Nexus |
| Height: | Universal Height | Chair Height |
| Bowl Shape: | Elongated | Oblong/Elongated |
| Flushing System: | Tornado flushing with centrifugal rinse | Tornado flush |
| Price: | Moderate | Lower Than Toto Aimes |
| User Ratings: | High | Low |
| Weight: | 119 Pounds | 110 Pounds |
| Dimension: | 28.44″ x 17.31″ x 27.94″ | 30″ x 27.5″ x 18.5″ |
| Material: | Ceramic | Vitreous China |
Toto Aimes vs. Legato
| | | |
| --- | --- | --- |
| Features | Toto Aimes | Toto Legato |
| Bowl Height | 16.1875 inches | 17.125 inches |
| Bowl Shape: | Elongated | Elongated |
| Auto Flush | Yes | No |
| Price: | Standard price | Lower price |
| User Ratings: | High | Medium |
| Weight: | 130 lbs | 85.01 lbs |
| Material: | Ceramic | Ceramic Glaze |
| Toilet Type | One piece | One Piece |
Conclusion
The Toto Aimes toilet is beautifully designed to fit in compact bathrooms, offer great performance, and save water at the same time. This great investment will ease your work of cleaning the toilet as the powerful Tornado flushing system, and the SanaGloss finish simplify things for you. If you want to add a washlet, you can do so, as it comes with clean lines for wiring.
What we don't like:
It is pretty heavy and difficult to install. You will need a helping hand to install it safely and easily.
It has a left-handed trip lever
FAQs
Question: What does CEFIONTECT glaze do?
Answer: CEFIONTECT glaze is the finish that the toilet comes with, and it prevents a buildup of things like dirt, bacteria, and germs on the surface of the toilet. It also helps to keep the toilet cleaner after every flush.
Question: Do all Toto elongated washlet models fit with this toilet?
Answer: Yes, they do. All Toto elongated washlet models like the Toto C200 or SW2044 will fit on the Toto Aimes one-piece elongated toilet. Just check the Washlet comparison chart.
Manual Download: Toto Aimes toilet parts replacement
Hi, this is Robert Crossan, the owner of this website, has 17 years of experience in the installation, maintenance, and repair of toilets and plumbing systems. After completing the Level 2 Basic Plumbing course in 2005, I started working in both domestic and commercial buildings as a professional plumber. So I can figure out the core difference between different toilet models and brands. It also helped me monitor their work performance and setbacks.