Renovating the bathroom is always a pleasurable experience for you. While doing this, we only care about the toilet model, technology, color, and design. We literally overlook the tiniest but most crucial elements in the toilet setup most of the time. You must be wondering what that thing is likely to be. I will disclose that significant thing; it's none other than the toilet seats. Yes, the toilet seat plays a pivotal role in justifying the comfort and easement of your toilet hours.
A toilet may survive for a huge time span, like 10 to 15 years, but some are not as durable as they have to withstand the body's total weight. Besides, the plastic bolts have replaced the suitable old metal bolts that have weakened the toilet seats. However, there are tons of varieties of toilet seats found on the market that might confuse you about which one you should buy. To curb that hitch, I am bringing you this article, where I will elaborate on different types of toilet seats and their advantages, as well as a complete buying guide for you. So let's dig deep into the writing.
Different Types of Toilet Seats
Materials
Shapes
Type & Price

Plastic




Wooden




Polyresin




Stainless Steel

Elongated




Round




Square




D-shaped




U-shaped

Traditional: $25-$50
SoftClose: $40-$100
Bidet: $80-$250
Washlet Bidet: $150-$450
Today's market is called the competitive market, and there are tons of products available, differentiating in shape, size, design, and color. The toilet seat has no exceptions; you might become perplexed to see this huge collection of toilet seats, and that's why here I am describing some of the fabulous types of seats,
Round Toilet Seats
If you talk about traditional toilet seats, then let me introduce you to round toilet seats. Nowadays, this toilet seat is the initial version of the toilet seats; elongated toilet seats have been replaced for convenience. The typical round-seat toilet takes only 16 to 17 inches of space, starting from the toilet bowl mounting holes to the other side of the toilet. So this toilet seat takes up a small space, and thus it is compatible with small bathrooms.
A round-shaped toilet seat is packed with lots of standard features. That's why it will serve you in the greatest aspects. Let's discuss some of the advantages of this model.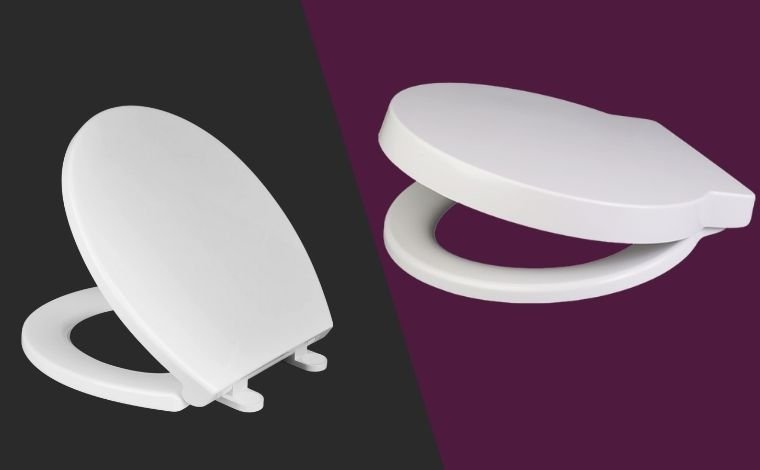 Pros of a round toilet seat
This type of toilet seat is more compatible with children and young users as they take up less space in the bathroom.
It comes with a conventional design that is always elegant for the bathroom ambiance.
Round toilet seats are budget-friendly, so they won't affect your pocket condition much.
It takes the minimum space in the washroom, so it's perfect for small bathrooms, and this is more suitable for the toilet gesture.
What are the cons?
This kind of toilet seat is not that compatible with men as it has less frontier opening, as men feel uncomfortable while peeing.
These are the most conventional types of toilet seats, so they may not match the modern environment of the washroom.
As it has a blunt opening, it may seem to be difficult to clean as the scrubber may not reach the rear corner.
Elongated Toilet Seats
Why is it called elongated? Well, the answer is dormant in its name. Generally, elongated toilet seats are longer than round seats, and the difference in length could be 2 to 3 inches in some cases. This type of toilet seat is more than the conventional seats as they have fantastic designs that anyone will applaud.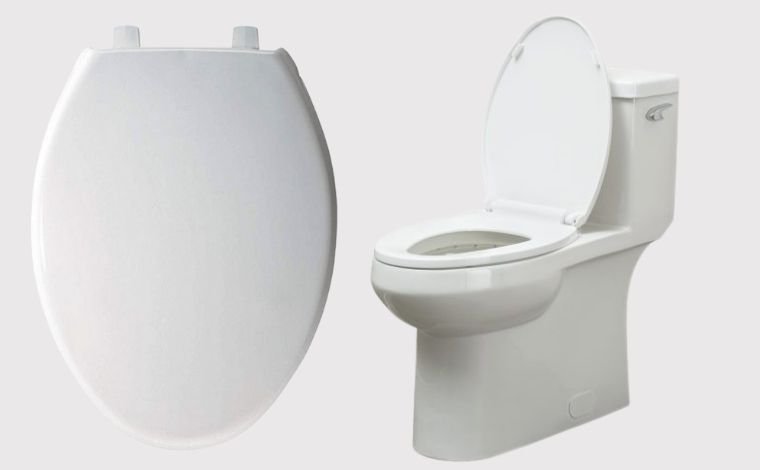 Some popular models:
Advantages of elongated toilet
This toilet seat has more extensive front coverage, so it is ideal for men and for larger people. It is less prone to splashes and spills as there is a particular target area for aiming.
The Elongated toilet seats are very much compatible with the modern trendy bathroom ambiance. Many people tend to install this toilet seat for better design and architectural aesthetics of the seat.
It is easy to clean as there is plenty of space inside the toilet.
Disadvantages 
One of the most uncomfortable aspects is that this toilet seat is costlier than any other type.

It may not be compatible and comfortable for little users like children.

It takes up more space in the bathroom, so it may not be suitable for smaller bathrooms.
Open or U-Shaped Seats
The U-shaped toilet seats are more likely to be similar to their oval-shaped seats; the main difference is in their front section. Here the front is kept open, or the cutout is provided for hygienic reasons. This cutout curbs cross-contamination among the users and the free space obstruct getting the splash of urine while peeing. Men find it more comfortable to use this as it has ample room for aiming during urination.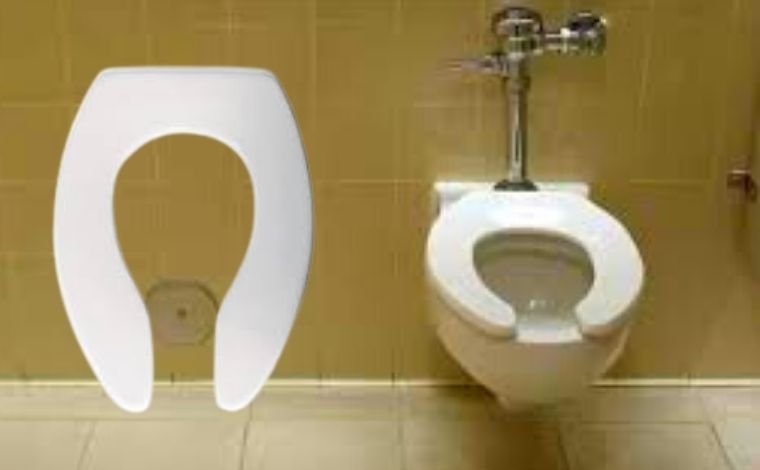 Positive sides
Here, cross-contamination is minimal as the user's genitals actually do not touch the seat. Moreover, it is the most hygienic type of toilet seat available on the market.
It has ample room for wiping without getting in contact with the toilet seat.
It is amicable for the men as broader front coverage makes it pleasant for urinating.
Trivial Demerits
It is a unique version of the toilet seat that is much available in the market. It is prone to be costly.
Setback
It does not possess that trendy and sleek design, so it is not wise to use this in homes. They are often seen in public restrooms.
D-Shaped commode seat
The D-shaped toilets are very much the combination of rounded and square-shaped toilet seats, and they are more than compatible with contemporary bathrooms as they possess a fashionable, minimalist, and trendy design. It requires less space, so you can undoubtedly select this seat for your bathroom if the bathroom possesses a compact design.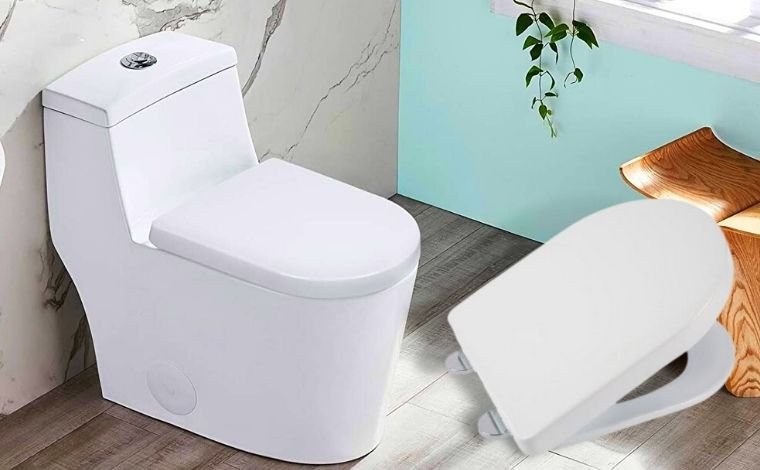 What we like
This sort of toilet seat is ideal for wall-mounted toilets as it takes up less space in the bathroom.

It upgrades the quality and beauty of the entire washroom.

It is a user-friendly version of the toilet seat which means people of all ages and groups can use this without any difficulty.
Negative sides
This is not among the easily accessible seats In the market because only a few toilets can accommodate the shape.

It is an expensive product, and it is not usable for all groups of people.
Square Shaped 
It can be called a concocted product because it's more than a square-shaped product; actually, it has a rectangular shape, and the two sides are parallel to each other. Some people believe that it is not the ideal toilet seat as they are not comfortable. But actually, it is not true; when you use this, you can feel the sheer comfort of the toilet seat.
Fabulous Merits 
The unique shape and architecture of the seat will make a statement in your restroom atmosphere.

It is really comfortable to sit on the toilet seat.
Demerits
It is comparatively costlier than the other traditional types of toilets as it is very much rare in the market.
They are not compatible with all sorts of users.
What material is a toilet seat made of?
The modern toilet has fascinated us with tons of unique products with exclusive technology. Nowadays, toilet brands have yielded numerous toilet seats according to varied users and requirements. Here I will elaborate to you on some of the common sorts of toilet seats available,
Wooden Toilet Seat
Wooden toilet seats are always on top of any other toilet seats in terms of trendiness and ultra-modernism. There are two types of wooden seats types: solid natural wood and engineered wood. The color and texture of this material are very much enchanting. For this reason, it is among the best toilet seats on the user's buying list. You can also check the differences between plastic and wood toilet seats here.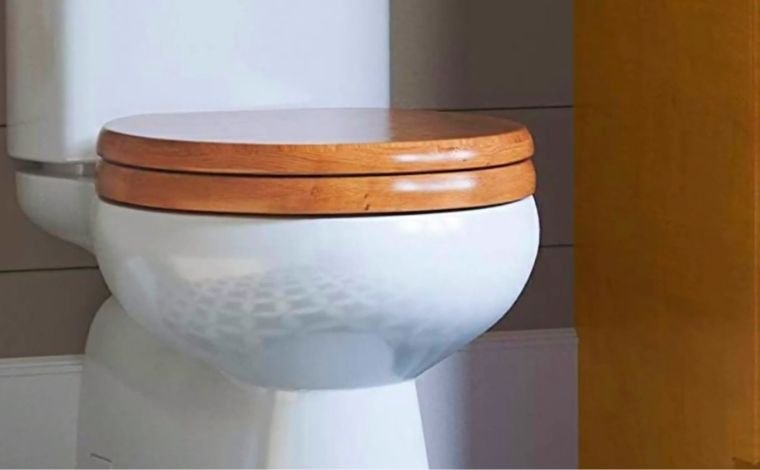 Best Uses: During Winter, it remains warm and relieves unwanted shivering, and looks modern and trendy.
Plastic: Most Common Toilet Seat 
Plastic is the most common type of toilet seat on the market. Whenever you imagine toilet seats, plastic seats are probably the first visual that comes to your mind. You can choose from broad categories; most of them come with the basic white color. The plastic seats may look cheap, but they do not rot like wooden seats.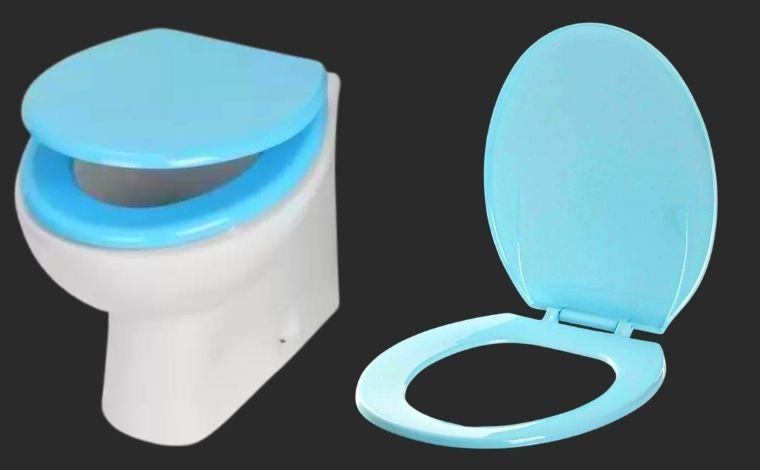 Capitalize on: It can be available with tons of choices. Some popular models include Omigo, Brondell Swash SE400, Bio Bidet USPA 6800, etc. It needs less maintenance, and this is very budget-friendly. It is a popular choice among customers.
Stainless Steel
This toilet seat is not common in households; rather, it is used in public toilets. There are no doubts about the resilience of this product. But there are some colossal issues that you can not avoid. They do not look stylish; they are manufactured to endure extreme uses and functionality. Another major fault is that they are not comfortable to sit on as they always remain cold even in the summer. So just think about how it feels to sit during the winter season.
Best utilized for: Stainless steel toilet seats are resistant to corrosion and rust, and they serve the purpose of heavy use. The maintenance and cleaning are effortless.
Polyresin: Wide Extent of Aesthetics
If you are a bathroom enthusiast, then polyresin is the ideal option for you because it brings you varieties of colors and designs. Aesthetics is the main purpose of polyresin seats, as you can customize the exterior color according to your taste. Your baby will definitely become happy to see a colorful edition of the toilet seat. But note that it is not suitable for every house toilet; it only serves novelty purposes.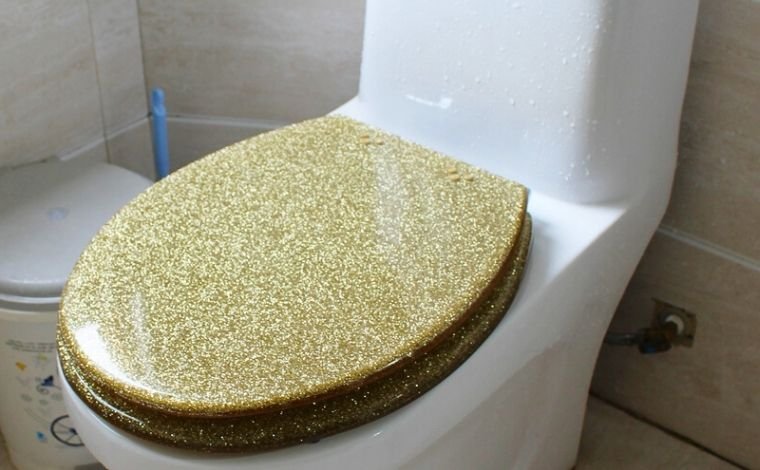 Top used for: This kind of toilet seat is wipeable, so it is easy to clean the bowls and the rims spontaneously. Polyresin is a perfect lightweight and colorful rendition in the toilet seat arena.
Factors to Consider When Buying a New Toilet Seat
You can not just buy any toilet seats randomly without any prudent considerations. There are a bunch of attributes that make the seat play decently in the competitive market. Needs extensive research to gather ample knowledge about toilet seats. I have narrowed down the key points to keep in mind before purchasing the seats.
Many materials are used to manufacture toilet seats, like wood, stainless steel, resin, plastic, and many more. Examine every possible type to get the best one for your bathroom.
Nobody wants to change their toilet seats quite often, so the first and foremost condition of buying a toilet seat is the product's durability. Wooden seats are considered the most robust toilet seats among them.
If you are a light sleeper, buying a silent toilet seat is a must for you. The soft closing feature and padding can reduce the overall slamming noise of the toilet seats.
Excellent Design and Appearance
It's the modern generation; lavishing appearance and outstanding design are the prime requirements nowadays in every aspect of life. Your toilet seat is not an exception to this. At present, there are lots of colorful and eye-catching toilet seats available. Choose the right one based on the shape, size, design, and color.
How does it feel when you bring a toilet seat that doesn't fit the toilet bowl shape? It's annoying to replace the seat again and again. There are many categories of toilet seats, as discussed earlier. Keep in mind that your toilet seat is dependent on the shape of the toilet bowl, so before buying it, measure the bowl cautiously.
Cleaning the toilet is a hectic chore for most people. It would be best to buy those types of toilet seats that are easy to clean. For Example, the elongated shaped seat is more convenient to clean as they have more space at the front. The toilet bowl and rims get dirty even more than the seats. So the entire set of toilets needs to have enough room for cleaning.
Conclusion
I would not say that toilet seats are the most effective elements in your bathroom territory, but I can assure you that a durable and comfortable toilet seat can make your bathroom hours pleasant and hassle-free. Nowadays, who has time to clean and maintain a toilet seat? So the seat must possess a decent set of attributes. You may get stuck choosing among such a wide variety of toilet seats. So, for your convenience, I have collected a whole bunch of toilet seat types in this article.
The obvious thing that will hit your brain is which kind of seat is the most suitable for your toilet. Well, being honest, I will go for the wooden toilet seats as they possess a natural wood finish that looks superb in any bathroom context. They are also easy to maintain and add a monumental aesthetic to your bathroom. You can also pick up the plastic seats as they are widely available; they will give you the freedom to choose. No matter what type of seat you select for your toilet, the main consideration is always the shape of your toilet bowl; if both of them do not match, all your efforts will go to veins. The summary of this article may be portrayed as "Choose Wisely."
Hi, this is Robert Crossan, the owner of this website, has 17 years of experience in the installation, maintenance, and repair of toilets and plumbing systems. After completing the Level 2 Basic Plumbing course in 2005, I started working in both domestic and commercial buildings as a professional plumber. So I can figure out the core difference between different toilet models and brands. It also helped me monitor their work performance and setbacks.