The Toto Aquia toilet collection was inspired by European lifestyles. That's why they are very intuitive and have some of the best flush toilet designs on the market.
In this Toto Aquia VS Aquia II VS Aquia III VS Aquia IV article, we'll compare some of the best Toto toilets and help you select one that you think meets your needs and budget. These toilets have similar features, but they also differ in one or two ways. The Toto Aquia toilet was the first released in this series. After that Toto Aquia II toilet was introduced, it has almost the same features, but the price has been reduced. The Aquia III is discontinued, and the Toto Aquia IV is the latest release of this series. All these are two-piece toilets.
Comparison Chart: Toto Aquia VS Aquia II VS Aquia III VS Aquia IV
| | | | | |
| --- | --- | --- | --- | --- |
| Features | | | | |
| Piece: | One-Piece | Two-Piece | Two-Piece | Two-Piece |
| Shape: | Elongated | Elongated | Elongated | Elongated |
| Flushing Option: | Dual | Dual | Dual | Dual |
| Flushing System: | Dual-Max | Dual-Max | Dual-Max | Dynamax Tornado |
| Certification: | Watersense | Watersense | No | No(but it meets the standards) |
| Water Consumption: | 1.28 & 0.8 GPF | 1.6 & 0.9 GPF | 1.6 & 0.9 GPF | 1.0 & 0.8 GPF |
| Dimensions: | 32.4 x 29.5 x 20.8 in. | 28 x 16 x 31 in. | 28.5 x 25 x 15.5 in. | 27.56 x 15.56 x 29.56 in. |
| Slow-Close Seat: | Not Include | Not Include | Not Include | Yes, Include |
| Price: | High | Medium | High | High |
| Warranty: | Limited 1-Year | Limited 1-Year | Limited 1-Year | Limited 1-Year |
| Washlet+: | No | No | No | Yes |
| Weight: | 117 pound | 112 pound | 108 pound | 119 pounds |
Detail Features of the Toto Aquia, Aquia II, Aquia III and Aquia IV
Whether you're remodeling your bathroom or replacing your old toilet with a new one, the Toto Aquia collection can be a good place to look for your next toilet. Just like any other Toto toilet collection, the Aquia collection has different types of toilets offered at different prices. Let's take a look at a quick review of these four toilet models.
Toto CST412MF#01 Aquia Dual Flush Toilet
This is the first Aquia toilet model. The Toto Aquia I is a simple but powerful toilet that can fit in any modern bathroom. It comes with a 12-inch rough-in and has an elongated bowl design. But you will have to buy the toilet seat separately as it is not included in the purchase. The dual max flushing system does a great job of eliminating both liquid and solid waste in just a single flush. For liquid waste, press the chrome button for 0.9 gallons per flush, and for solid waste, press the button for 1.6 gallons per flush. So, the toilet is EPA WaterSense certified. Also, this toilet is very comfortable as it features a universal height. With all these amazing features, this toilet is sold at a very favorable price.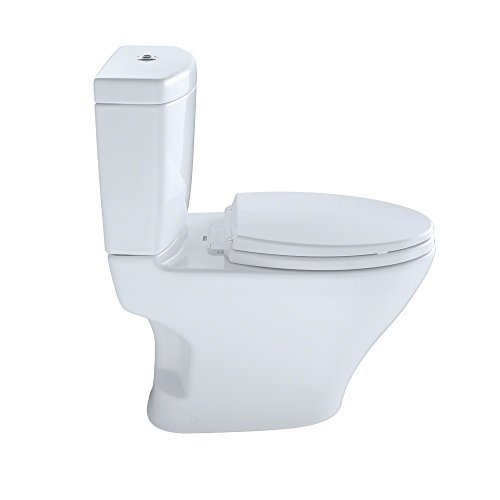 Check Price
Pros:
Comfortable toilet with its elongated bowl design
The standard height for use by different people
Easy to install and clean
Compact design
Affordable price
It saves a lot of water with the dual flush mechanism
Cons:
The toilet seat has to be purchased separately
Not fully ADA complaint as the lever is not on the right side
The chrome buttons are not very durable
Toto CST416M#03 Aquia II Two-Piece Toilet
The Toto Aquia ii toilet is holistically designed to match any contemporary bathroom. The two-piece toilet comes with an elongated toilet bowl, tank cover, fittings, and chrome-plated push button. It also has a wide range of colors to choose from, such as bone, colonial white, cotton white, Sedona beige, and ebony. With its dual flushing system, you will be able to save water as you'll use 0.9 gallons of water per flush for liquid wastes and 1.6 gallons of water per flush for solid wastes. The flushing system is very efficient as it clears the contents in just one flush. The only shortcoming is that you will have to purchase a seat separately, which is an added cost. The Aquia ii toilet is heavier than the Aquia I toilet.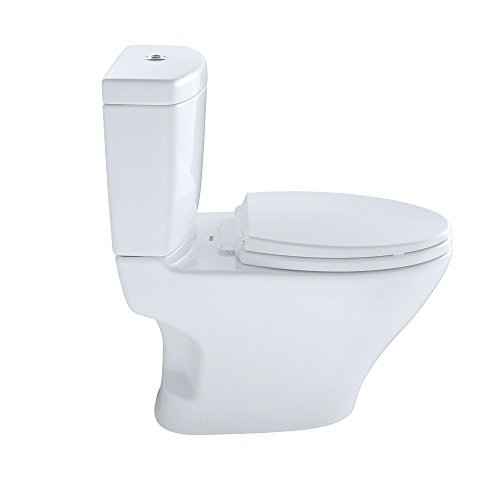 Check Price
Pros:
The powerful dual max flushing system

Saves water with two flushing options

A large glazed trap is a way to prevent clogging

Elongated bowl shape for comfort

Easy to use and install

Great price

One year warranty
Cons:
Features chrome push button, which may have to be changed on a yearly basis

The toilet seat has to be bought separately
Toto CST464MF-01 Aquia III Dual Max Toilet
Of all the 4 Aquia toilets on this list, the Toto Aquia iii toilet appears to be different from the rest as it doesn't have a skirted design. So, cleaning outside the toilet can be a little bit challenging because of the nooks and crannies that have to be scrubbed to get rid of dirt. Besides this, the toilet has similar features to the other Toto Aquia toilets. It features a dual-max flush system, elongated bowl design, universal height, and a large 2-1/8-inch fully glazed trap way. It also uses 0.9 GPF for light wastes and 1.6 GPF for heavy wastes.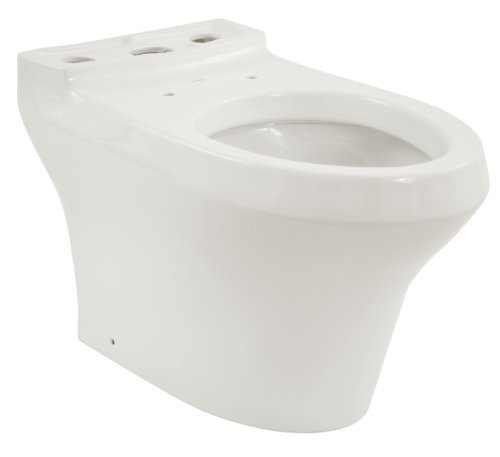 Check Price
Pros:
Universal height
Comfortable elongated bowl shape
Easy to use and installation
Excellent design that blends with modern bathrooms
Powerful dual max flushing system that clears wastes easily
A large glazed trap way prevents clogs
Cons:
The toilet seat has to be purchased separately

Not fully ADA compliant as it has a lever on top of the tank
Toto MS446124CUMG#01 Aquia IV IG Washlet Toilet
If you're looking for a sleek and more powerful Toto Aquia toilet model, then the Toto Aquia iv washlet is a great option. Aquia IV is one of the best low-flow toilets on the market. This toilet features the Dynamax tornado flushing system that uses 360 degrees of cleaning power to access every corner of the bowl. In addition, it has a CeFiONtect finish which prevents mold and debris from sticking to the ceramic surfaces. During operation, the toilet is silent because the bowl design reduces water resistance and turbulence. On top of that, it uses the least amount of water among the different Toto Aquia toilet models. For liquid waste, it uses 0.8 GPF, and for solid waste, it uses 1.0 GPF. Also, it features a soft-close seat and a universal height for great comfort during use.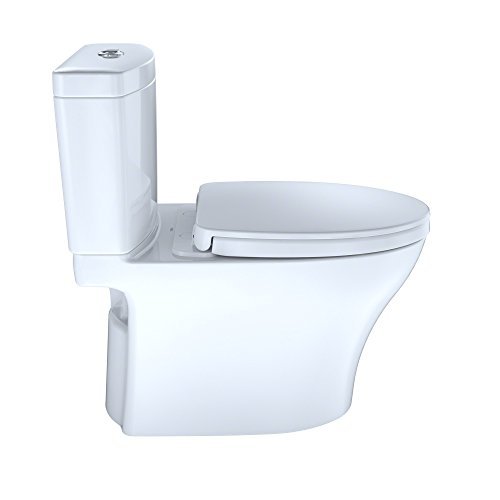 Check Price
Pros:
Compact and sleek design
Has a skirted design for easy cleaning
Features the powerful Dynamax tornado flush
Saves water with its high-efficiency dual flushing system
Comes with a soft-close seat, so no more seat slamming
Provides a quieter flush
Elongated bowl design and universal height offer great comfort
Has a CeFiONtect technology that keeps the toilet clean most of the time
Cons:
It is quite expensive when compared to other Aquia toilets

It is a bit challenging to install
Final Decision: Toto Aquia or Aquia II or Aquia III or Aquia IV?
After looking at the Toto Aquia toilet collection, it is apparent that there is no "one size fits all" toilet. Every toilet has its own ups and downs. If you are low on the budget but want a powerful and stylish toilet, the Aquia or Aqua ii can be a good option. But if you want a more versatile toilet with additional features, then the Aqua iv toilet is the best. Its skirted design will make your bathroom look lovelier, but you will have to pay more in order to get it.
FAQ
Question: What is the bowl height for the Toto Aquia II toilet?
Answer: The Aquia II toilet comes with a bowl height of 16 inches. This is without a seat. With a seat, the height is around 17 inches, which is a comfortable height. This is the ADA height, and it is very comfortable for different users. To confirm the height of the toilet, you can always check in the manual or specification sheet. It has all the dimensions for the toilet.
Question: Why is it important to check my supply line before selecting a skirted toilet?
Answer: There are skirted toilets that cover the back of the toilet, with the toilet skirt extending very close to the back wall. This can be a hindrance to the supply line of the toilet. Even though your plumber can always move the supply lines, this is a costly undertaking. Go through the toilet's spec sheet to make sure your supply line will fit with a skirted toilet.
Question: What should I do if I smell an odor in my washlet?
Answer: If there is an odor in your washlet, this can be removed with much ease. Simply remove the main unit and clean the deodorizer screen. Start by removing the deodorizer filter, then unplug the power, clean the filter using a toothbrush, connect the deodorizer filter, connect the main unit, and finally, plug in the power cord.
Still, have a question after reading this Toto Aquia VS Aquia II VS Aquia III VS Aquia IV article? Comment below.
Hi, this is Robert Crossan, the owner of this website, has 17 years of experience in the installation, maintenance, and repair of toilets and plumbing systems. After completing the Level 2 Basic Plumbing course in 2005, I started working in both domestic and commercial buildings as a professional plumber. So I can figure out the core difference between different toilet models and brands. It also helped me monitor their work performance and setbacks.