Brondell is one of the most re-known bidet toilet seat brands in North America. They create advanced, stylish, and reliable bidet seats for different users. Today, we'll be looking at one of their latest bidet seats, which is the Brondell Swash 1400 luxury seat. The Brondell Swash 1400 luxury seat looks similar to the Brondell Swash CS1000 bidet seat. However, these two seats vary as the s1400 is more advanced with outstanding features. So read this Brondell Swash 1400 review to know more about this luxury bidet toilet seat.
It comes with some additional features, such as a replaceable deodorizer, two programmable settings, and a hidden pocket for hiding power and water connections. With these new features, it is clear that the Brondell Swash is more advanced and luxurious than other bidet seats.
Technical Specifications of the Brondell Swash 1400 Luxury Bidet Toilet
| | |
| --- | --- |
| Features | Brondell Swash 1400 bidet toilet seat |
| Material: | Stainless Steel |
| Style: | Bidet Seat |
| Voltage: | 120 volts |
| Size: | Elongated |
| Color: | White |
| Power Source: | Corded electric |
| Batteries: | 4 Lithium Metal batteries are required. (included) |
| Installation Method: | Self Install |
| Warranty: | 3 year limited |
| Power Cord: | 3.5' |
| Eco-friendly: | Yes |
| Nozzles: | dual stainless-steel |
| Exceptional Feature: | cool blue LED illumination |
| Remote control operation: | Wireless |
| Adjustable: | water pressure and temperature |
| Carbon Deodorizer: | Yes (replaceable) |
| Warm air dryer: | Yes |
| Slow closing lid: | Yes |
| Weight: | 14.3 pounds |
| Dimensions: | 20.43 x 15.2 x 5.75 inches |
| Price: | Check Today's Price |
In our Brondell 1400 review, we're going to look at the smart toilet seat in detail so that you can have an easy time making up your mind.
Luxury Elongated Brondell Swash 1400 Review in 2022
Luxurious design
One of the fascinating features of this bidet toilet seat is its modern design. Actually, this bidet toilet seat has an upgraded toilet design from the s1000. The sleek and luxurious design easily blends with any bathroom décor. Additionally, the user has the option of picking either a round or elongated toilet seat design. So, it will fit perfectly on your toilet and installing it isn't a problem.
Slow-closing lid
A slamming toilet seat can be annoying, and it creates unnecessary noise at night. But with the Brondell Swash 1400, you won't have to worry about the seat slamming as it comes with a slow-closing seat and lid. As you leave the toilet after a long call, the seat will close slowly, which is also safe for your kids as it won't hurt their fingers.
Related article: Which one is preferred between Plastic and Wood toilet seats?
Hidden pocket
Another unique feature that the Brondell Swash 1400 boasts of is the hidden pocket. This is a vital function that allows this toilet to look sleek and stay safe. The pocket conceals both the power and water connection. Therefore, your toilet will remain secure with a lovely streamlined design.
Wireless remote control for ease of use
What's more, the unit comes with wireless remote control that makes using this unit simple. Unlike the Toto bidet C100, this model features two programmable user settings and an automatic eco mode. The one-touch automatic mode allows different users to experience a quick and refreshing experience. With the magnetic dock, you can rest assured that your remote will stay in place.
Adjustable water pressure and temperature
Regardless of the time of the year, this toilet seat ensures comfort whenever you visit the toilet. Thanks to the adjustable water pressure and temperature that ensure you're comfortable during use. Its spray width adjustment provides targeted cleaning. Also, you will get endless warm water with four water temperature settings. This is because of the innovative tankless, ceramic-core heating system.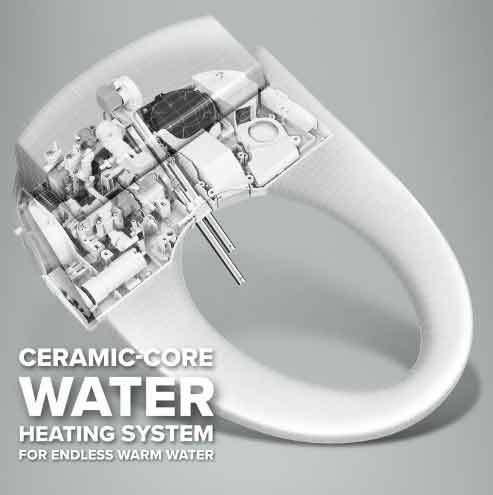 Check Today's Price
Stainless steel nozzles
Instead of using hard plastic material, Brondell used stainless steel to create its two nozzles. Stainless steel is easier to clean and long-lasting. So its dual stainless steel nozzles made this toilet seat more durable than other plastic-tipped toilet nozzles. One nozzle is for rear cleansing, while the second one is for front wash. The cleaning wands produce aerated water with three different widths. Also, the nozzles can be adjusted to seven different positions to meet the needs of different users. Also, a Bio Bidet BB-2000 bidet seat doesn't offer Enema Function. But Brondell 1400 features an Enema Function that comforts users while using the toilet.
Unlike some bidet toilet seats on the market, the s1400 comes with nozzle sterilization. So, when the nozzle self-cleans, the sterilization helps to get rid of germs to maintain high levels of hygiene.
Warm air dryer
When you're done, the warm air dryer dries your nether area so that you don't have to use tissue paper. This will help reduce the environment's polluting as fewer trees will be fell to make tissue paper. You can get an oscillating FEMININE wash by a 2-minute warm air dry. Also, it is more hygienic as you don't have to touch your nether area.
Replaceable deodorizer
The replaceable carbon air deodorizer makes the toilet smell fresh as it traps odor. This deodorizer can be replaced, so your bidet seat will always smell fresh even after many years of use.
LED nightlight
Aside from the exceptional features that this unit offers, it also comes with a cool blue LED illumination night light that brightens up your bathroom at night, which is not featured in the Brondell Swash SE400 electronic bidet seat. It also allows you to detect your toilet in the dark easily.
3-year warranty
Brondel is a reliable brand, and it is trusted in the whole of North America. So, if you're new to this brand, you don't have to worry as this bidet toilet seat comes with a 3-year warranty. And in case you're not impressed with the toilet, you can send it and have your money back within 30-days of purchase.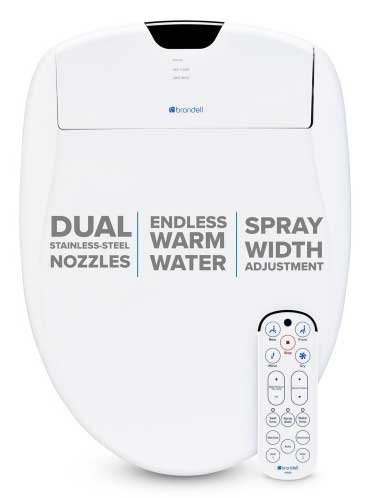 Check Today's Price
Pros of the Brondell Swash 1400 bidet toilet seat
Sleek and luxurious design
Cool blue illuminating nightlight creates a serene ambiance
The heated seat provides comfort in all cold mornings and during winter
The active carbon air deodorizer keeps the toilet smelling fresh
It has a dual stainless steel nozzle that is durable and long-lasting
Slow-closing lid avoids banging of the toilet
Easy to install
Nozzle oscillation mode
A warm air dryer maintains a high level of hygiene as you don't need tissue paper.
It comes with a 3-year warranty
Cons of the Brondell Swash 1400
The rear wash nozzle doesn't extend further back
The seat is not very comfortable as it has a bit of slope at the back
Conclusion
The Brondell Swash 1400 seat is perfect for installing in any bathroom as it brings luxury and style. Besides, it boasts of a broader range of features that make it stand out from other similar Bio bidet seats. Made by one of the best Bidet toilet seat brands in North America, the s1400 is an actual luxurious toilet. It has a heated seat, slow-closing lid, self-cleaning dual nozzle, cool blue nightlight, warm air dryer, and remote control for ease of use.
What's more, installing this bidet is easy and fast. Besides, it features a 30-day money-back guarantee and a 3-year warranty.
FAQ
Question: Can I install the Brondell Swash 1400 myself?
Answer: Yes, you can. Installing the s1400 is easy as it comes with all the tools and hardware required for installation. It has two mounting bolts, a mounting plate, two-barrel nuts, two flat washers, two rubber cone washers, an adjustable bracket rubber washer, two cable clips, a T-valve connector, Brondell remote control, remote control wall mount, two remote screws, two remote anchors, four CR2032 lithium battery, and Swash bidet seat. You just need to connect a cold water connection with the seat as it does not requires a direct hot water connection. Its tankless heating mechanism will provide you continuous warm water stream.
Question: Is this a round or elongated bowl toilet seat?
Answer: The Brondell Swash 1400 comes in both round and elongated bidet seat designs. So, the design that you choose will depend on the type of toilet bowl that you've. If you have not yet bought the toilet, you should find out which design will be best for your bathroom. Round toilet bowl designs are best for compact bathrooms, while elongated toilet bowls are ideal for people who want comfort.
Question: What are the differences between the Brondel Swash 1400 and 1000?
Answer: At first, you may think that both of these toilets look the same, but they are not. This is because the 1400 bidet seat comes with additional features such as the hidden pocket that helps to hide the power cord and water connection. Also, they are of a different design as the Swash 1400 comes with a more modern design toilet seat with the lid and base of the toilet seat redesigned. Also, the 1000 seat model doesn't feature two programmable user settings and auto mode.
Some of the features that these two models share include oscillating nozzle, air dryer, warm water, nozzle sterilization, deodorizer, and heated seat. Still, have questions after reading this Brondell Swash 1400 review article? Comment below.