The Toto Ultramax one-piece toilet comes with most of the features that people desire in a modern toilet, but it is also quiet in operation. Like many other Toto toilet models, the Ultramax toilet is extremely durable and made of vitreous china. And the Toto Ultramax price is lesser than the Toto Ultramax II.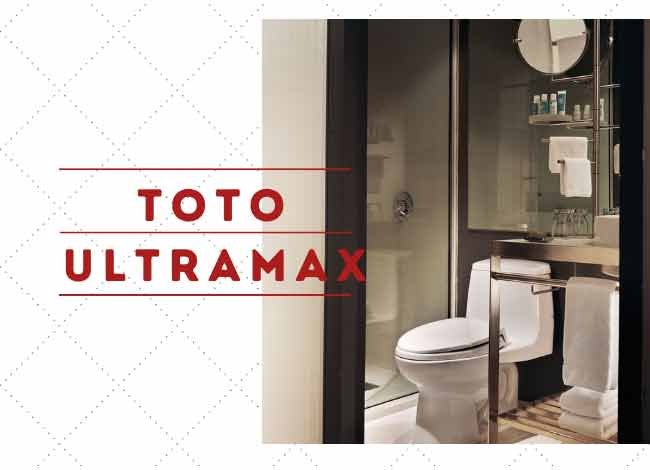 The G-Max flushing power is very effective in performance and doesn't leave behind any waste. It uses 1.6 gallons of water per flush, and the larger Trapway ensures nothing that goes down comes back. This toilet is comfortable as it has an elongated bowl design. Cleaning isn't a problem as well, as the SanaGloss ion barrier finish keeps it clean after every flush.
Technical Specifications of the Toto Ultramax Toilet
| | |
| --- | --- |
| Piece: | One-Piece |
| Water Consumption: | 1.6 GPF |
| Material: | Vitreous China |
| Shape: | Elongated |
| Color: | Cotton White |
| Flush Type: | G-Max Flushing Technology |
| Installation Method: | Floor |
| MAP Testing Score: | >= 800 (Highly Recommended) |
| Seat: | SoftClose seat (Include) |
| Warranty: | 1-Year Limited Warranty |
| Price: | Check Today's Price |
Product Description
Vitreous China material
G-max flush system
Elongated bowl design
Cotton white color
One-piece design requires a small space to install than other two-piece toilets.
1.6 gallons of water per flush
Weighs 93 lbs
Measures 28 x 17 x 28 inches
One-Piece Elongated Toilet- Toto Ultramax Reviews
The flushing toilet is easy to install as it comes with a 12-inch rough-in. It also weighs 93 lbs with 28 x 17 x 28 inches measurements. Being a 1-piece toilet design, it is quite heavy, and you will need help installing it. Check the user manual to help guide you during installation. Alternatively, you can hire a professional plumber to install the toilet. Here are the features-
Quality and design
Toto has made a stride when it comes to durability. Past users of the Toto Ultramax one-piece toilet highly applaud it for its outstanding durability. Made of vitreous china material, this is a toilet that will last for more than 20 years. Thus, it is a great investment, and you won't have to purchase or replace it with any other toilet anytime soon.
Apart from that, the Ultramax one-piece toilet is a stylishly designed toilet with a seat included. Unlike some Toto toilet models, you won't have to buy the seat separately. Another outstanding feature of this toilet is its SanGloss finish, which gives it a sleek and sparkling look. With the vitreous china material, this is a toilet that you can count on to use for a longer period of time.
Toto Ultramax Has a Powerful Flushing System
If you're tired of flushing your toilet more than once for it to clear the contents in the bowl, then the Toto Ultramax toilet will be a great option for you. The G-max flushing mechanism is the industry benchmark for flushing performance. It will clear both solid and liquid wastes in just one flush and leave the toilet sparkling clean. It can be used as a commercial toilet because of its powerful flush.
This is all thanks to the larger 2.125-inch glazed Trapway that provides increased flow, drawing water into the bowl faster and then away with greater force to avoid clogging. In addition to the larger Trapway, the toilet comes with a 3-inch flush valve that creates a quicker, quieter, and more forceful flush that clears all the waste in the bowl. The extra-large siphon jet creates great power for one-flush superiority to ensure that what is pushed down remains down.
Easy to clean
The Toto Ultramax self-cleaning toilet not only features a powerful flushing mechanism but is also easy to clean. The powerful siphon jet clears contents in just one flush, leaving the toilet clean and without dirt.
The SanaGloss ion barrier also plays a major role in keeping the toilet clear as well. It makes sure that nothing sticks on the toilet after every flush. Moreover, it makes the toilet look sparkling clean, so you'll not have to scrub your toilet hard to remove stains and dirt. Being a one-piece toilet, cleaning the entire toilet will be swift as there are no hard-to-reach areas.
Sleek and Comfortable
Whether your bathroom is of modern or traditional design, this toilet will still fit in perfectly. The Ultramax one-piece toilet is excellently constructed with a sleek design. It is easy to fit in the bathroom as it has a 12-inch rough-in. In addition, the elongated bowl design provides enough sitting space for users.
The manufacturer offers a variety of colors to pick from, which include bone, cotton white, colonial white, and Sedona beige. Most people prefer cotton white because it easily matches most interior décor.
SoftClose seat included
The days of banging or slamming the toilet seat are over. The Ultramax toilet has simplified things for its users as it has a SoftClose. After using the toilet, the seat will close slowly without slamming. The seat and lid use a built-in SoftClose hinge system, slowly and quietly lowering the seat to the bowl.
N:B: The updated version is Toto UltraMax II which has a powerful double cyclone flushing system.
If you've kids at home, this may not be the best toilet to install, as the toilet seat may need to be replaced almost every year.
One-year limited warranty.
Though not the best warranty, Toto's one-year warranty is nothing compared to the quality of its toilets, and previous users have high praise for Toto toilets as being one of the most durable on the market. But the manufacturer should improve the warranty to increase the confidence of new buyers.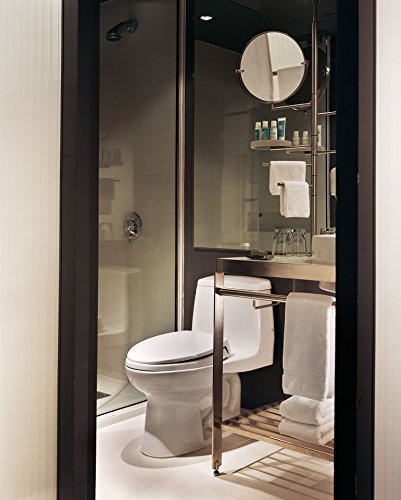 Check Price
Why Should You Buy a Toto Ultramax Toilet?



Quiet in operation and ideal for small bathrooms
Comfortable as it has an elongated toilet bowl design
Powerful G-max flushing system
Easy to clean as it has a SanaGloss ion barrier that keeps the bowl clean after every use
A 3-inch valve creates a quicker and more forceful flush
Low water consumption as it uses 1.6 gallons per flush
No banging toilet seat as it comes with a SoftClose seat
Most toilets from Toto offer a one-year limited warranty
Setbacks:
It is quite expensive
The unit is somehow difficult to install as it is a one-piece toilet design.
It is difficult to clean the hidden parts of the toilet, where bacteria and dirt may hide.
Comparison: Toto UltraMax vs. UltraMax II
| | | |
| --- | --- | --- |
| Features | UltraMax | UltraMax II |
| Model Number: | MS854114SLR#01 | TMS604124CEFRG#01 |
| Water Usage: | 1.6 GPF | 1.28 GPF |
| Length: | 32 inches | 32 inches |
| Flushing System: | 32 inches | 32 inches |
| Width: | G-Max | Double Cyclone |
| Height: | 23.5 inches | 29 inches |
| Material: | Vitreous China | Ceramic |
| WaterSense: | No | Yes |
| Price: | Around $800 | Around $700 |
3 Alternative of Toto Ultramax Toilet
Dimension: 27.5 x 14.2 x 31.2 inches
Piece: Two-Piece
Water Consumption: 1.6 GPF
Number of Handles: 1
Flush Type: Dual Flush Toilets
Weighs: 95 pounds
Material: Vitreous China
Color: Cotton
Installation Method: Floor
Bowl Shape: Elongated
Warranty: One-year Limited Warranty
Pieces: Two-Piece
Water Consumption: 1.6 GPF
Rough-In: 12 Inch
Flushing System: G-max
Material: Vitreous China
Finish: Chrome
Certification: WaterSense
Included Components: Toilet Bowl, Toilet Tank
Power Source: Corded-Electric
Product Dimensions: 28.2 x 28.2 x 16.5 inches
Pieces: 1-Piece
Item Weight: 110 lbs
Water Consumption: 1.28 GPF
Material: Vitreous China
Flush Type: Water-Saving Toilets
Batteries Included: No
Certification: ADA, WaterSense, CALGreen, and CEC compliant
Finish: Chrome
Final Thoughts on Toto Ultramax
Overall, the Toto Ultramax toilet is a good addition to most bathrooms and is very easy to maintain. The powerful G-max flush system, together with the SanaGloss ion barrier, ensures that nothing sticks to the surface of the toilet.
There is no need to flush twice with this fantastic toilet, as the powerful siphon jet will ensure the waste is cleared in just a single flush. The toilet is also quiet in operation and won't distract people or create unnecessary attention. However, it is quite expensive, and the one-year warranty should be worked on. Besides these, this is a sleek and comfortable toilet to have in the house. I have explained everything you need to know in this Toto Ultramax review.
FAQs
Question: How do I know whether or not the Toto toilet model I am buying has a SanaGloss finish?
Answer: This is a good question, and many people are not aware of it, only to find out later. To know if the toilet has a SanaGloss finish or now CEFIONET glaze, check its SKU number. For instance, for this model, it should be MS854114SG. If the SKU number doesn't have SG in the end, then it doesn't have a SanaGloss finish.
Question: I have a 10-inch rough-in. Will this toilet fit in?
Answer: No, it won't. Toto makes most toilet models with either a 12-inch or 10-inch rough-in. But for this particular model, it only comes with a 12-inch rough-in. So, if your toilet has a 10-inch rough-in, you will have to consider buying another Toto toilet model not named Toto Ultramax toilet.
Affiliate Disclosure: "This page contains Amazon affiliate links. When you buy through our links, I may receive a commission at no extra cost to you."
Hi, this is Robert Crossan, the owner of this website, has 17 years of experience in the installation, maintenance, and repair of toilets and plumbing systems. After completing the Level 2 Basic Plumbing course in 2005, I started working in both domestic and commercial buildings as a professional plumber. So I can figure out the core difference between different toilet models and brands. It also helped me monitor their work performance and setbacks.