Which toilet is better? Toto Ultramax II or Ultramax? I have compared both toilet features in this Toto Ultramax VS Ultramax II post.
Toto Ultramax is the initial release of the Ultramax series. It is a popular model. Thus, Toto has created a newer model called Ultramax II. This new model has some advantages over the Ultramax. The Toto Ultramax II bowl has an improved design with an ADA-compliant WaterSense certificate. Other features are almost the same for both toilets. But Toto Ultramax is perfect for shorter people because of its size.
Need more toilet options? Check the best Toto toilet list here.
So, if you're looking to install a new toilet and are stuck between Toto Ultramax and Toto Ultramax II toilets, here is the review to help you out.
Feature Comparison: Toto Ultramax VS Ultramax II 2023
These two have some feature differences. Find out the difference between Toto Ultramax and Ultramax II below.
Features

Toto Ultramax

Toto Ultramax II

Bowl:
Straight down the bowl rinse
2 outlets at the top of the bowl & 2 streams of water swirl around the bowl
Double Cyclone Bowl:
No
Yes
Certification:
Not Applicable
WaterSense
Water Save:
Not much
Yes
Water Consumption:
1.6 GPF
1.28 GPF
Sanagloss:
An Option
Standard
Dimensions:
28 x 17 x 28 inches
29 x 18 x 29 inches
Height(with seat):
17 inches
18 inches
ADA Compliant:
No
Yes
Item Weight:
89 pounds
99 pounds
Easier to Clean:
No
Yes
Seat Include:
Yes
Yes
Map Testing Score:

>= 600 (Highly Recommended)

>= 800 (Highly Recommended)

Who Will Buy:
Perfect for Short People(5.3″ or less)
All
Price:
Check Price
My Choice
Check Price
Features to take into consideration when comparing different toilets
Many people visit the toilet at least thrice or more times a day. But a few of them know the importance of acquiring a highly-effective and high-performing toilet. A good toilet will allow you to move the waste in just one flush, and it will use very little water per session. Also, a quality toilet provides more comfort than traditional ones.
Design – the two most common designs are one-piece and two-piece toilets. One-piece toilets are very easy to maintain and clean, while two-piece toilets are easy to install. Also, you can decide to choose either a toilet with an elongated bowl or a round bowl. Elongated bowls are more comfortable, while round bowls toilets fit in small bathrooms well.
Related: Toto Ultramax II And Drake II toilet Comparison
Gallons per flush – this is very important as some toilets don't meet the standards of other states like California. A good number of toilets use 1.28 gallons of water per flush, while others use 1.6 gallons per flush. High-efficiency toilets use 0.9 gallons of water per flush(But sometimes fail to clean properly). A toilet that uses less water will allow you to save on your water bill or even get a rebate on your water bill.
Flush valve – the industry standard requires a flush valve to be at least of 2-inch valve. A bigger flush valve ensures that the water is flushed down the bowl more efficiently and with more power, so fewer clogs or the mess is reported.
Related: Toto Drake vs. Drake II
Toilet seat – a toilet is something that we use most of the time, and that's why we should select comfortable toilet seats. Soft-close seats are the best as they reduce the banging associated with traditional seats. But the seat should be comfortable and fit the type of bowl very well.
Toto Ultramax :
Toto MS854114S#01 Ultramax Elongated Toilet
With a high-efficient flushing system and a 3-inch flush valve, this Toto toilet does a great job of clearing waste in the bowl with fewer clogs and messes. It is an elongated one-piece toilet and comes in cotton white. The elongated bowl offers comfort to the users, and the standard height makes sitting and standing to be easy. Also, the toilet is very quiet during operation and uses just 1.6 GPF. Equipped with a soft-close seat, this is a very nice toilet.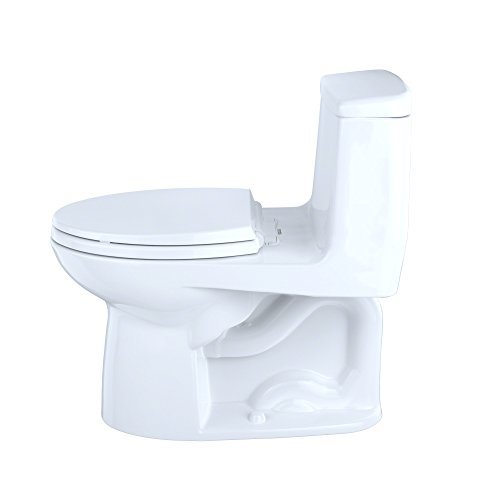 Check Price
Toto MS854114#01 Ultimate One-piece Toilet
Even though it appears to be similar to the above toilet, they vary slightly. This model is a bit cheaper and offers the user 4 colors to choose from. These are cotton white, colonial white, bone, and beige. In addition, it has an elongated bowl design with a seat height of 15 inches. The 3-inch valve, together with the powerful G-max flushing system, clears the solid waste in one flush. One of the shortcomings of this model is that it is slightly heavy as it weighs 69 pounds.
Related: Difference between Toto Ultramax II and Drake II
Toto Ultramax II :
Toto MS604114CEFG#11 Ultramax II Het Double Cyclone Toilet
This is a high-efficient toilet model as it uses less than 1.28 gallons of water per flush. So, you will save on water and your water bill. Furthermore, Toto Ultramax 2 has a SanaGloss finish that makes cleaning to be easy and keeps the toilet cleaner for longer. With a height of 17.25 inches, this is a slightly high toilet and ideal for taller people or adults. The elongated bowl offers extra comfort, and its flushing system is very effective.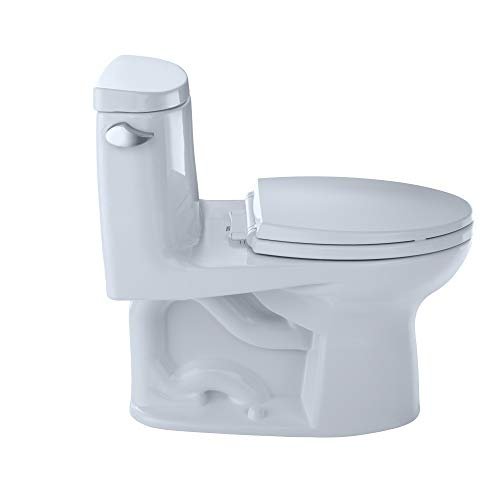 Check Price
Toto MS604114CUFG#01 Ultramax II IG Toilet
Despite being sold at a very competitive price, this toilet model is very efficient in performance. First of all, it's ADA and Calgreen-compliant. The double cyclone function enables the toilet to clear waste easily without leaving a mess behind. It is also silent in operation, and less water is utilized per flush.
Which one is better – Ultramax or Ultramax II toilet?
The two toilet series we discussed have exceptional features and meet the needs of different users. The final choice comes down to what you are looking for, the price of the toilet, size, water usage, and design. Both models have something to offer if you are ready to spend to get a quality toilet. So, if you want more features and greater performance, then you will have to dig deeper into your pockets. Also, you should consider the people who are going to use the toilet. Are they adults, elderly people, or disabled people? A standard-sized toilet is the best as it meets the needs of most families. So, what's your final call between Toto Ultramax ii VS Ultramax?
My Recommendation: Considering the features and prices, I will go with the Ultramax II toilet instead of Ultramax.
FAQ
Q. Is the Ultramax toilet series easy to install?
Ans. Yes, it is. Most of the toilets come with a standard 12-inch rough-in, which is easy and quick to install. Also, they have holes for firmly fixing the toilet on the ground so that it doesn't shift or move from its position.
Q. How does the SanaGloss finish keep the toilet clean?
Ans. This finish prevents the growth of mold, mildew, and bacteria on the surface of the toilet. So, during every flush, the powerful flushing system leaves the surface clean, and no stain or dirt is left on the toilet surface.
I hope this Toto Ultramax VS Ultramax II article will help to make a final call.
Hi, this is Robert Crossan, the owner of this website, has 17 years of experience in the installation, maintenance, and repair of toilets and plumbing systems. After completing the Level 2 Basic Plumbing course in 2005, I started working in both domestic and commercial buildings as a professional plumber. So I can figure out the core difference between different toilet models and brands. It also helped me monitor their work performance and setbacks.