Currently, toilet brands are competing to come up with very efficient and user-friendly toilets. Kohler brand has several amazing toilet models on the market. One of those outstanding toilets is the Kohler Corbelle two-piece toilet.
Kohler is among the most notable toilet brands on the market and offers some of the best flushing toilet designs. The Kohler Corbelle toilet is a self-cleaning toilet, and the flush is powerful. So you don't need to clean it frequently. Additionally, this Kohler self cleaning toilet features a comfortable height seat with an elongated bowl for added comfort.
Continuous Cleaning Toilet– Kohler Corbelle Price
The Kohler Corbelle toilets use only 1.28 gallons per flush, which ensures that you're able to save water and get a rebate in some states. The Kohler revolution 360 degrees swirl flushing technology ensures that no dirt or debris is left behind after every flush. Cleaning this toilet is enjoyable as it also features a skirted Trapway.
Kohler Self Cleaning Toilet

Specifications- Corbelle Model
| | |
| --- | --- |
| Water Consumption: | 1.28 GPF |
| Pieces: | Two-Piece |
| Material: | Vitreous china |
| Color: | White |
| Certification: | WaterSense |
| Flush Type: | Gravity Flush |
| Size: | 2-1/8" |
| Handle/Lever Placement: | Left |
| Weight: | 65.3 pounds |
| Dimensions: | 28.8 x 17.6 x 30.8 inches |
| Toilet-Seat | Seat Not Included |
| Warranty: | One-year limited warranty |
| Price: | Check Today's Price |
If you've been looking for a stylish and efficient toilet, then the Kohler Corbelle 2-piece toilet is for you. Its sleek and compact design will beautify your bathroom, and the white finish is just awesome and can blend easily with any contemporary bathroom. Whether it is installing it in the restroom or at home, this will be a great addition.
Read our detailed Kohler continuous clean toilet reviews to find out more about the Kohler Corbelle two-piece toilet with an elongated bowl.
Related: Similar pricing but 1.6 GPF – Kohler Persuade Toilet Review
Kohler Corbelle Continuous Clean Toilet Review
Material:

Vitreous China, which is more durable than ceramic or porcelain
Many Kohler users love Kohler toilet models because they are very durable. Kohler is among the best toilet brands worldwide, and they are very efficient in performance. The Kohler Corbelle 2-piece toilet is sturdily made of vitreous china material. This means that it will last longer and serve the user for many years if well-maintained. The left-hand trip lever is made of polished chrome, which powers the flushing system and adds vigor to the wonderful toilet design.
Related: Comfort Height Kohler Devonshire Toilet Review
Structure: Comfort height, which is perfect for all
No more struggling or straining as you sit or stand up from the toilet. The Corbelle toilet comes with a standard or Comfort height. It is just the same as sitting on a chair. Additionally, it has an elongated toilet bowl design that offers the user more sitting space. So you can comfortably sit as you take a long call. Moreover, the chrome trip lever is located on the left-hand side, which is the recommended side and is easy to use.
Cleaning system: Gravity flush, which is more powerful than regular flush
Now in this Kohler Corbelle toilet review section, we will talk about its flushing mechanism. One of the things that make this toilet to be exceptional is its effective flush system. The Kohler Corbelle toilet has a revolution 360 swirl flushing technology that creates a forceful swirling motion, which keeps the bowl cleaner for longer. All the contents in the bowl are eliminated with one flush. The swirl motion works hand-in-hand with the self-cleaning system that automatically dispenses cleaning solutions to keep the toilet clean after every flush. However, you will have to purchase a cleaning solution separately as it is not included.
Maintainance: Continuous cleaning system, which keeps the toilet clean always
If you're one of those people who hate cleaning the bathroom, then this toilet will be a good option for you. The Corbelle 2-piece toilet features a continuous cleaning system that automatically releases a cleaning solution during every flush. Apart from that, it has clean coat technology that prevents the development of water scales and mineral stains for easy cleaning. The smooth-skirted design also makes cleaning the toilet's exterior very easy as there are no crevices where dirt can hide, and cleaning is difficult.
Related: Kohler San Souci Toilet Reviews [Low-Profile Design]
Installation: ReadyLock system, which allows you to install it without a plumber
Those who intend to install the toilet by themselves will find this toilet to be easy and fast to set up. Thanks to its ReadyLock installation system, it saves time and eliminates the need to drill into the floor to install the toilet. In addition, It is a two-piece elongated toilet and has a 12-inch rough-in. So, it is neither heavy nor complicated to install.
Kohler Corbelle toilet installation guide:
Certification:

ADA complaint, which is a must for disabled
Offices and commercial businesses can install this toilet as it is ADA-compliant. The toilet seat is of a comfortable height, and the polished chrome trip lever is located on the left-hand side. Therefore, it is ideal for use by all people, regardless of being tall, short, or even disabled. Moreover, it has an elongated bowl design that will provide comfort during use.
Eco-Friendly: EPA WaterSense Certified, which means less water utilization
This toilet can be installed in any state in the USA, using less than 1.28 GPF. It will help to reduce your water bill as less water will be utilized during every flush. Additionally, it is great for the environment as little water is used. You will qualify for rebates when you install this toilet in some states. Overall, this nice toilet will help you save many gallons of water annually.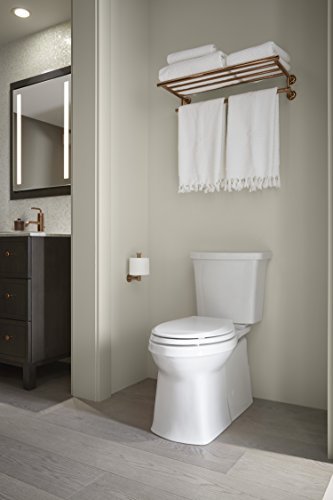 Check Price
Warranty: One year, which should be at least three years
Kohler provides the buyer with a one-year limited warranty. Also, it has a 90-day money-back guarantee. So, in case of a defect or any other issue, you can always ask for a replacement of the toilet as long as it is still within the warranty period. I hope you have all the technical features through this Kohler Corbelle toilet review. Now let's check some pros and cons.
Why buy Kohler Corbelle's continuously clean toilet?
Durable toilets construction
Sleek and stylish new toilet
Easy to install with the patented ReadyLock installation system with leak-free performance
ADA-compliant & continuous clean technology
Perfect toilet to save water bills
Requires less tissue paper and water compared to other traditional toilets
Comfortable toilet with the elongated design
The toilet features a self-cleaning system to remain clean all day.
Comfortable seating is suitable for different users
Powerful flush technology clears contents in a single flush
Skirted Trap Way makes cleaning the exterior of the toilet to be a breeze
Eco-friendly toilet as it only uses 1.28 GPF
EPA WaterSense certified
Kohler C

orbelle standard toilet has a

1-year limited warranty
Setbacks: We find them in the Kohler C

orbelle toilet
The toilet doesn't come with a toilet seat or a cleaning solution. You will have to purchase these separately.
The company should improve on its warranty as they offer a one-year warranty instead of 10 or more.
Requires more space than a round toilet
3 Alternatives For Kohler C

orbelle Toilet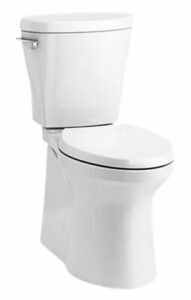 Kohler Betello Toilet
Design: Two-Piece
Bowl Shape: Elongated
Trip Lever Position: Left-hand Polished Chrome
Glazed Trapway: 2-1/8 inches
Flush Type: Gravity Siphon Jet
Rough-In: Standard 12 inches
Flapper Size: 3 inches
Water Surface Size: (9-3/8 x 7-3/16) inches
Kohler Cimarron Toilet
Design: Two-piece toilet
Bowl Shape: Elongated Front
Flush Type: AquaPiston
Trap Passageway: 2-1/8 inches
Water Consumption: 1.28 gpf
Water Surface Size: (10-1/2 x 7-7/8) inches
Rim to water Surface: 6-3/8 inches
Rough-In: 12 inches
Flapper Size: 3-inch
Trip Lever: Left-hand
Kohler Transpose Toilet
Design: Two-piece, Floor-mount
Bowl Shape: Elongated
Flush Type: Gravity Siphon Jet
Rim to Water Surface: 6-1/4 inches
Rough-In: 12 Inches
Glazed Trapway: 2-1/8 inches
Trap Passageway: 2-1/8 inches
Trip Lever: Standard left-hand Polished Chrome
Final Thought on Kohler Corbelle Toilet Review
The Kohler Corbelle is a stylish, comfortable, and powerful toilet that matches any modern bathroom easily. The toilet helps you save water and is very easy to clean. The installation process isn't an issue; you will not have to drill into the floor. It is also ADA-compliant and EPA WaterSense certified.
The only things the manufacturer needs to improve are the warranty and including a toilet seat in the purchase. Apart from that, this is a nice and awesome addition to any modern bathroom. I hope you've found this Kohler Corbelle review to be helpful.
FAQs
Question: Does this toilet offer a more powerful flush than dual-flush toilets?
Answer: Yes, it does. Being a gravity flush toilet, the Kohler Corbelle toilet provides a more powerful flush and clears the contents in just a single flush. The only challenge with such a toilet is that it is a little bit noisier than the dual flush toilet.
Question: Is the skirted part open or closed at the back? And how vital is the skirted part of the toilet?
Answer: The skirt is closed at the back. Secondly, the skirted design is vital in cleaning the toilet easily and beautifying it more. There are no crannies and nooks to clean, thus making cleaning the exterior toilet easy and easy.
We are really lucky to have a hard-working, multi-skilled plumber on our team. Collin D. Gallegos, a professional plumber who has worked with us since 2012, is an expert in vent, septic, and drainage systems. He is a Certified Master Plumber and has worked on various commercial plumbing projects. He usually helps our readers resolve plumbing and pipe-related issues with a proper DIY troubleshooting and repair guide.