Let's face the truth – toilet paper will never leave you as clean as having a shower. So, if you want to be clean and free from germs in your nether area, installing a bidet toilet seat is vital. Not only does a bidet seat leave you clean, but it also dries you so that you don't leave the toilet wet.
An excellent example of such a bidet seat is the Brondell Swash CS1000 bidet toilet seat. Even though there are many seats on the market, Brondell has continued to come up with high-quality and reliable seats, including Brondell Swash SE400 and Brondell Swash 1400. And the Brondell Swash CS1000 bidet is no exception. Read this Brondell Swash CS1000 review to know more about this round bidet toilet seat. (Check the price here)
Is Brondell Swash CS1000 bidet seat worth investment?
Do you know how important the use of flushing water is after evacuation? A comfortable bidet toilet seat with a unique flushing system is delightful for every person. The Brondell Swash CS1000 is an excellent example of a bidet toilet with good flushing. You will get comfort while using it, and you may also enjoy reasonable use of water.
The Brondell CS1000 is a sleek and beautiful bidet seat that will complement many bathroom designs. The toilet seat is easy to replace or install and very reliable in performance. The unit comes in both elongated and round designs. So you won't regret buying this unit.
Brondell Swash CS1000 Bidet Toilet Seat Review
In this review article, we've simplified things further for you by highlighting its features, pros, and cons. But before we look into it, here are some of the top features of this luxurious and elegant toilet. It comes with a gentle-closing seat, heated seat, dual nozzles with sterilization, remote control, air deodorizer, warm air dryer, and safety on/off the sensor.
| | |
| --- | --- |
| Technical Features | Brondell Swash CS1000 |
| Material: | Stainless Steel |
| Style: | Bidet Seat |
| Size: | Round |
| Color: | White |
| Installation Method: | Self Install |
| Warranty: | Three years limited |
| Safety on/off sensor: | Yes |
| Eco-friendly: | Yes (automatic) |
| Nozzles: | dual stainless-steel |
| Nozzle Sterilization:  | Yes |
| Remote control operation: | Wireless |
| Adjustable: | Water pressure and temperature |
| Remote control operation: | Wireless |
| Water Temperature Range: | Adjustable, 89.6 – 100.4 °F |
| Water Pressure Range: | Adjustable, 7.25 – 90.8 PSI |
| Warm air dryer: | Yes |
| Slow closing lid: | Yes |
| Deodorizer: | Yes |
| Weight: | 15.27 pounds |
| Dimensions: | 19.4" L x 15" W x 5.7" H |
| Price: | Check Today's Price |
Elegant design
The Brondell Swash CS1000 is an elegant and luxurious toilet that will change the look of any bathroom where it is mounted. With its modern design, it will easily blend with most contemporary bathrooms. Get to choose either the elongated design or the round design as per the type of your toilet bowl.
Related article: Which toilet seat is more durable between Wood and Plastic toilet seats?
Wireless remote control
Not all bidet toilet seats feature remote control. The CS1000 bidet toilet seat comes with a wireless remote control that makes using it to be simple. A side control panel is excellent but not as convenient as a wireless remote control. The remote control allows you to access different bidet seat settings while seated comfortably.
Dual Stainless steel nozzle
Stainless steel nozzles are the best as they don't rust, and cleaning them is simple. This unit comes with dual stainless steel nozzles. One is for rear/posterior wash, and another is for feminine/front wash. Also, the nozzles can be positioned to fit the needs of different users. The aerated water can also be adjusted according to the user's needs. You can select a narrow wash spray or a full wash spray. It has three spray widths to choose from and an oscillating cleanse.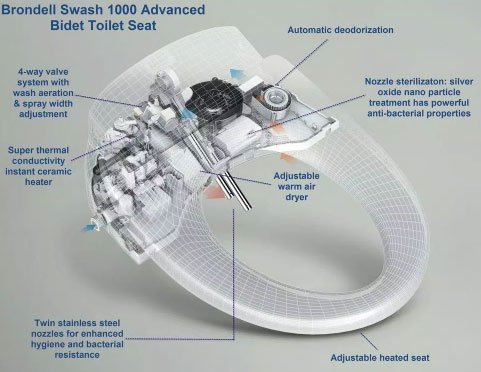 Check Today's Price
Nozzle sterilization
One of the things that make people buy bidet toilet seats instead of regular toilet seats is hygiene. Sadly, not all toilets sterilize their cleaning wands after use. But with the Brondell Swash CS1000, you've got nothing to worry about, as it features nozzle sterilization that disinfects the stainless nozzles during self-cleaning.
Soft-closing seat and lid
Slamming the toilet deteriorates not only the toilet seat but also makes noise. That's why this unit features a slow-closing bidet seat that doesn't make noise while closing. But for auto-open or close lid, you have to buy the Toto C200 bidet seat as CS1000 doesn't feature it.
Adjustable water pressure and temperature
Different people prefer different water pressure and temperatures. This device enables you to choose from three different settings for both water pressure and temperature. Besides, the device is fitted with an eco-friendly instant ceramic heating system that provides unlimited warm water and uses less power but still maintains a constant temperature.
Heated Seat & Eco Mode
The heated seat ensures that you're comfortable during cold mornings or in winter. You can adjust the temperature of the seat according to your preference.
If you want to do your business quickly without trying out different settings, you can press the automatic eco mode on the remote.
Warm air dryer & deodorizer
When you finish your business, the warm air dryer helps to dry you so that you can leave the toilet happy and clean. There is no need to use toilet paper, which is not very hygienic and doesn't do its job correctly.
The air deodorizer helps to keep the toilet smelling fresh all the time. As a result, you won't have to put up with a bad smell from your toilet from time to time.
Related article: Get a Tushy seat if you need a portable travel toilet seat
Safety on/off seat sensor
A unique feature of this bidet seat is the safety on/off seat sensor. Most of the functions that this toilet seat offers will not be executed when you're not seated on the toilet, as it will sense.
3-year Warranty
You can relax knowing that you're covered with a 3-year warranty from the date of purchase. So, in case you receive a CS1000 bidet seat with a defect, you can return it for replacement or repair.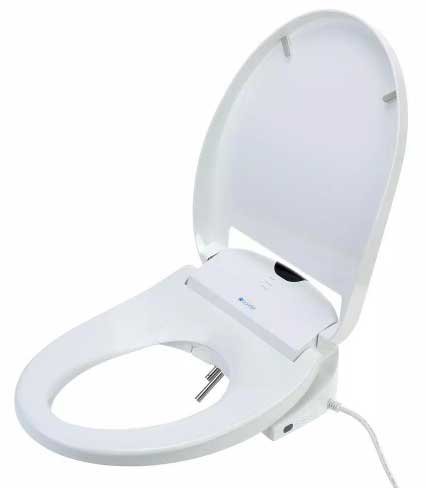 Check Today's Price
Pros and cons of the Brondell Swash CS1000 Bidet toilet seat
Sturdy and elegant design
Automatic air deodorizer keeps the toilet smelling fresh
Durable stainless steel dual nozzle
It is very hygienic with the nozzle sterilization
Offers posterior and feminine wash
Oscillating cleanse gives the user a massage
Endless warm water with constant temperature
Slow-closing seat prevents slamming
A warm air dryer ensures that you leave the toilet clean and dry
The ergonomic heated seat provides comfort in cold weather
Easy to use with the wireless remote control
3-year warranty
Negative Review
Brondell

Swash

CS1000 problems and solutions
The Brondell swash CS1000 toilet seat can leak from the hose and disrupt your pleasant toilet use. The leaking can cause many issues. Some dirty water can come outside from the leaks, and your bathroom surface becomes contaminated.
Solution: You have to tighten the fittings firmly with your hand. Therefore you can ensure no leak at the bottom of the toilet set. You must use Teflon tape to wrap the fitting and tighten it with such caution that the inner system does not break out.
The remote is not working properly
The remote control function of the toilet is so useful. You can open the toilet seat, flush the toilet, and also close the toilet cover using the remote control. But, sometimes, the remote may stop working for some reason. The reasons are-
malfunction of the batteries,

The remote control's electrical problem. 
Solution: If your toilet's remote control becomes problematic, you have to check the batteries. You can replace them and check the control again. But, if the batteries are good, the remote control may have a connection problem, and you have to replace it soon.
Beeping continuously
Sometimes the toilet can beep once or twice a minute. It is a problem, and you have to take a solution.
Solution: At first, you have to hold down the stop button. Now you should remote for about twenty seconds till hearing a beep. The process is efficient to stop beeping till the next time using the toilet. 
Some other problems and their reasons are-
Sometimes the bidet seat does not work.

The water flow can be low during flushing.

When the nozzle does not work perfectly, you can face a problem.

Bidet washing feature spray can be problematic.

The seat does not remain heated.
How to reset the Brondell Swash CS1000 toilet seat?
Step 01: Unplug the toilet system. It is the first stape in resetting the toilet. 
Step 02: Replug the settings. It will restart the toilet unit and its mechanisms.
Step 03: Check the toilet units and their work. The resetting process will assist you in clarifying any problems and using the toilet more efficiently.
Comparison: Brondell swash cs1000 vs cl1700 Bidet toilet seat
| | | |
| --- | --- | --- |
| Features | cs1000 | cl1700 |
| Dimensions:  | 22.5 x 20 x 8.5 inches | 20.7 x 15.9 x 0.01 inches |
| Weight:  | 15.27 pounds | 15.42 pounds |
| Shape: | Round | Round |
| Nozzles: | Dual Stainless-Steel | Stainless Steel Spray |
| Hybrid Water Heating System:  | No | Yes |
| LED Nightlight: | No | Yes |
Alternatives Of Brondell swash cs1000:   Brondell swash 1400 Bidet toilet seat
Dimensions: 20.43 x 15.2 x 5.75 inches
Weight: 14.3 pounds
Color: White
Style: Bidet Seat
Nozzles: dual stainless-steel
Voltage: 120 volts
Power Source: Corded electric
Size: Elongated
Material: Stainless Steel
Batteries: 4 Lithium Metal batteries are required
Installation Method: Self Install
Warranty: 3-year limited warranty
Carbon Deodorizer: Yes
Warm air dryer: Yes
Eco-friendly: Yes
Slow closing lid: Yes
Remote control: Wireless
Exceptional Feature: Cool Blue LED illumination
Summary
After looking at the Brondell Swash CS1000 bidet toilet seat's features, pros, and cons, it is clear that this toilet brings comfort to any bathroom. Besides, mounting this toilet seat is straightforward and fast. The remote control makes using the toilet fun, and the heated seat offers added comfort. With the gentle-closing seat, there will be no more slamming. Overall, this is a fantastic investment for people who want hygiene in the toilet and to save the environment.
FAQ
Question: Does the Brondell Swash CS1000 come with an auto-opening and closing seat?
Answer: No, it doesn't. Some people confuse a slow-closing seat with an automatic opening/closing seat. Like the Omigo toilet seats, the CS1000 bidet toilet seat closes slowly but not automatically. Automatic toilet seats will open as you approach the toilet and close when you leave the toilet.
However, the Brondell Swash CS1000 toilet seat closes slowly, which means that it won't slam or pinch your fingers when closing. So, it is safe and won't disturb people at night.
Question: Is the heated seat adjustable?
Answer: Similar to most Bio Bidet BB2000 high-end bidet toilet seats, this Brondell model also comes with a heated seat. By this, they mean that the toilet seat is heated but can as well be adjusted. As a matter of fact, the CS1000 features three user settings. So, depending on the season, you can set it to an appealing temperature. For instance, you can set the temperature to low during summer and increase them during winter.
Question: Which one is better – to buy Brondell Swash CS1000 at the stores on Brondell's website?
Answer: Even though you can buy the Brondell Swash CS1000 bidet toilet seat at the stores, it is more advisable to buy it from Brondell's website. This is because you will get expert knowledge and everything you need to know about the Brondell Swash CS1000 seat. Also, you can go through reviews and see how other users have fared with our toilet seats. With the qualified customer support at Brondell, you won't be disappointed or have any doubts when you buy this great toilet seat.
Still have questions after reading this Brondell Swash CS1000 review article? Comment below.
We are really lucky to have a hard-working, multi-skilled plumber on our team. Collin D. Gallegos, a professional plumber who has worked with us since 2012, is an expert in vent, septic, and drainage systems. He is a Certified Master Plumber and has worked on various commercial plumbing projects. He usually helps our readers resolve plumbing and pipe-related issues with a proper DIY troubleshooting and repair guide.