Kohler is among the brands with the best-selling toilet models on the market. Their toilets are durable, powerful, and beautifully designed. Their Flushing toilets can be found all over the world, and they feature some of the best models. When it comes to choosing the best Kohler toilet, many buyers get stuck between different toilet models.
Price-wise, Kohler Cimarron is cheaper than Kohler Highline Classic. In terms of design, the Kohler Cimarron is more luxurious, while the Highline classic is a simple design.
The Kohler Highline utilizes 1.6 GPF, which is slightly higher than the Kohler Cimarron toilet.
The Cimarron toilet's gravity-fed flushing system is less effective compared to Highline's pressure-assisted flush.
Kohler Highline toilets seem noisy in operation.
Kohler Cimarron offers clog-free performance with its 3.25-inch flash valve.
In this comparison, we'll help you choose between the Kohler Highline and Kohler Cimarron toilets. These are some of the most successful Kohler toilets. We will review each toilet by talking about its powerful flush system, how much water they use, and its design.
Comparison Chart: Kohler Cimarron vs. Highline Toilets
| | | |
| --- | --- | --- |
| Key Features | Kohler Highline Toilet | Kohler Cimarron Toilet |
| Piece: | Two-Piece | Two-Piece toilets |
| Flush Rating (MaP Test): | ≥1000 (Highly Recommended) | ≥1000 (Highly Recommended) |
| Water Consumption: | 1.60 GPF | 1.28 GPF |
| Flushing Technology: | Pressure Assisted | Gravity Fed |
| Powerful Flush: | Yes | No |
| Flush Sound: | Noisy | Less Noisy |
| Water-Saving: | No | Yes |
| Certification: | ADA | WaterSense |
| Flush Valve Size: | 2.25 inches | 3.25 inches |
| Bowl Height without Seat: | 17.125 inches | 16.5 inches |
| Product Weight: | 102.5 lbs | 87.5 lbs |
| Dimensions: | 30.125 x 21.25 x 31.25 inches | 28.8 x 17.6 x 30.8 inches |
| SoftClose Seat: | Not Include | Not Include |
| Price: | High | Low |
| AquaPiston Technology: | No | Features Aquapiston canister flush valve |
| Complain: | Less | A little bit of High |
| Price: | Check Price | Check Price |
Affiliate Disclosure: "This page contains Amazon affiliate links. When you buy through our links, I may receive a commission at no extra cost to you."
Features Details: Kohler Cimarron and Highline Toilets
Kohler K-3493-0 Highline Classic Two-Piece Toilet Details
Let's begin by looking at the Kohler Highline toilet. The Kohler Highline toilet is a two-piece toilet that features a pressure-assisted flushing system. This system is powerful, using 1.6 gallons of water per flush to clear solid waste in just one flush. The only problem is that it is noisy during operation. Moreover, the toilet has an elongated bowl design and is of the right height to offer great comfort. The chrome trip lever is located on the left side, making the toilet ADA-compliant.
If you intend to install the toilet on your own, it is very easy by simply following the instructions. Save at least 2000 gallons of water when you install the Kohler Highline toilet in your home.

Check Price
What are the key features?
Highline toilets come with comfortable height

It has an elongated bowl for added comfort

Easy to install as it is a two-piece toilet

Conserves water as only 1.6 GPF is used

These elongated toilets are ADA compliant

Powerful flush with the pressure-assisted flushing system

1-year limited warranty
What are the cons?
It doesn't come with a toilet seat
The toilet is noisy during operation
Features of Kohler K-3609-0 Cimarron Comfort Height Toilet
The Kohler Cimarron two-piece economical toilet is excellently designed to add elegance to your bathroom. This sleek and lovely toilet features class five flushing technology that offers great bulk waste flushing performance and the best bowl cleanliness. The canister flush valve offers smooth flushing propulsion with consistent water usage after every flush. It also has an elongated bowl design that gives the user more sitting space, thus making it very comfortable.
Using this toilet will help you save up to 16500 gallons of water per year as it only uses 1.28 GPF. As a result, you will also save on your water bill. In addition, the toilet is of the right height, and you will have an easy time sitting down or standing up. And if you don't want the white finish, there are other finishes to choose from, such as black, almond, and biscuit.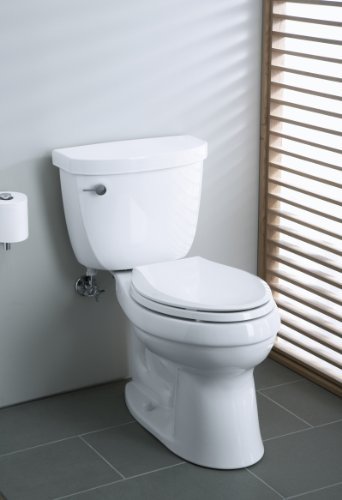 Check Price
Short feature review of Kohler Cimarron 
Two-piece toilet
Cimarron water-efficient toilets use 1.28 gallons per flush
It consists of a K-4309 bowl and a K-4421 tank
Comfort height Elongated bowl
AquaPiston Canister technology
ADA compliant
Vitreous china construction
Chrome flush trip lever
White color
Measures 28.8 x 17.6 x 30.8 inches
Weighs 65.3 pounds
EPA WaterSense certified
One-year limited warranty
Why should you buy this toilet?
It is easy to install as it comes with a standard 12-inch rough-in to the center of the waste pipe from the wall.
Quiet operation when compared to other toilets on the market
A powerful, quick, and effective flush system that clears contents in just one flush
Comfort height toilet with a toilet height increase from 15 inches to 18 inches. So, sitting down and standing up by adults is made easy.
Low water consumption as it uses just 1.28 gallons of water per flush.
Elongated toilets provide more comfort as there is more seating space
It is a water-efficient toilet as it is WaterSense certified
Why not?
Seat and supply lines are not included in the purchase. You will have to buy these separately.

Spare parts of the toilet are quite expensive, which may be challenging for some users.
Main Comparison: Kohler Highline vs. Cimarron
The difference in design
The Kohler Highline K-3493-0 classic toilet features a sleeker bowl design compared to the Kohler K-3609-0 Cimarron toilet bowl. Kohler Highline toilet measures 38.2 x 25 x 23.7 inches, while Cimarron measures 28.8 x 17.6 x 30.8 inches.
My Recommendation: If you have a small bathroom, then Kohler Cimarron compact toilet would be the right option for you.
Compare Flushing System
Kohler Highline has a pressure-assisted flushing system, while Kohler Cimarron has a gravity flushing system. The gravity flushing system not only clears contents but also cleans the toilet, and it is silent in operation. On the other hand, a pressure-assisted system is somehow noisier but very powerful and less likely to clog.
Winner: Though Kohler Cimarron uses less water, it might clog sometimes. For a powerful flush, you should choose Kohler Highline pressure-assisted toilet.
Water Consumption Rate Differs
When it comes to water usage, Kohler Cimarron is the toilet of choice, as it only uses 1.28 gallons of water per flush. This is not the case with Highline's classic toilet model, as it uses 1.6 gallons of water per flush.
Result: Here, the winner is Kohler Cimarron, as it consumes only 1.28 gallons of water for each flush.
Which one is easy to install?
Both the Kohler Highline and Cimarron toilets are straightforward to install as they come with a standard 12-inch rough-in with leak-free performance. Unlike Highline, the Kohler Cimarron toilet comes with a wide Aquapiston canister flush valve.
Winner: Tie
Effortless Cleaning
Kohler Cimarron is kept clean most of the time as the gravity flush cleans the toilet during flushing. This cannot be said about the Kohler Highline toilet, as it uses a different (pressure-assisted) flushing system.
Result: Kohler Cimarron toilet surface is easy to keep clean and hygienic.
Which is Better? Kohler Highline Or Cimarron?
Choosing the best toilet has never been easy. This is even more challenging with brands like Kohler, which offers a wide range of toilet models. After looking at the Kohler Highline and Kohler Cimarron toilets, you can tell that both toilets have their own ups and downs. They both have elongated bowl designs that provide comfort to the user. The Kohler Cimarron is better when it comes to saving water as it only uses 1.28 GPF, while the Kohler Highline toilet is more powerful with its pressure-assisted flushing system. Also, the Kohler Highline is louder than the Kohler Cimarron toilet. Whatever choice you make, ensure that it meets your needs and budget.
FAQ
What are the quietest Kohler toilets?
The quietest toilets are one-piece gravity toilets. They include Kohler's Rosario, San Raphael, and Rialto toilets. These toilets are usually quiet because flush noise is caused by the velocity of water flowing into the bowl and the water refilling the tank. Most quiet toilets depend on gravity for water to flow into the bowl. On the other hand, the loudest toilets use pressurized flush valves or tanks. That's why pressure-assisted toilets are very loud.
How do I fix a running toilet?
Usually, a running toilet can be fixed by identifying what the problem is. If the water is running into the overflow tube, this can be fixed by adjusting or lowering the float valve. Alternatively, if the chain is extremely slack or very tight, you can fix it by ensuring that the chain has only 1 or 2 beads of slack.
Related Comparison Articles:
Hi, this is Robert Crossan, the owner of this website, has 17 years of experience in the installation, maintenance, and repair of toilets and plumbing systems. After completing the Level 2 Basic Plumbing course in 2005, I started working in both domestic and commercial buildings as a professional plumber. So I can figure out the core difference between different toilet models and brands. It also helped me monitor their work performance and setbacks.